Concordians deliver 21st-century transnational skills to future teachers
Anita Sinner and Elly Yazdanpanah's approach to art education is helping advance the United Nations' Sustainable Development Goals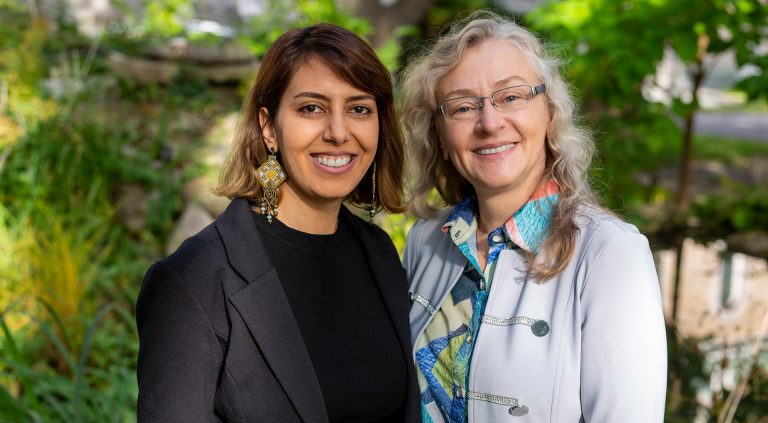 Ensuring the world's long-term viability will require reconsidering and expanding the traditional notion of "sustainability."
With that in mind, the United Nations' Sustainable Development Goals (SDGs) "recognize that ending poverty and other deprivations must go hand-in-hand with strategies that improve health and education, reduce inequality, and spur economic growth."
Anita Sinner, professor in Concordia's Department of Art Education, and PhD candidate Elly Yazdanpanah have answered that call to action by advancing transnational art education through their research and teaching.
Sinner and Yazdanpanah have been working together on an international collaboration that teaches students from Concordia, Iran and Japan to bridge their language and cultural divides while they themselves learn to teach. The joint collaboration with the students from these locations contributed to the publication of an e-journal issue.
The project stems from Sinner's Social Sciences and Humanities Research Council of Canada grant, Geographies of Self and Relation. "We're investigating 21st-century skills, the kinds of pedagogic practices we need going forward, looking at students taking a much more active role to address global challenges and global citizenship education," she says.
"And it's informed by the SDGs, specifically SDG 4 – quality education, of course, but others as well," such as SDG 1 – No poverty, SDG 7 – Affordable and clean energy, SDG 10 – Reduced inequalities and SDG 16 – Peace, justice and strong institutions.
The transnational collaboration began during the COVID-19 pandemic and continues to expand in form and content, for example, in an undergraduate art education course taught last year by Yazdanpanah, a native of Iran.
"I connected that class with a group of graduate students from Iran thanks to another PhD candidate, Siavash Farkhak, who was the instructor of the Iranian course. That allowed them to experience all the cultural, social, educational and linguistic differences in a transnational collaborative process," she reports.
"Within our courses, we've extended and adapted the notion of 'trans-languaging,' which has roots in ESL and Language and Literacy," Sinner adds. "Students then must consider what constitutes a way to envision or to encourage greater cultural diversity, greater intercultural dialogue."
Students in the class join international online teams. "The students negotiate challenges that they wouldn't normally find in a course, such as different time zones, different cultural protocols, different languages," Sinner notes. "So they face some logistical challenges. How do I negotiate translation? What are the virtual platforms that will work best for a given team?
"I don't think we've had a class teach students to teach internationally, and in this case, teach in Iran. Elly deserves full credit for this."
"I believe that this kind of collaboration, which fosters social agency between participants as members of multiple nations finding new ways of sharing, becoming and adapting, helps us to develop sustainable, accessible and equitable art practices," Yazdanpanah says.
Walking gallery
The course practice has been inspired by Yazdanpanah's graduate research on integrating local practices into different educational and cultural settings, including a walking practice in the museums and galleries that resulted in an exhibit and project called GalleryGardi: A transnational collaboration.
Over several weeks, her undergraduate class and the Iranian students walked through art galleries, creating a dialogue about art and culture and broadening how they think of teaching within their community experiences. The class also hosted a GalleryGardi exhibition at Concordia's FOFA Gallery.
Following these transnational collaborations, Sinner, Yazdanpanah and Kazuyo Nakamura of Hiroshima University co-edited a special issue of the UNESCO Observatory, Multi Disciplinary eJournal in the Arts called "Transnational Tomorrows Today: Graduate student futures and imaginaries for art education." Contributors were graduate students from Concordia and Hiroshima University, Iranian graduate students and some Afghan artists and authors.
In the words of the editors, the issue sought "to explore why the potential of teaching for tomorrow lies in how higher education today embraces shifts in horizons of transnational awareness with, in and through the arts."
Sinner found that contributing to the issue was extremely valuable for the students. "They're experiencing what it is to participate in the journal-publication process," she says. "It's a very empowering way of doing a curriculum, but it also requires self-direction and autonomy."
She also acknowledges the university's ongoing support. "Concordia has been a wonderful incubator for this kind of emergent research. There's an openness to foster different ways of being in the world," Sinner says.
"My hope is that something will resonate with students that will then become part of their 21st-century skills. How do we learn to communicate differently? How do we learn to work with international teams?"

Learn more about Concordia's Department of Art Education.
---