District 3 teams up with EFFERVESCENCE to transform the life sciences and health technologies field
Concordia's innovation hub offers three winning startups support beyond the lab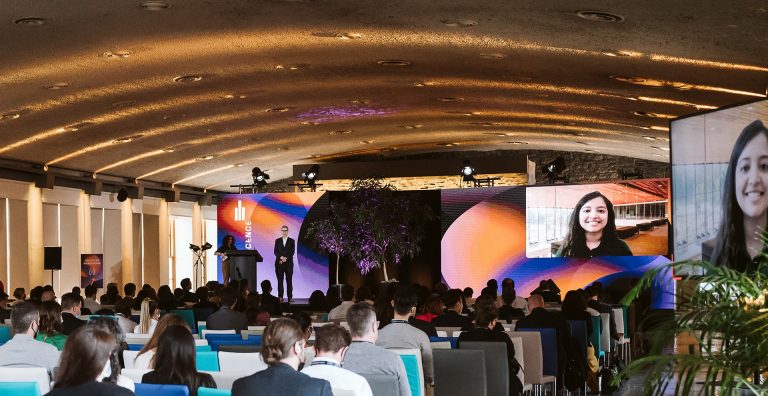 For years Concordia's District 3 has played a key role in building the innovation ecosystem in Quebec through its startup programs and coaching support in the sectors of high tech, healthcare and bio. Recently, the innovation hub and Concordia have continued to deepen their network and resources in bio, including through the state-of-the-art BioHub lab and the Genome Foundry on Loyola Campus.
One way District 3 has expanded its involvement is by providing in-kind prizes for competitions such as the EFFERVESCENCE Pan-Canadian Start-up Pitch Competition run by Montréal InVivo. The event aims to fuel the rise of Canadian startups whose innovations could transform the field of life sciences and health technologies (LSHT).
"District 3 works closely with ecosystem players who encourage scientific entrepreneurs to commercialize their research faster and better," says managing director JD Bégin.
"Our contribution to support promising scientific entrepreneurs that we connect with at events like EFFERVESCENCE, to develop right-sized entrepreneurial skills to meet important business milestones, is a critical piece of support."
District 3's in-kind prize is valued at more than $20,000 and includes:
Access to 10 hours of business coaching with lead bio coach and founder of several biotech companies Margaret Bywater-Ekegärd
Four one-on-one sessions with experts on topics such as managing finance and legal, increasing sales and marketing
Four months of access to District 3's co-working spaces in downtown Montreal and/or Concordia's Loyola Campus
Thirty hours of workshops covering entrepreneurship skills essential to building a successful business
Possibility of access to the District 3 BioHub laboratory for a minimum of four months (conditional on health and safety certification and approval by Concordia, and dependent on the experimental protocols of the startup)
'Beyond thrilled'
EFFERVESCENCE selected three teams for the in-kind prize: Paperplane Therapeutics, 3F Waste Recovery and HDAX Therapeutics, which also won the overall 2022 pitch competition.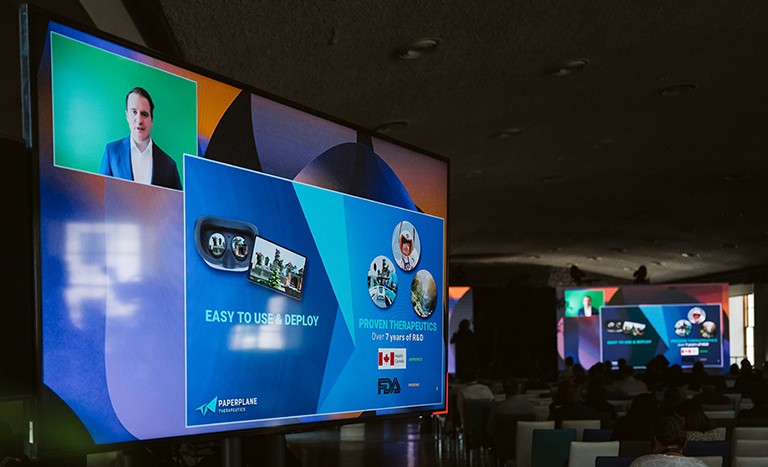 Paperplane Therapeutics offers cognitive-behavioural therapies in virtual reality.
Paperplane Therapeutics offers cognitive-behavioural therapies in virtual reality (VR)
that are purpose-built and clinically validated to improve pain and anxiety management for patients receiving medical care. Its research on VR and children's pain management was recently featured in an article in the Profession Santé journal.
3F Waste Recovery is a Newfoundland-based company working with local fishers, farmers and foresters to extract premium quality, sustainable and natural ingredients from their by-products.
"3F is so fortunate to have the support of organizations like District 3," says business communications specialist David Caldwell. "Thanks to the EFFERVESCENCE competition, we've been able to secure quality mentorship, a healthy research and development environment and top-quality lab facilities."
HDAX Therapeutics is developing a small molecule-based targeted therapeutics platform for the safe and efficacious treatment of histone deacetylase (HDAC)-driven pathologies such as cancers, neuropathic indications and neurodegenerative disorders. Co-founder Nabanita Nawar was recognized as the 2022 Rising Star by the Ontario Institute of Cancer Research.
"We are humbled to be awarded both the District 3 prize and the grand prize at the EFFERVESCENCE pitch competition," Nawar says. "We're beyond thrilled to receive this recognition, which will help us advance our platform closer toward the clinics."
More startup success
The three in-kind prize winners aren't the only District 3 startups getting noticed lately. Ivano Bioscience was recently recognized by BioQuébec. Co-founder Juliette Camball received the Global Impact Entrepreneur Award from Mitacs. In 2023 Ivano Bioscience will launch its first product, which will accelerate the development of new vaccines and immunotherapies against infectious diseases.
Such accolades demonstrate the impact District 3 is having across the LSHT sector and beyond.
"The services we provide around driving business traction — customer traction, funding traction and product traction — are aligned to the unique needs of each business," Bégin says.
"We call it giving research-backed ventures the right love at the right time."

Applications to District 3 Innovation Hub programs are currently open for life science startups.
---