Concordia alumna Lorna Bauer is a 2021 Sobey Art Award finalist
The Quebec artist and new mother praises the decision to open the prize to any age group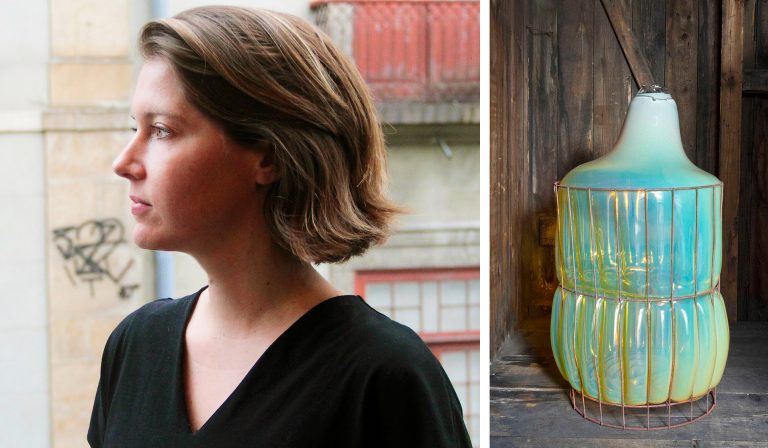 Concordia graduate Lorna Bauer (BFA 05) is among five shortlisted candidates in the running for the 2021 Sobey Art Award, the largest prize for Canadian artists.
Established in 2002, this prestigious contemporary art award was previously designated for Canadian artists under the age of 40.
In a historic move, the Sobey Art Foundation has removed the age restriction, making Bauer eligible once more.
Last year, at the onset of the COVID-19 pandemic, the National Gallery of Canada and the Sobey Art Foundation decided not to name a shortlist or an individual winner. Instead, they handed $25,000 prizes to each of the longlisted artists.
This year's overall winner will receive $100,000 and each of the remaining shortlisted candidates will get $25,000.
Since the award's inception, 49 Concordians have been longlisted. Of those, two Concordia alumni have gone on to win the prize: Nadia Myre (MFA 03) in 2014 and Abbas Akhavan (BFA 04) in 2015.
This year, the National Gallery of Canada will exhibit the five finalists in fall 2021, and the grand-prize winner will be revealed in November.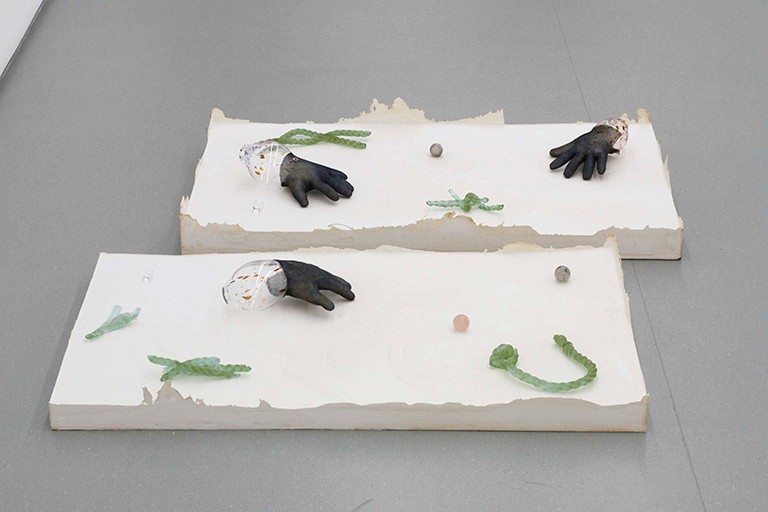 Lorna Bauer, The Hand of Mee and the Moonflower Version 3, 2019. Five hand blown vessels in stainless steel butcher gloves, cast glass, slumped glass, various quartz crystal balls on plaster base, 52" x 64" x 4" (132cm x 162.5cm x 10cm). Installation view, "Somebody", MKG127 Gallery, Toronto, 2019. Courtesy the artist and Galerie Nicolas Robert
Art and parenthood
"In my opinion, the importance of the change in age limit was an excellent move on the part of the NGC and the Sobey Foundation," says Bauer.
When she had her child, Bauer worried it might be the end of her career. Many artists still believe they have to choose between parenthood and a successful art practice.
"I thought, 'Well, it might be downhill from here.' So, this is major for me because that wasn't the end of my career. Maybe it is just gaining momentum."
Bauer was elated to learn she could be nominated again for the award. "Dominique Fontaine, the independent curator and Sobey Art Award juror for Quebec, has been incredibly supportive," she adds.
A number of other artists on the shortlist also have children. Bauer says that not only does the Sobey Art Foundation decision help dispel the myth that artists can't parent, but it undermines the idea that artists 40 and older are somehow less relevant.
"You never know what's going on in someone's life. It takes time to build your career and meaning within that."
Concordia beginnings
Bauer began her undergraduate studies in studio arts and art history and then picked up a second major in photography.
"I just loved it. I was a real keener and took all the classes I could take and stayed for five years."
At the time, all of the Faculty of Fine Arts departments were located in the Visual Arts (VA) Building on René-Lévesque Boulevard, which Bauer calls a microcosm of art-making.
"It felt really exciting!" she recalls. "I had two shows at the VAV Gallery, which was actually being run by Abbas at the time."
Bauer maintains relationships with many colleagues and professors from Concordia.
"It still feels like the photo program is this little family. I go back to print when I can because I have access to the analog dark rooms, and the facilities are incredible."
Bauer's practice uses photography and sculpture to examine human relationships to their surroundings. Her projects are generally characterized as site related, often resulting in a response to a specific place or context. Working exclusively with analog technology, Bauer produces photographs that make the viewer aware of their presence at the threshold of the depicted space.
For the National Gallery exhibition, Bauer says she has some ideas for what she would like to present but will decide in conversation with one of the curators.
"This award means that for the first time in my life I can take the money and have freedom to do something with it, like fix up my studio rather than put everything right back into day-to-day living and production costs."

Find out more about Concordia's Department of Studio Arts.
Follow the latest news on the 2021 Sobey Art Award.
---