CEOx1DAY: 3 Concordia students shadow top execs in the boardroom
'My eyes were opened to the realities of leadership'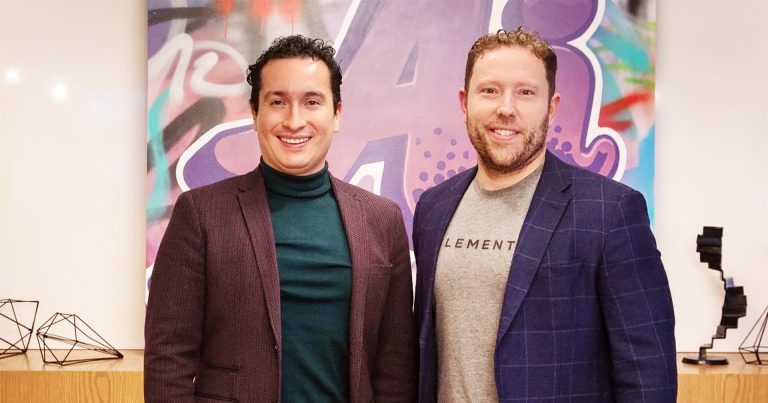 Executive search firm Odgers Berndtson has been running the CEOx1DAY program for the last seven years. It allows third- and fourth-year students from across Canada to get a taste of what it's like to be at the helm of some of the country's top companies.
Finalists are paired with presidents and CEOs from industries including retail, technology, not-for-profits, government and financial services.
This year, three students from the John Molson School of Business — Cristian Pulido, Adreano Alacchi and Maurice Ngwakum-Akisa — were among the 20 finalists.
I felt inspired to pursue a path of responsible and humanistic leadership
Cristian Pulido
Matched with Jean-François (JF) Gagné, Element AI
While it was forecasted that heavy snow was going to fall on the city of Montreal, I was ready to break the ice with JF — and following along in his morning session of CrossFit definitely did the job.
After burning a few holiday calories, I was physically and mentally prepared for following the rest of the day as CEO at Element AI.
After a few important meetings with different teams, it was time to explore the Element AI Lab. This place is where real human ingenuity and cross-discipline work can be found. Passionate and clever individuals were working together to build novel solutions that tackle business challenges in different industries.
It was indeed remarkable to witness the fearless innovation held at the heart of Element AI – an admirable "fail fast, thrive fast" approach.
Lunch time – building relationships
All the excitement made my stomach rumble, and I was thankful when the time to grab some lunch arrived. As JF and I were sitting down at our table, he mentioned that a few other people would be joining us.
As it turned out, our upcoming guests were either close co-workers to JF or general staff that wanted to simply have an informal chat with the CEO. The goal was to connect on a personal level with employees — something deeply dear to JF — and employees could simply book this informal lunch with the CEO.
The guests at our table were delighted to be sharing this occasion with him; it felt as if friends had come to share personal thoughts and anecdotes around great food.
Humanizing AI
Throughout the meetings, I was captivated by the efforts that JF and the Element AI team dedicated to humanizing the conversation about artificial intelligence.
It's amazing how JF and his team are rendering the subject accessible to anyone curious enough to read their blogs or listen to their podcast. I am such a huge fan now!
How can the next technological revolution materialize if people do not fully understand it or its implications? JF is determined to help us understand that AI represents a collaborative effort between human and machine.
Some companies are employing AI technology for national defense and secret intelligence purposes, so I asked JF about his position on this. After a few exchanges, it was clear that neither JF nor Element AI supported these types of efforts.
I was pleased to hear that such an important leader in the field regarded AI technology as a tool for the betterment of our society, not for the control of it.
Before we headed out to a non-profit fundraising event in Montreal, I dared to ask one last question: "JF, what is your vision of AI?"
He answered: "There will be a point in time that you would not believe how you went through your daily routine without AI."
After my day at Element AI, I felt inspired to continue pursuing a path of responsible and humanistic leadership. Progress and innovation can only be achieved if we fearlessly work together.
This is just the beginning, a start of many days that shall be seized – CARPE DIEM!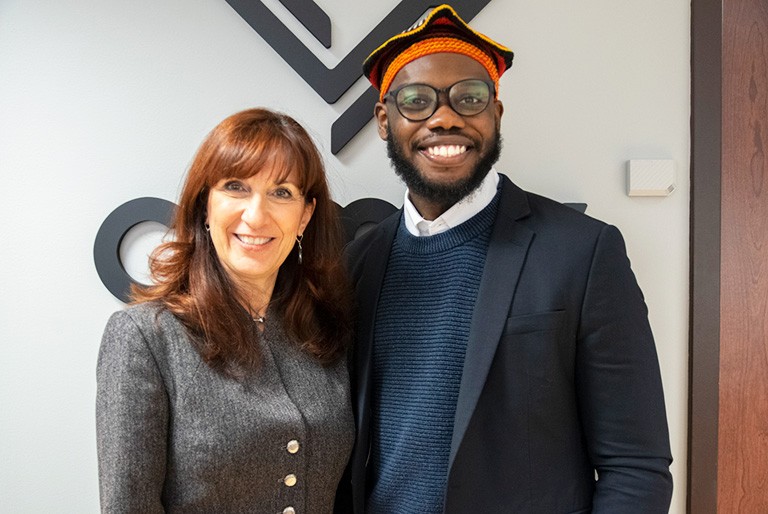 Lucia Pollice, CEO of CDMV, with JMSB student Maurice Ngwakum-Akisa.
Maurice Ngwakum-Akisa
Matched with Lucia Pollice, CDMV
Lucia Pollice is CEO of CDMV, a Canadian distributor of veterinary products. My day with her started with an hour-long carpool at 8 a.m. from Montmorency station to the CDMV Headquarters in Saint-Hyacinthe.
The first thing that struck me about Lucia is that, despite her busy schedule and numerous responsibilities, when she was with me she gave me 100 per cent of her attention and was fully invested in making sure that I had an incredible experience.
Our car rides were spent exchanging stories and getting to know one another. During that time, I learned a lot about her career path, her values, and received advice on the skills I need to develop in order to be in her seat someday.
While at the CDMV office, I met with all the top CDMV executives. I learned a lot about their industry and the transformation they are currently undergoing. I sat in on strategic meetings where all of the tools that I had learned in my case classes were being used in real-time at the highest level of a multimillion-dollar organization.
This was an unbelievable experience, and there is nothing like it! I highly encourage Concordia students of all backgrounds to apply to this program. It truly is an irreplaceable learning experience.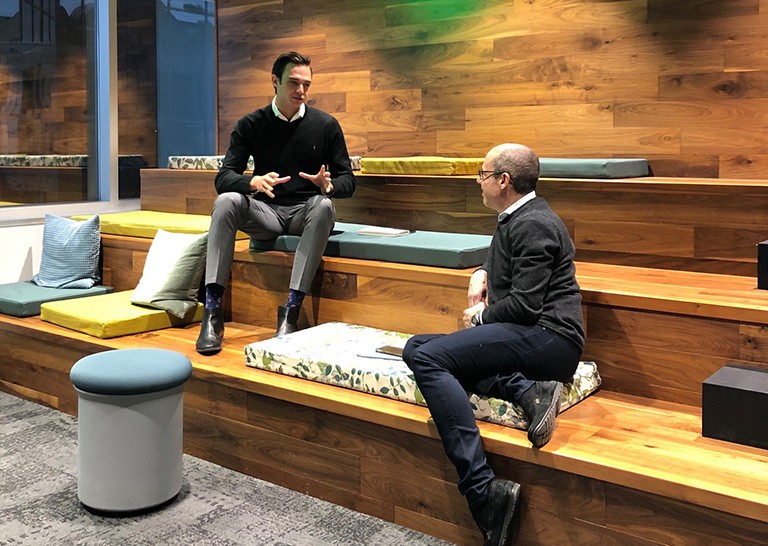 JMSB student Adreano Alacchi (left) with Sylvain Cossette, president and CEO of Cominar.
Adreano Alacchi
Matched with Sylvain Cossette, Cominar
My time with Sylvain Cossette, CEO of Cominar, was a truly remarkable experience. I spent the day sitting in executive meetings at the real estate investment trust, all while being encouraged to share my opinions.
The first meeting of the day involved the CEO, CFO and several VPs, where we discussed employee engagement and team performance. It was incredible to see how dedicated these executives were to the individual sentiment and performance of their respective teams.
Following this, I had the chance to sit down with these VPs and learn about their current work. Looking over real project proposals and plans for intensification was extremely interesting and demonstrated how real estate is not the passive business I had understood it to be.
I was able to further discuss these revelations over lunch with Sylvain, where we also spoke about our hobbies and families.
My day ended off with a highlight on the technological changes happening within Cominar, and their vision for becoming more tech-focused in the future. All in all, my day at Cominar was extremely eye opening to the realities of leadership and the industry.

Find out more about the John Molson School of Business.
---