'Creative problem-solving is in our DNA'
Spotlight: Faculty of Arts and Science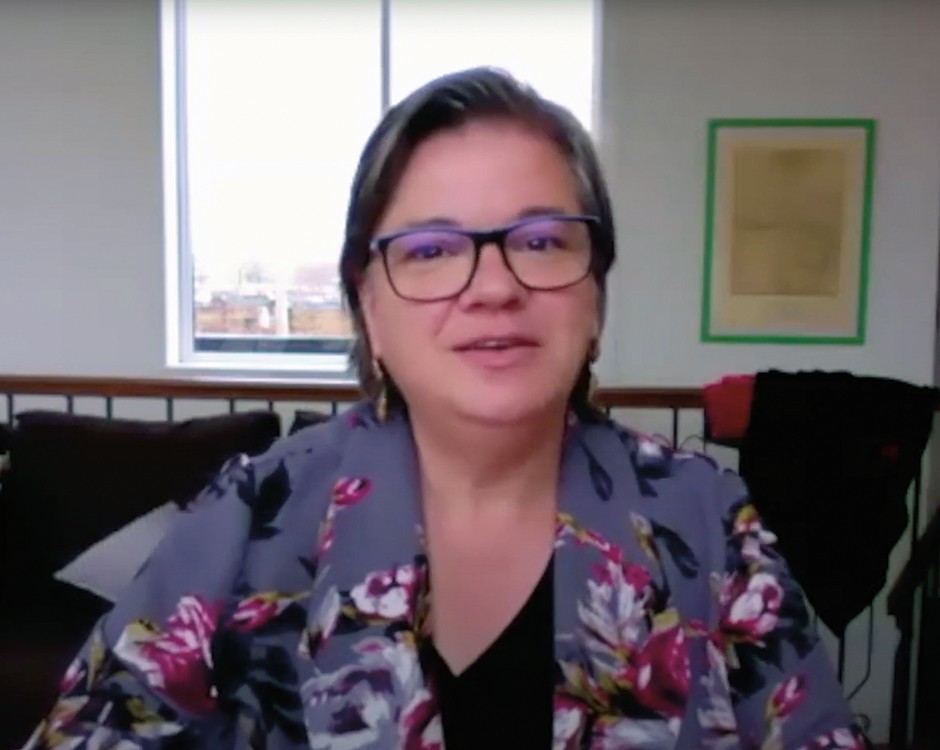 Dean Pascale Sicotte addressed a remote audience at the Dean's Awards for Excellence on December 10, 2020.
Thanks to a lineup of online-only events last fall, the Faculty of Arts and Science "connected to audiences in remote stretches of the country and, in some cases, across the world," says Dean Pascale Sicotte.
Jurist-in-Residence Morton S. Minc, BA 67, hosted six events in his series of conversations with prominent jurists.
"Zoom has given us a true sense of being in a global village of academic learning", says Minc. "We are not restricted in the way we look at things anymore." Helmed by Minc and launched in 2017, the Jurist-in-Residence program is the first of its kind for any English university in Quebec.
The Department of Theological Studies held a four-part series, "Spirituality as Land, Story and Relation," featuring guests from the worlds of poetry, academia, film and literature in discussion on issues related to spirituality and Indigeneity. Between 90 and 200 people were in attendance at each event, breaking records for turnout.
Matthew Anderson, affiliate professor in the department and one of the series' curators, says he was surprised to see how organically the presentations complemented each other. "Despite the fact that we were in front of our computer screens, the events were intimate and deeply enriching," he says.
When Concordia's engAGE Centre for Research on Aging launched its Creative Living Lab at Montreal's Cavendish Mall in January 2020, the goal was to cultivate an interactive space for collaborative research with older adults. Forced to close the space in March, the team moved the experience to Facebook with the name engAGE Living Lab Digital Era Response. The team presented intergenerational events like film and book clubs, artmaking activities and more — all done virtually with the option to join by phone or Zoom.
The Azrieli Institute saw large attendance numbers for its fall events, with over 150 people attending the screening of Udi Nir's documentary Golda, which used rare archival footage to provide insight into the life of the late Golda Meir, former prime minister of Israel. "Golda set records for attendance," says institute director Csaba Nikolenyi. "This shows the potential of virtual events. We also held an event that helped to raise money for students, so it has been a good semester for us."
The Chemistry and Biochemistry Graduate Research Conference (CBGRC) successfully celebrated its 23rd annual event, with over 200 people registering. "The fact that we were virtual allowed us to invite speakers from around the world," says organizer Gabi Mandl, BSc 17, a PhD student in the Department of Chemistry and Biochemistry. "We had more universities, too, which was wonderful."
At the faculty level, two key events moved online. The annual Scholar Awards, which honours the faculty's highest-achieving undergraduates, had over 300 people tuning in to the livestream and over 550 subsequent views on YouTube.
The Dean's Awards for Excellence, held each year to celebrate the faculty's staff, faculty members and researchers, aired on December 10 and has generated more than 350 YouTube views. While Sicotte is eager to see everyone in person again, the opportunity to connect online during this time has been invaluable. "I think our success with these events comes from a profound desire to stay connected," she says. "Creative problem-solving is in our DNA."
---