Concordia fundraising and communications publications earn international recognition
CASE District I presents awards to the Campaign for Concordia's Case for Support, the alumni magazine article 'Creating to heal' and the President's Report 2022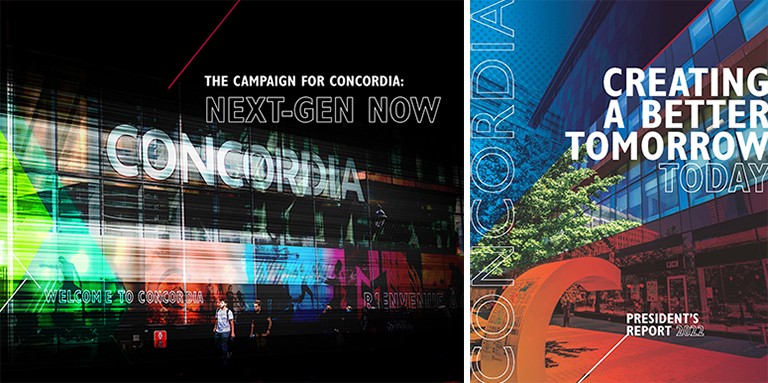 Concordia launched its ambitious Campaign for Concordia: Next-Gen Now in 2017. Five years on, University Advancement (UA) took the opportunity to refresh the campaign's companion website.
The resulting effort, launched in 2022 in collaboration with University Communications Services (UCS), earned a Grand Gold Circle of Excellence Award in the Publications, Fundraising Case Statements and General Cultivation Publications category in June. It was the university's first Grand Gold.
The awards are overseen by the Council for Advancement and Support of Education (CASE), which represents more than 3,600 universities, colleges, independent and international schools and nonprofit organizations from 82 countries. CASE awards recognize outstanding achievement in advancement services, alumni relations, communications, fundraising and marketing.
CASE has now also handed 2023 Best of District I (DI) Awards to the Case for Support along with Concordia University Magazine's "Creating to heal" feature article and the university's President's Report 2022. CASE DI encompasses the North Atlantic region of Canada and the United States.
"These honours further acknowledge the outstanding communications work being done by our teams in UA and UCS," says Paul Chesser, Concordia's vice-president of University Advancement. "The primary objective for the Case for Support, Concordia University Magazine and the President's Report is convey to the outside world the vital work being done at the university, and these awards reaffirm their effectiveness."
Strong case
As the Case for Support's entry states, "We created a conversational and confident Case for Support that embodies the university's DNA as a young, next-generation institution lauded for breaking new ground at the intersection of technology and creativity."
Luke Quin, BA 07, UA's senior communications advisor, wrote and managed the publication, with writing support from communications advisor Joanne Latimer, MFA 94. The in-house team also included designer Stephen Pan; art director Christopher Alleyne, BA 09; editor Sylvain-Jacques Desjardins, BA 97, director of Advancement Communications; and line editor Ginette Leduc.
Coping with grief
CASE DI cited the alumni magazine article "Creating to heal" in the Writing, News/Feature (1,000+ Words) category. "Our 'Creating to heal' feature in the fall 2022 issue of Concordia University Magazine provided a thorough, well-researched analysis on how the university's Department of Creative Arts Therapies — and its graduates — provides the tools, resources and support to help people cope with feelings of grief," the award entry states.
The piece was written by Ian Harrison, BComm 01, writer, special projects, with files from freelancer Richard Burnett, BA 88.
In addition, Concordia staff who contributed to the feature included editor Marta Samuel, GrDip 10, manager, publications and projects; designer Elizabeth Chan, BFA 01; lead designer Christopher Alleyne; and Janine Lavallée, web communications coordinator.
Two prizes for President's Report
The President's Report 2022: Creating a better tomorrow today earned CASE DI awards in two categories: Publications, President's Reports and Annual Reports; and Design, Publications.
The report includes a "Future of Giving" section that promotes the university's ongoing fundraising campaign, now with a $350 million goal. It was published in 2022 and covers Concordia events and news from the 2021 calendar year.
As its award entries state, "The President's Report remains a vital tool to reinforce the university's brand and engage its donor base. It provides a vehicle for Concordia's president to deliver a cohesive message and vaunt the university's successes of the previous year and its forward-looking programs."
Many Concordians played a role producing the President's Report 2022, starting with Concordia President Graham Carr. Also involved were, from UCS: editor Howard Bokser, MBA 85, special projects consultant; lead creative designer Christopher Alleyne; Veronique Verthuy, BA 04, brand and studio manager; and publisher Charmian Harvey, executive director; and from UA: contributing editor Ian Harrison; designer Trevor Browne; and publisher Sylvain-Jacques Desjardins.

See the list of Concordia's winning entries from the 2023 Best of District I Awards.
---