Global Learning Day x Elsewhere will showcase international learning opportunities available to Concordia students
SEPT. 19: The event will be held at Concordia's 4TH SPACE and in the LB atrium from 10 a.m. to 3 p.m.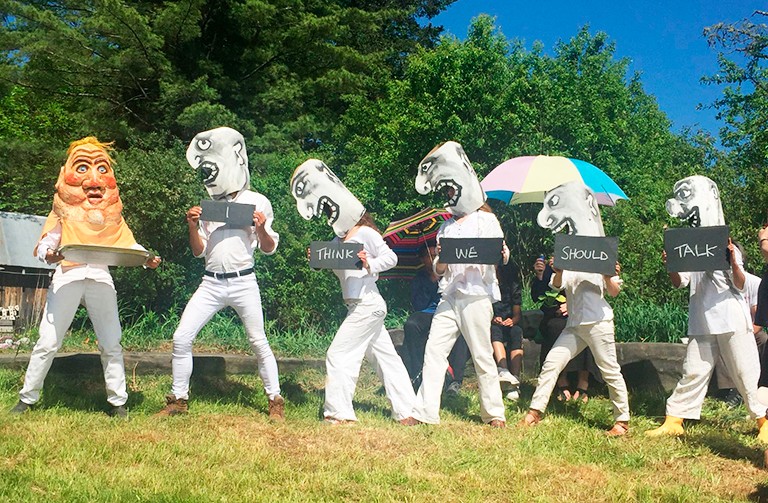 The Faculty of Fine Arts offered a summer apprenticeship in puppetry at the Bread and Puppet Theater in Vermont.
Concordia students will have the opportunity to gain insight on the many available international learning opportunities at the university's first Global Learning Day x Elsewhere.
Concordia International and the Faculty of Fine Arts will host the event, to be held at the university's 4TH SPACE and in the J.W. McConnell (LB) Building atrium on September 19 from 10 a.m. to 3 p.m. The gathering will feature several speakers and activities, including a student fair and a series of panel discussions.
The event represents a merger of the new Global Learning Day and Elsewhere, an activity the Faculty of Fine Arts hosted in the past to promote its fine arts field schools.
The Concordia community — faculty and students alike — are encouraged to attend Global Learning Day x Elsewhere.
Student to student
An important focus will be to put students in contact with other Concordia students who have participated in the international programs — studying or conducting research abroad.
"We're hoping to feature them so they can talk to other students about their experiences," says Caroline Eastwood, coordinator of mobility programs at Concordia International.
Attendees are invited to circulate throughout the day to the students' booths to learn about their global learning experiences and research.
Jimmy Barco Burgos, Concordia PhD student in Thermodynamic Fluid and Building Engineering and recipient of the Mitacs Globalink Research Award, will be speaking on the student panel on Global Experiential Learning.
Reflecting on his time at Universidad de Guanajuato in Mexico, Burgos shares that his involvement in the Sustainable Polygeneration Park project was more than an academic venture — it was "an enlightening global collaboration."
He describes this experience as one that "transcended borders, fostering a vibrant blend of cultures, ideas and shared commitment to sustainability. It wasn't just about research; it was a pivotal journey that illuminated the transformative power of global unity in innovation."
From ceramics to puppetry
Faculty members who have been active in field schools and other international opportunities — hosting and co-ordinating students — will also be present to speak to the benefits of international research collaboration.
Students who participated in field schools will take over 4TH SPACE for the day to highlight the varied experiences available through these programs. These include a summer apprenticeship in puppetry in Vermont, a sonic visions academy in Mexico and a residency in ceramics in Denmark.
Past participants will be available for questions at their tables.
"We're hoping to make it inviting — and there's really interesting work to show," says Eastwood.
Employability through international experience
Students may be surprised to learn how international learning experiences can boost their profile in terms of future opportunities. To this end, students will have access not just to information about opportunities and how to apply but also to leaders from multiple industries who can speak to the value of these experiences for potential employers.
"The Global Learning x Elsewhere event gives the Concordia community the opportunity to hear from panellists doing exciting work internationally," says William Cheaib, associate vice-president, international, and chief of staff at Concordia. "We are excited to showcase the great academic activities and research our students and faculty are pursuing abroad."

Register now for Global Learning Day x Elsewhere, to be held in Concordia's 4TH SPACE and J.W. McConnell (LB) Building atrium on September 19 from 10 a.m. to 3 p.m.
---