Senate highlights: March and April 2023
Graham Carr brings Senate up to speed on PLAN/NET ZERØ, the School of Health's new dean and record number of online courses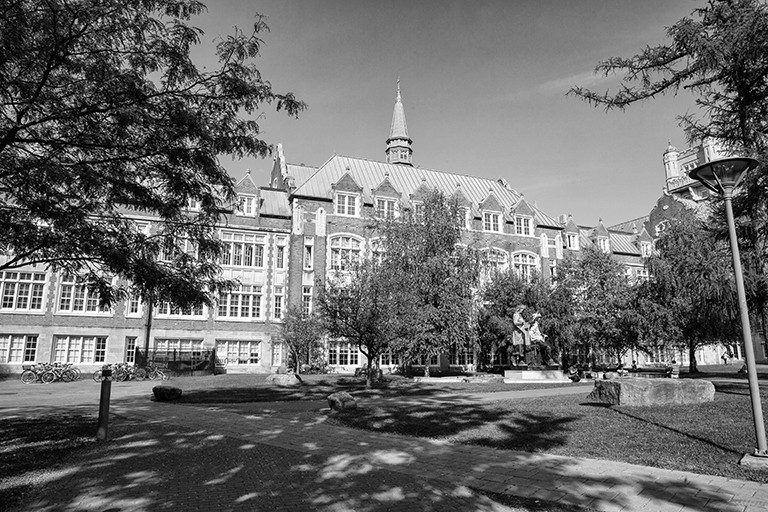 Concordia's Senate gathered in person, with some members joining remotely, on March 17 and April 14.
Highlights of Concordia President Graham Carr's remarks to Senate on March 17 included the following:
This has been a historical term for Concordia, as the university will transition to a 12-week summer, fall and winter term, with a new fall reading week, in 2023-24.
February's Open House was another success.
All Quebec universities have been experiencing a decline in student numbers; in 2022-23, Concordia's enrolment dropped 2.1 per cent from last, directly attributable to the decline of 7.4 per cent in students from Quebec caused by the shrinking 18-24 age group population.
While undergraduate applications were up, course-based master's programs severely dropped, mainly from a reduced number of students from India, the largest source of international students across Canada.
The problem has been exacerbated by long delays in processing visa applications by Immigration, Refugees and Citizenship Canada.
A further decline in student population is expected.
This underlines the importance of events like Open House and the need to continue to work towards streamlining the admissions process and providing as much personalized support as possible.
On a positive note, eConcordia offered a record 64 online courses this winter term, which attracted 18,000 students, bringing 2022-23's total online for-credit course enrolment to nearly 42,000.
The Ministère de l'Enseignement supérieur has approved the 45-credit MFA in Cinematic Arts program.
Concordia entered various partnerships over the past few weeks: in aerospace with the University of Kuala Lumpur (Malaysia); in cinema with the Ministry of Tourism, Culture and Sports of Vietnam; in power engineering with the Electric Power University of Vietnam (Hanoi); and in an agreement with Université d'Artois in northern France to foster collaborations for ecosystems in electrification and green-energy transition.
Carr congratulated Susan Edey, recently named Concordia's senior director of community engagement and social impact.
Announcements of a significant federally funded grant and of the appointment of the dean of Concordia's new School of Health will be made shortly.
He reminded Senate of Concordia's record year of $75 million-plus in research funding.
Highlights of Carr's remarks on the April 14 Senate meeting:
In addition to her written report, Anne Whitelaw, Concordia's provost and vice-president, academic, announced the appointment of the first dean of the new School of Health, Timothy Dye, whose extraordinary research portfolio complements the interdisciplinary work to be undertaken by the school's various hubs.

Find out more about Concordia's Senate.
---