Mike Popoff is Concordia's new chief information security officer
The current director of client experience and solutions begins his role February 9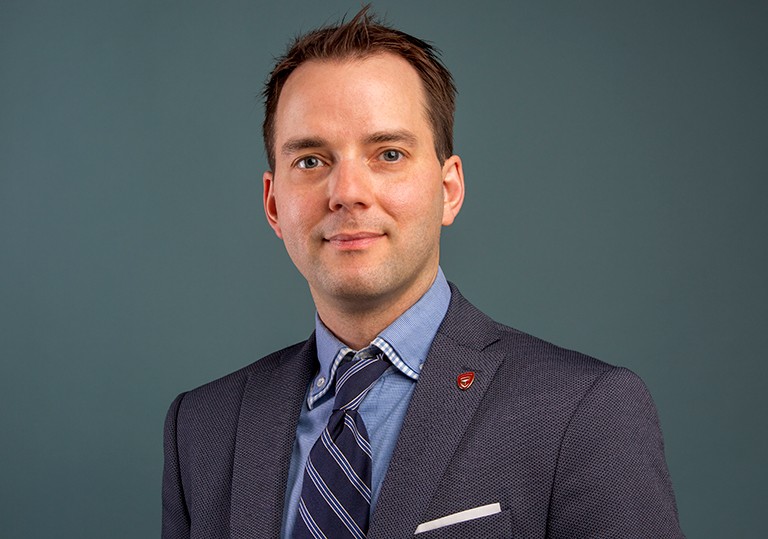 Mike Popoff (BCompSc 09, Cert 13), currently Concordia's director of client experience and solutions, will take over the role of chief information security officer (CISO) for Instructional and Information Technology Services (IITS) on February 9.
"I am delighted with the appointment of Mike as CISO. His great leadership, expertise and ability to communicate and bring people together to solve complex problems will enable Concordia to continue to improve its cybersecurity posture," says France Bigras, associate vice president and chief information officer.
An external recruitment firm had the mandate to find Concordia's new CISO, and Popoff was picked from a short list of external and internal candidates
Popoff brings with him 15 years of career progression within Concordia, which provides him with a deep understanding of the university's inner workings. He started at Concordia in 2004 as a technician and over the years moved up to the positions of manager and, in 2015, director.
As part of the IT leadership team, Popoff has been exposed to and collaborated on the development of Concordia's cybersecurity policies and programs in the recent years. He brings an indirect knowledge and experience in the sector, which he intends to further develop.
"I'm looking forward to the opportunity to lead Concordia's cybersecurity program and continue improving Concordia's cybersecurity efforts to protect the university's valuable digital assets," he says.
In his new role, Popoff will be responsible for bringing Concordia's cybersecurity roadmap to maturity while also working in close collaboration with experts in the field from the Gina Cody School of Engineering and Computer Science.
"Mike will leverage partnership opportunities with Concordia's Centre for Cybersecurity and will have access to a team of professors who are among the most prominent experts in the world," adds Bigras.
Popoff will also join the larger CISO community, becoming an active member of national and provincial committees aimed at sharing best practices and improving the management of cybersecurity in education.
Operationally, Concordia's IT Security team will be supplemented by Deloitte Touche Tohmatsu Limited, a multinational professional services network. Deloitte will assist in monitoring, analyzing and mitigating cybersecurity threats in real time through a 24/7 security operations centre beginning in spring 2022.
Popoff will be a key contributor and leader, overseeing the operationalization and management of these services.
Looking forward
Popoff's current position as director of client experience and solutions will be posted for competition shortly. Cristian Chirca, who has been serving as interim director of client experience and solutions, will continue to act in this role until the position is filled.

If you notice any suspicious activity on campus, please call Concordia Security immediately at 514-848-3717.
---