Concordia psychology students launch 2 undergraduate journals in as many years
One publication focuses on accessibility and the other on empirical research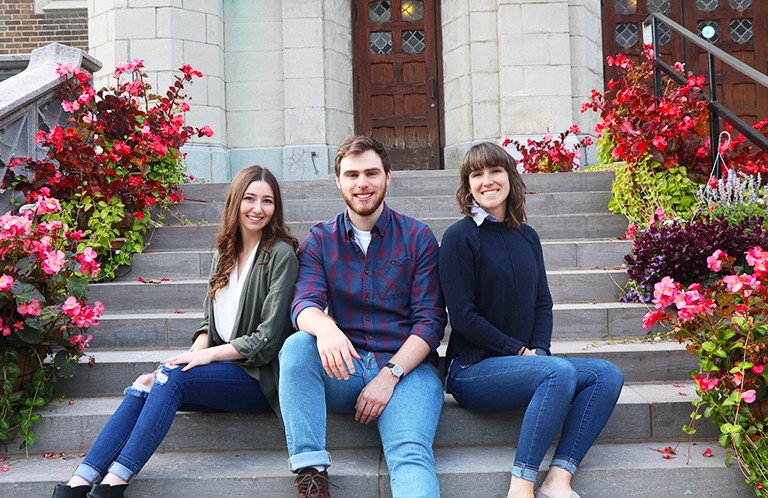 From left: Jillian Caplan, Ryan Aberback and Alexa Ruel.
When it comes to getting research published, young scholars often face challenges, especially undergrads.
Students in the Faculty of Arts and Science have come up with a solution: they created their own journals.
Alexa Ruel and a group of fellow grad students got the ball rolling last year when they created the Concordia Journal of Accessible Psychology (CJAP). As its name suggests, CJAP publishes articles that are written in a way that is accessible to the general public.
"We focused on helping students learn the invaluable skill of science communication," say Ruel, a PhD student in the Department of Psychology and a member of the current cohort of Concordia Public Scholars.
The work of the volunteer team paid off. The journal was a big success, publishing 10 accessible student-written articles in summer 2020.
Doubling down
As CJAP entered its second year, Ruel wished to explore how the journal could be expanded upon to meet more of the needs and interests of psychology students.
In January 2020, she was approached by senior undergrad students Jillian Caplan and Ryan Aberback.
"They were interested in starting a second journal as an outlet where undergraduate students could publish empirical articles," she explains.
"We realized that so many of our peers had produced high-quality work but had no opportunities to publish," Aberback adds.
The idea snowballed from there. Together, the trio began creating the Concordia Journal of Psychology and Neuroscience (CJPN). Both publications are now housed under the banner Concordia Psychology Journals.
An enthusiastic response
The three created budget proposals, secured funding from the Concordia Council on Student Life and started to advertise the idea to faculty, students and staff.
Graduate and undergraduate students alike jumped at the chance to engage in the peer-review process, and the team recruited 26 students.
"We're proud to be providing a platform for senior undergraduates to showcase the great work that goes on in the Department of Psychology. Overall, we're confident that this initiative will help strengthen the department's commitment to excellence and communicate psychological science to the wider public," Aberback says.
Once again, the project is enjoying an extremely successful year.
High-calibre research
"Alexa, Ryan and I are blown away by the calibre of student work in the first issues of our journals," Caplan says.
This year's winners for best journal articles are Léa Homer, Ingrid Matei and Amelia Weber for CJPN, and Kaniza Salam, Micaël Theriault and Lisa Sarraf for CJAP.
"Covering topics from mindfulness to operant conditioning, these articles reflect the range of research being conducted in psychology and neuroscience at Concordia."
Caplan also makes sure to credit the support they got along the way.
"We are thankful to the Department of Psychology and the many professors who believed in our mission to highlight undergraduate researchers and communicate psychological science."

Visit the Concordia Psychology Journals website for more information.
---