Concordia student feedback helps shape the upcoming CU Celebrate event
Focus group members suggest new ways to engage and honour this spring's graduates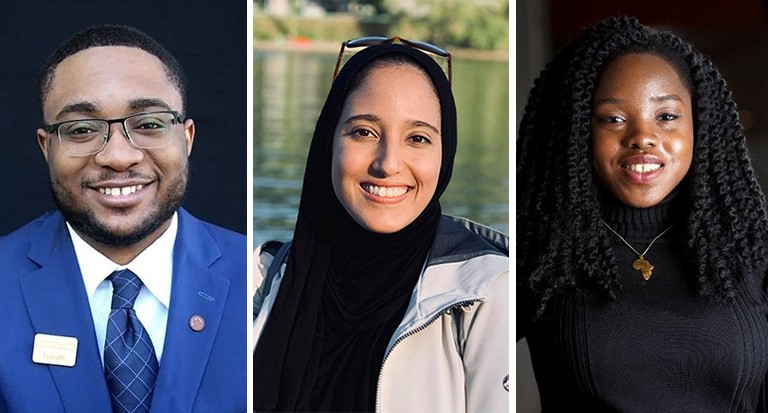 Graduating students Isaiah Joyner, Salma Adem and Adewunmi Ajike.
Concordia will hold CU Celebrate, the third virtual graduation event since the start of the COVID-19 pandemic, on June 17. This time, students from the Class of 2021 have played an integral part in the planning process, consulting with the event's committee on how best to create an engaging experience over Zoom.
Salma Adem (BA 21), Adewunmi Ajike (BA 21) and Isaiah Joyner (BComm 21) were among the graduating students who participated in a focus group earlier this spring. They provided feedback about the last two instalments of CU Celebrate and proposed new ideas for the upcoming event.
"I suggested we come up with ways to add more student content," says Adem, a human relations and child studies grad. "We all wanted to see more student videos made by students themselves. We also suggested sending a gift to those who are graduating along with their diplomas."
Ajike, who studied economics, echoes the relevance of a graduation memento.
"It would be meaningful to receive some sort of item to keep as a memory of my virtual celebration."
Students also emphasized a desire for more live content. This edition of CU Celebrate will include live speeches over Zoom from Concordia President Graham Carr along with Anne Whitelaw, interim provost and vice-president, academic.
Student presenters will also be featured at the June event. Ajike, Joyner and Adem, each of whom have been widely involved in student life at Concordia over the course of their studies, are preparing short videos with their messages for students.
Garnet Key Society also weighs in
Several members of the Garnet Key Society have also recorded messages to congratulate and encourage graduates for their future.
Liberal arts student and Garnet Key member Sydney Gervais says she wanted to participate to help make the event feel special for new grads and to fight some of the Zoom fatigue that many students are feeling.
"I think the event organizers really just want to demonstrate what the Concordia community is — that's what brought me here," she says.
Joyner, who is graduating with a business degree, notes that they all want to help students really feel like they're graduating. "One of the most beautiful moments of an in-person graduation that I think we miss is talking with your friends after the event is over, taking photos, all being together," he says.
To help recreate some of that celebratory togetherness in a virtual context, Joyner will be hosting a Zoom dance party featuring a lineup of alumni DJs. This is the third time a Zoom dance party will be part of the virtual celebration.
"This is not convocation — this is a celebration," Joyner adds. "Once things reopen and it's a little safer, will there be an actual convocation to honour these three classes that graduated virtually? I believe there's going to be an in-person element when the time arises."

Register to participate in the June 2021 CU Celebrate events.
---