Concordia celebrates the fall 2020 graduating class
"The world is facing major challenges. It needs you now more than ever," says Concordia President Graham Carr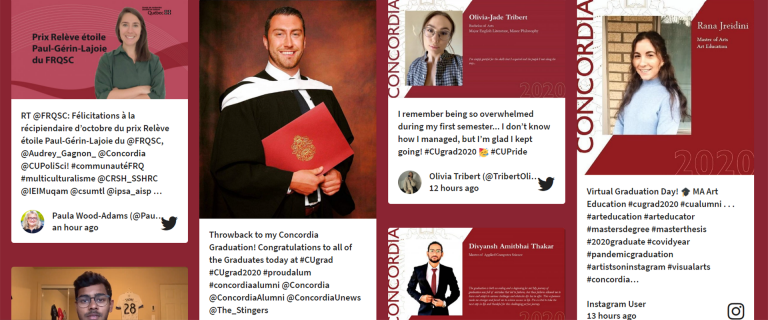 Although in-person graduation ceremonies have been cancelled across Canada and abroad, Concordia nevertheless found ways to celebrate the accomplishments of its 1,831 fall graduates.
Enrolment Services produced a digital yearbook featuring photos of the new grads and their personal messages.
Alumni and new graduates took to Instagram and Twitter to share messages of congratulations and thanks using CU hashtags #CUgrad2020, #CUalumni and #CUpride.
"An enriching experience, and friends for a lifetime," said Ganesh Kumar Swami, who graduated with his MBA from the John Molson School of Business this fall.
"We are the first batch that encounters the challenges of COVID," he added. "When we return to the new normal, we should be proud of what the graduates of 2020 have achieved. Let's build the future!"
Fall 2020 valedictorians and student award recipients offered their reflections and advice to future students in interviews made available online.
Live online celebration
A November 19 live, online event also brought recent graduates, faculty and members of the broader Concordia community together for celebration.
In a video prepared for the occasion, Concordia President Graham Carr and deans offered words of congratulations and encouragement to the new graduates.

"What a rite of passage," Carr said, referring to the students' unique challenges in completing their studies in 2020.
"One day COVID-19 will be behind us," said Pascale Sicotte, dean of the Faculty of Arts and Science, in a bilingual message to students. "There is good reason for hope, because the resilience that you have developed over the past few months in your program will always be with you."
Anne-Marie Croteau, dean of the John Molson School of Business, also took the opportunity to express her pride in the students' accomplishments. "You have done so much," she said. "You've adapted remarkably in order to be able to complete your programs."
A number of notable alumni also prepared messages and words of advice for students.
"Remember the communities that have nourished you in these years," said artist Skawennati (BFA 92, GrDip 96).
"For anyone who doesn't know exactly what they want to do, it's okay," said women's leadership coach Rashida Geddes (BA11), commenting on the unexpected "twists and turns" that accompany every journey and career.
The virtual event concluded with an online dance party hosted by the DJing duo Royce and Tan (BFA 11).
"Celebrating the graduating Class of 2020 during these challenging times is an extraordinary experience," said Leisha LeCouvie, senior director of Concordia's alumni relations. "I took special joy in the live virtual dance party. Completion, success, happiness and pride were so clearly visible on the faces of our newest alumni and their families."
Message from the honorary degree recipient
This fall, the university presented professor and neuroscientist Eric J. Nestler with an honorary doctorate in recognition of his pioneering research on depression and drug addiction, as well as his advocacy of equity and inclusion.
He stressed the need to be resilient and embrace the unexpected detours that inevitably arise in the pursuit of one's goals. And he encouraged supporting others in their struggles.
"I'm a big believer in offering individuals second chances and allowing people to achieve spectacular careers in perhaps more indirect ways, supporting them in overcoming obstacles along the way."
---