Concordia's 2019-20 Public Scholars year-end showcase takes place as an online forum
Hosted by 4TH SPACE, the June 12 event will address how researchers are adapting to the COVID-19 reality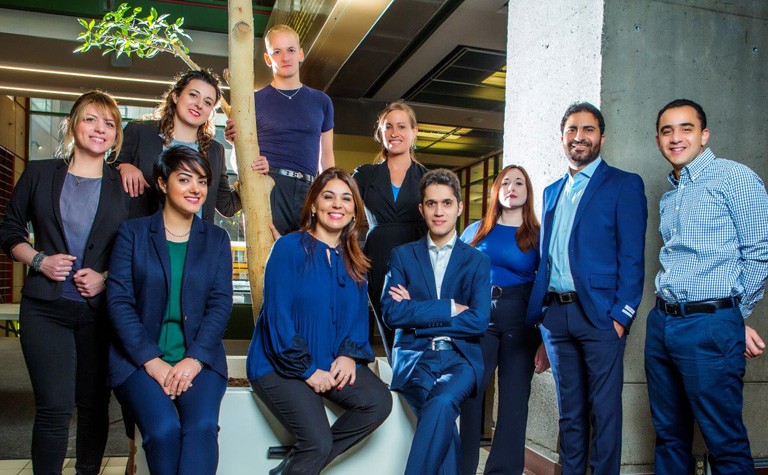 The 2019-20 Public Scholars cohort began their tenure last May.
From developing tactical sensors for minimally invasive surgery to designing sustainable buildings, Concordia's Public Scholars continue to make an impact through cutting-edge research.
Representing the university's diverse graduate community, and in partnership with the Montreal Gazette, the Public Scholars Program mandate is to engage and share Concordia graduate research with the general public.
But, given the current context, the 2019-20 cohort has had to switch things up a little for this year's final research exhibition.
The annual event is usually open to the public at Concordia 4TH SPACE and functions as a kind of passing of the torch to the following year's cohort.
Due to the COVID-19 pandemic, the scholars have instead organized an online forum on June 12 from 11 a.m. to 12:30 p.m.
Hosted remotely by 4TH SPACE, the lunchtime event will be introduced by Faye Diamantoudi, interim dean of graduate studies, and features brief presentations by the Public Scholars.
The audience will have a chance to engage with the graduate researchers during a Q&A session and the event will be rounded out with some words from Lucinda Chodan, editor-in-chief at the Montreal Gazette.
'Our students are grappling with disruptions to their academic careers'
In addition to showcasing their work, the speakers will look at how COVID-19 has impacted graduate student research and plans, what they see happening in their fields and what advice they have for those considering graduate studies in a post-COVID-19 world.
"The pandemic and its impacts have disrupted the entire world, and we will only learn the true scale of the consequences in the coming years," Diamantoudi says.
"Our students are grappling with disruptions to their academic careers and research. We can prepare best for these consequences by listening now and planning now. Our Public Scholars are uniquely positioned to provide insight into how graduate students are both struggling and thriving in this new reality."
Both the outgoing and incoming cohorts are facing a unique challenge: how to quickly adapt to a new concept of what it means to be "public" without in-person engagement; and what it means to be a "scholar" when laboratories and libraries are shut down, indefinitely, almost overnight.
"I'm looking forward to moderating the conversation as well as relaying questions by Concordia students and the general public," says Bettina Forget, Public Scholar and Visual Voice Gallery director.
"We live in uncertain times. Our Public Scholars will have pertinent insight and ideas for how we can best tackle the world after COVID-19."

The 2019-20 Public Scholars year-end event takes place online on June 12 from 11 a.m. to 12:30 p.m. Register today to learn how the COVID-19 crisis has impacted Concordia's graduate students, and engage in a conversation about the new realities of higher education and research.
---