Winter Open House 2020: 'A destination for people who want to see us in action'
4,500+ visitors from around the world receive a warm welcome at Concordia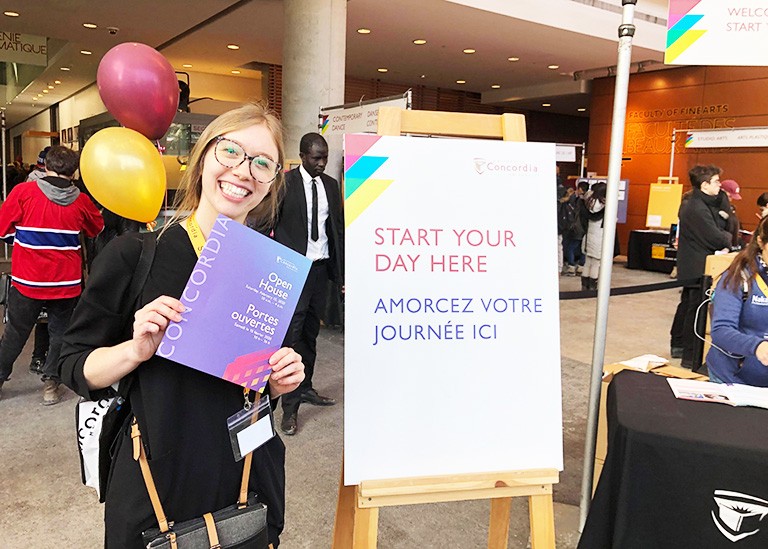 Hundreds of Concordia professors, students and staff — including recruiter Kate Halliday — offered a warm welcome to prospective students. | Photos by Sarah Buck
Not fazed by bitterly cold temperatures, more than 4,500 visitors turned up on campus to take part in Open House on Saturday, February 15.
Matthew Stiegemeyer, director of student recruitment, says offers of admission are going out earlier than ever this year, making the event a key opportunity for Concordia.
"We're hearing from people that attending Open House is a way to confirm that they want to join us in the fall," Stiegemeyer notes.
"That's why we're so grateful to our professors, staff and — most of all — our current students. Hundreds of them gave up their Saturday to welcome visitors and give them a sense of the Concordia community."
An international draw
Most attendees live within driving distance, including a significant number of guests from Ontario and the United States. Charter buses offering a free ride from Ottawa/Gatineau and Quebec City were both full.
Yet an increasing number of Open House guests are making the trip to Montreal from much further afield, including countries like Ecuador and Turkey.
"As Concordia's reputation grows across the world, Open House becomes a destination for people who want to see us in action," Stiegemeyer adds.
"It's our chance to shine and show prospective students why Concordia is the right choice for them."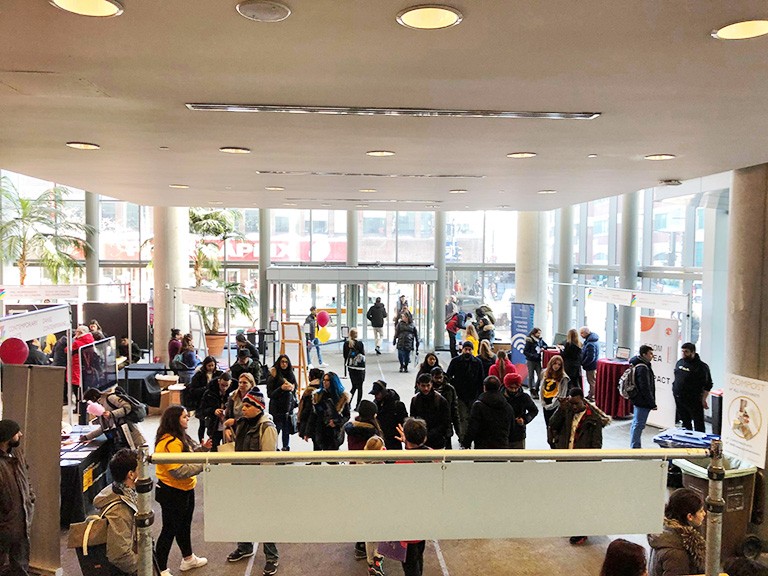 4,500+ visitors braved the cold temperatures to take part in winter Open House on Saturday, February 15.
Tailored admissions advice
Admissions officers and academic advisors were on hand to consult one-on-one with future students. "We are really good at offering personalized guidance for thinking about possible academic paths," says Sophie Fontaine, director of admissions. She also emphasizes Concordia's longstanding reputation for making higher education accessible.
Admission to many Concordia programs is increasingly competitive. "We're committed to balancing excellence against elitism," Fontaine says.
"That translates into helping prospective students find a way to pursue a university degree even when their academic history has not followed a typical trajectory before they apply for admission."
Virtual Open House
Throughout the day, recruiters messaged with more than 100 prospective students from around the world on social media. Future Concordians who weren't able to attend Open House also got the chance to get their questions answered during live Facebook and Instagram videos, with the Facebook stream reaching some 1,800 viewers.
Additionally, recruiters interacted with prospective students as part of an "Ask Me Anything" feature on Reddit.
The next Concordia Open House happens Saturday, October 24, 2020.

The deadline to apply for fall undergraduate admission to Concordia is March 2, 2020.
Future students can apply on the spot with guidance from advisors at the Welcome Centre (1400 De Maisonneuve Blvd. W.) on the Sir George Williams Campus as part of an application clinic running 9 a.m. to 6 p.m., Monday to Friday, until March 2.
---