3 Concordians are among the inaugural Person of the Year Award finalists
JMSB and Raymond Chabot Grant Thornton celebrate leaders at the forefront of Quebec's business sector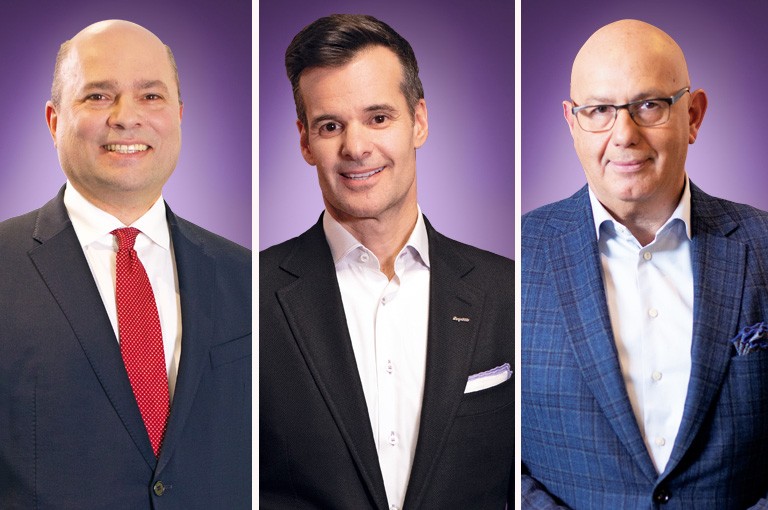 From left: Parsa Famili, Lino A. Saputo Jr. and Greg Rokos.
Concordia's John Molson School of Business (JMSB) and the Canadian accounting firm Raymond Chabot Grant Thornton (RCGT) launched the inaugural Person of the Year Awards in September 2018. Their aim is to celebrate innovative Quebec business leaders who dare to do things differently.
Award recipients will be considered in four categories:
Eclipse: somebody who is heading a growing and innovative company that exceeds the competition and is transforming their industry through the provision of services and products, process improvements or the creation of new business models


Glocal: an individual who has created local jobs and contributed to the advancement of a Quebec-based company at the international level


Instinct: a team responsible for an innovative and complex transaction that ensures the development and growth of a local leading-edge business


Person of the Year: a leader who embodies the vision of RCGT and JMSB

In April, the finalists were announced — and among them are three Concordians.
In the Person of the Year category:
Greg Rokos (BComm 82), president and CEO of ESI Technologies
Lino A. Saputo Jr. (BA 89), chairman of the board and CEO of Saputo Inc.
In the Glocal category:
Parsa Famili (BSc 91, MSc 93), president and CEO of Novatek International
Both Rokos and Saputo have been very involved with Concordia since graduation. Rokos has funded annual undergraduate and graduate bursaries and scholarships at JMSB. Saputo is co-chair of the university's $250-million Campaign for Concordia: Next Gen. Now.
The selection committee, composed of three JMSB representatives and three prominent members of the business community, selected the finalists based on:
Innovation and vision
Financial performance
Scope of accomplishments
Involvement in community and mentoring activities
The winners will be announced at a gala event on Thursday, May 9, at Windsor Station in Montreal.

Find out more about Concordia's John Molson School of Business.
---