François-Marc Gagnon (1935-2019): 'A creative thinker and inspiring educator'
Concordia remembers a passionate scholar and the founding director of the Gail and Stephen A. Jarislowsky Institute for Studies in Canadian Art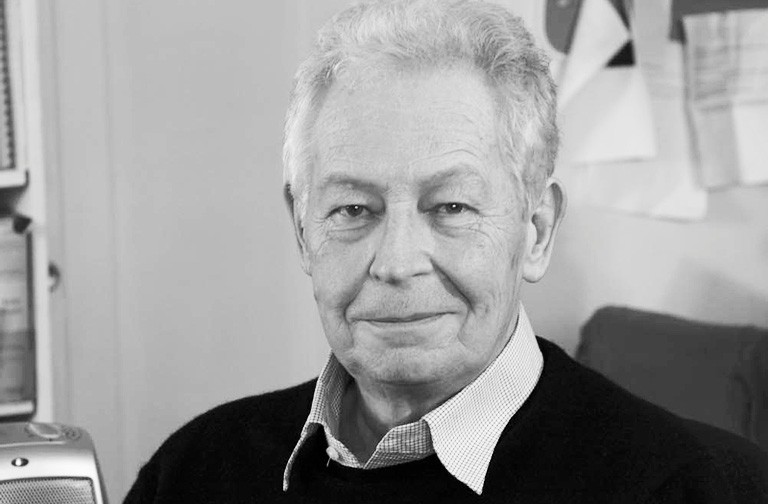 Martha Langford: "François-Marc's erudition, wit and generosity of spirit will be sorely missed." | Photo: Gabor Szilasi
The Concordia community mourns the loss of François-Marc Gagnon (LLD 92): teacher, researcher, writer, lecturer and tireless promoter of the art and visual heritage of Quebec and Canada. He passed away on March 28 surrounded by his family.
Gagnon was the founding director of Concordia's Gail and Stephen A. Jarislowsky Institute for Studies in Canadian Art and an affiliate professor in the Department of Art History. His international reputation and huge body of scholarly work had an immense impact on the Faculty of Fine Arts and the development of Canadian art history as a research strength at Concordia.
He started his work at the Jarislowsky Institute in 2000, after retiring from the Université de Montréal. Gagnon presented a series of annual lectures on aspects of Canadian art at the Montreal Museum of Fine Arts in conjunction with the institute. The lectures were later developed into popular online courses.
Gagnon helped put the institute and Concordia on the Quebec and Canadian cultural map. Through all his activities, he became an unofficial representative of the Faculty of Fine Arts.
Intelligence, humour and passion
"Anybody who met François-Marc realized that he was a passionate scholar, especially when it came to Paul-Émile Borduas and the Automatiste movement. And indeed his scholarship has played a central role in organizing Quebec's art history around the modernism of Borduas," says Johanne Sloan, chair of the Department of Art History.
"His expertise also encompassed the art and culture of New France. François-Marc's intelligence, humour and passion will be greatly missed."
A prolific researcher, Gagnon wrote the definitive biography of Borduas, Paul-Émile Borduas: Ecrits/Writings 1942-1958 (1978), which received the Governor General's Award and set a standard against which all subsequent writings about the artist must be measured.
His other books include La Conversion par l'image (1975), Paul-Émile Borduas (1988) for the Montreal Museum of Fine Arts, Chronique du mouvement automatiste québécoise 1941-1954 (1998) and The Codex Canadensis and the Writings of Louis Nicolas (2011), for which he was awarded the Sir John A. Macdonald Prize from the Canadian History Association.
"François-Marc transformed the field of Canadian art history with his deep knowledge, rigorous analysis and empathetic understanding of artistic process," says Martha Langford, research chair and current director of the Jarislowsky Institute. "He was a creative thinker and an inspiring educator. His erudition, wit and generosity of spirit will be sorely missed."
Gagnon was an honoured speaker at numerous scholarly conferences across Canada and reached the wider community through his television series, Introduction à la peinture moderne au Québec, broadcast on Canal Savoir.
He gave his time and experience to the National Gallery of Canada, the Montreal Museum of Fine Arts, the Canada Council of the Arts, the Ministère de l'Éducation et de l'Enseignement supérieur and a number of other institutions, organizations and publications.
He was also instrumental in developing a network of scholars working on Quebec art that now includes many professors and students at all of the province's universities.
We will miss him deeply
Gagnon was deeply involved in The Journal of Canadian Art History/Annales d'histoire de l'art canadien, which was founded at Concordia.
"Our beloved François-Marc was the first person we invited to join the editorial board of the Journal of Canadian Art History when we started the periodical in 1972," says Sandra Paikowsky, professor emerita in the Department of Art History and co-founder of the journal.
"Over the next several decades, his knowledge, his wisdom and his humour encouraged and inspired the periodical. A few years ago, we published a two-part Festschrift in honour of François-Marc and his incomparable contribution to Quebec and Canadian art history. We will miss him deeply."
Gagnon was named to the Order of Canada in 1999. In 2010, he was awarded the Prix Gérard-Morisset as part of the Prix du Québec. In 2013, he earned the top annual prize from the Académie des lettres du Québec and in 2015 he was inducted into the Order of Quebec.
Concordia bestowed an honorary degree on Gagnon in 1992.

François-Marc Gagnon leaves behind his wife, Pnina Gagnon, his daughter, Iris Amizlev, and his two sons, Lee-Yarden and Yakir Gagnon. The family will receive relatives and friends on Sunday, April 7, from 1 to 4 p.m. at 4231 St. Laurent Blvd. A commemoration of Gagnon's life will take place at 4 p.m.
---