Are you a budding urban agriculturist?
Apply for an apprenticeship with Concordia's City Farm School by January 31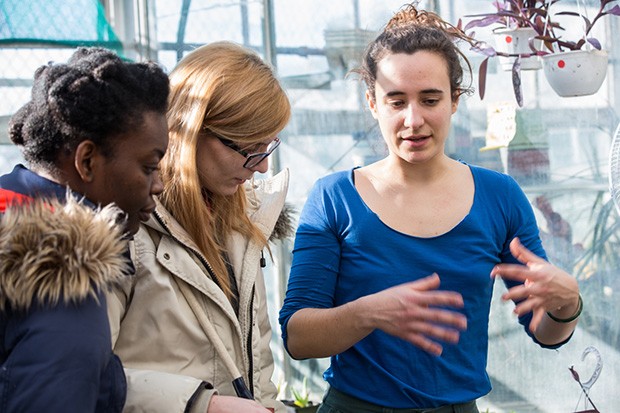 Chesley Welsh: "While experience isn't necessary, we need our applicants to be passionate and enthusiastic."

Greenhouse growing, seed production, organic gardening — these are just a few of the practices you'll learn in Concordia's City Farm School Apprenticeship program.
The eight-and-a-half-month offering is open to anyone over the age of 18. Requiring a commitment of 180 hours from March to mid-November, the program is designed to create urban farmers who are interested in taking their veggies to market, while also working collectively to design and manage a community garden plot.
Applications are due January 31, 2018.

City slickers welcome
Don't worry if you don't have any farming experience! The apprenticeship is set up as an introduction to urban agriculture.
"While experience isn't necessary, we need our applicants to be passionate and enthusiastic," says Chesley Walsh, the farm school's media and education coordinator.
"Often, students take our apprenticeship as a stepping stone before applying to other farming work. It's a good way to see if they want a life in agriculture before making a bigger commitment."
Now in its seventh year, the apprenticeship is divided into three sessions spread across the growing and harvesting seasons.

Spring, summer and fall
The three-month-long Greenhouse Growing Session begins in early March. It focuses on the skills and sciences behind greenhouse planting, soil and seeds.
Next is the Farm to Market Session, where interns work on the land to grow their own produce, develop a communal garden and sell it at rotating markets throughout the city.
There will also be an introduction to food transformation and fermentation, and converting fresh produce into canned items. It takes place at the farm on the Loyola Campus.
The final piece of the program is the Permaculture & Policy Session, starting in September, which focuses on harvest techniques, seed sovereignty, beekeeping and community engagement, examining what is happening locally and globally in terms of food systems.

Healing with herbs
City Farm School also offers a six-month Medicinal Herbs internship, with registration opening late February. The session takes place at both the Loyola City Farm School Herbal Medicine Garden and the Concordia Greenhouse.
"Students will learn the basics of how to grow, harvest, preserve, transform and apply some common herbs," says Walsh. "It's practical because we teach how to make salves, balms, tinctures, throat lozenges, syrups and electuaries, just to name a few."

Support from Concordia
Apprentices who complete these full programs get a certificate from the City Farm School, as well as certification from the Loyola Sustainability Research Centre. Applicants don't have to be Concordia students. It's important to note that the partnership with the LSRC does not count towards a Concordia degree.

Read more about the City Farm School's apprenticeship programs at Concordia. Prospective interns must fill out an application form and email a CV to: cityfarmschool.media@gmail.com. Interviews begin in mid-February. Applicants will be notified within a week of their interview if they have been selected.
---