9 ways Concordians show their generosity
Campus and community charities benefit from the university's holiday spirit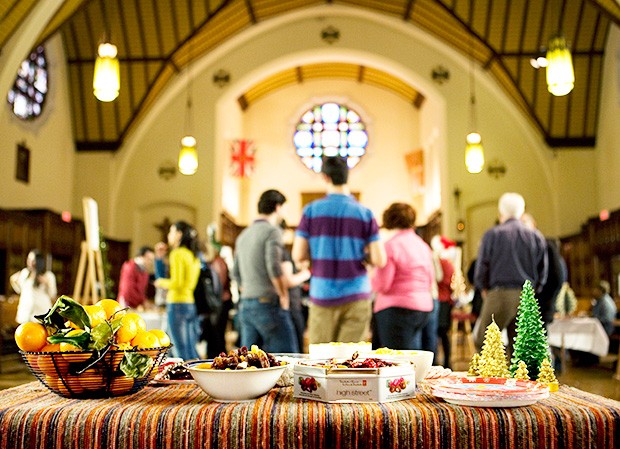 'Tis the season to show you care — though at Concordia, people donate their time and money to charitable causes year-round.
From food drives to the Centraide Campaign, here's a roundup of some of the great efforts taking place on campus.

1. Library Christmas Auction
Why not finish your gift shopping at the 28th annual Library Christmas Auction? On Thursday, December 14 from 12 to 2 p.m., an excited crowd of Concordians will bid on all kinds of crafts, antiques, jewellery, objets d'art, and holiday-themed items.
Let's not forget about the donated and signed hockey sticks, caps and T-shirts from the Montreal Canadiens, and signed footballs from the Montreal Alouettes. There will be a $10 lunch with a choice of chilli, lasagne, bean salad and more.
Proceeds will be split among a number of great local causes:
Auberge Madeleine

Can Serve Foundation

Chez Doris

CODE (Canadian Organization for Development through Education)

Concordia's Centre for the Arts in Human Development (CAHD)

Concordia's Multi-faith and Spirituality Centre's Student Emergency and Food Fund

Concordia's Financial Aid and Awards Office

Dans la rue

The Gazette Christmas Fund

Operation Eyesight Universal

Oxfam

Sun Youth Organization

Women's Centre of Montreal

"The money raised goes toward providing a boost to those who need it, whether that is through bursaries, support for shelters, access to educational tools, food baskets, vouchers or social support for communities," says Faye Corbin, interlibrary loans supervisor with the Concordia Library.
"Knowing that people care makes a difference."

2. Concordia's 43rd annual Centraide campaign
Concordia's 43rd annual Centraide campaign officially ended on Friday, December 5.
Altogether, $175,000 was raised this year, thanks to a series of events organized by members of the Concordia community, from samosa sales and pasta lunches to a 50/50 draw.
The pasta lunch in particular embodied the "all-hands-on-deck" spirit of the campaign. The deans of the Faculty of Arts and Science and the Faculty of Fine Arts both chipped in to help make the event a great success.
Money raised goes to Centraide of Greater Montreal, an umbrella organization that distributes funds to 349 community agencies in the region.
"I encourage everyone to find out more about how Centraide makes Montreal a better city for all of us," says Andrea Renaud, a member of Concordia's Centraide Committee.

3. Christmas 4 A Cause
Brent Pearce and his undergraduate marketing students are helping the less fortunate through their 17th annual Christmas 4 A Cause, a charity that accepts donations of non-perishable food, toys, games, books, clothes and money (made payable to the "Saint Thomas More Parish Christmas Fund").
For 2017, they are providing for 165 families and more than 455 kids, who will receive food baskets, toys, pyjamas and other gifts.
If you missed the December 4 fundraiser at Hurley's Irish Pub, donations are being accepted on the 13th floor of the John Molson Building (MB), to the attention of Brent Pearce, until December 17.

4. Santa Supply Chain
On November 23, JMSB students and community volunteers packaged and wrapped donated toys for the Santa Supply Chain.
It was a dazzling success: presents were donated by Mega Bloks, money and non-perishable items were collected, and there was a lot of wrapping done.

5. Stingers Holiday Skating Party
Again this year, Concordia athletes, faculty and staff collected non-perishable food items for the NDG Food Depot.
On Saturday, December 9, skaters descended on the Ed Meagher Arena to glide around with Santa Claus, Buzz the Bee, and student athletes during the Stingers Holiday Skating Party. Afterward, they enjoyed hot chocolate and cookies, and a lucky few took home raffle prizes.

6. Goods Bazaar
Every Concordia Stores client who donated an old backpack to the Concordia University Student Parents (CUSP) program this fall got a $30 discount off a new JanSport backpack.
For the past five years, Concordia Stores has donated school supplies to CUSP's Backpack to School Supplies Program. Last year, they gave out nearly 100 backpacks full of useful school supplies for the families of Concordia's student parents.

7. Multi-faith & Spirituality Centre Food Drive
The Multi-faith & Spirituality Centre renewed its annual food drive in September. The centre wanted to be more involved in charitable works that embraced the local community, in accordance with Concordia's strategic direction, "embrace the city, embrace the world," says Father Paul Anyidoho.
The centre expects to collect more than the equivalent of $3,000 dollars in donations for the NDG Food Depot during their 2017-2018 campaign.
"Any quantity or amount of food will help in bringing great comfort and support to people in need during the holiday season, given that they have no family or place to turn to," says Father Anyidoho.
"We sincerely thank our sponsors and donors for making Concordia a community filled with tender and generous hearts."
The food drive runs through the year, until April 27. You can drop food items in the atrium of the Richard J. Renaud Science Complex (SP) on the Loyola Campus every first and third Friday of the month from 12 p.m. - 1 p.m.

8. Financial Services steps up
Financial Services raised $1,330 in cash donations and through raffle ticket sales last year, and they are well on their way to surpassing that figure this year. They have already raised $320.
They will continue to sell raffle tickets and take cash donations through to the end of December. This inter-departmental initiative will also be collecting boxes of non-perishable food items and toiletries for Chez Doris.
"In the spirit of community, this is our opportunity to come together as a group and provide assistance to those who are supporting and changing the lives of those in need," says Catherine Bissonnette-Wilkinson, a supervisor with Financial Services.

9. Campaign for Concordia
Last month, Concordia launched the largest fundraising campaign in its history. The goal is to raise $250 million to support the university's next-generation teaching and research goals.
"This campaign is about attracting world-class talent — and supporting the university as a world-class institution," says Alan Shepard, Concordia's president.
A great number of people from the Concordia community have given their time as volunteer cabinet members, taking a lead on community support for this ambitious fundraising campaign.
Find out how you can contribute by visiting the campaign website.

Do you know of other charitable events on campus? Please tell us about them by writing to now@concordia.ca.
---