Cloud worlds, Wyoming fire towers — it's Arcade 11!
This Concordia indie gaming event could be your March Break solution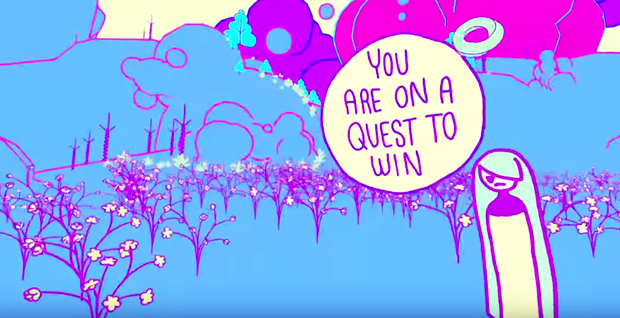 Don't miss your chance to explore Arcade 11, a three-day Concordia event dedicated to challenging the gaming sector's status quo.
From March 8 to 10, the 11th floor of the Engineering, Computer Science and Visual Arts Integrated Complex (EV) will transform into a digital playground with eight alternative video games available to the public.
This year's theme is the natural environment, and organizers are hoping that visitors will walk away with a new perspective.
"We want to show that video games can be totally different from what you expect," says Gina Hara, creative director of the Concordia Centre for Technoculture, Art and Games (TAG).
"For instance, some of our games have alternative controllers or address social issues and other serious topics."
Arcade 11 is a collaborative effort between the Milieux Institute for Arts, Culture and Technology and TAG, and has become a regular highlight of the larger Montreal Joue Game Festival.
William Robinson, a PhD in Humanities student and co-curator of the event, says it's a unique chance to have access to games that are off the beaten path.
"Since we first started three years ago, we've seen hundreds of people pass through and gain from Arcade 11," he says.
"It gives everyone a chance to have a fun, strange experience in the sector. People come away with a broader understanding of what video games can be."

A sneak peek at the fun
If you're looking for an unusual multi-player experience, Overcooked might be for you. In this co-op cooking game you and your fellow chefs work together as a team as you embark on a culinary journey across the Onion Kingdom.

Fancy yourself a green thumb? You'll get a kick out of Gardenarium, which plants you in a super-chill cloud world on a quest to make land grow by picking up trash.

Firewatch is the video-game equivalent of a page turner. Set in the Wyoming wilderness, it's an ambient mystery story that will put you in the shoes of Henry, a fire lookout working in a secluded outpost in 1989. Your only lifeline? The voice on the other end of a handheld radio.

Arcade 11 takes place at Concordia from March 8 to 10 in Room EV 11.715 of the Engineering, Computer Science and Visual Arts Integrated Complex (1515 Ste Catherine St. W) on the Sir George Williams Campus.

---