Adventures in athletic therapy
Exercise science takes Concordia instructor Christina Grace to China, Austria, Lebanon, Brazil, Hawaii and beyond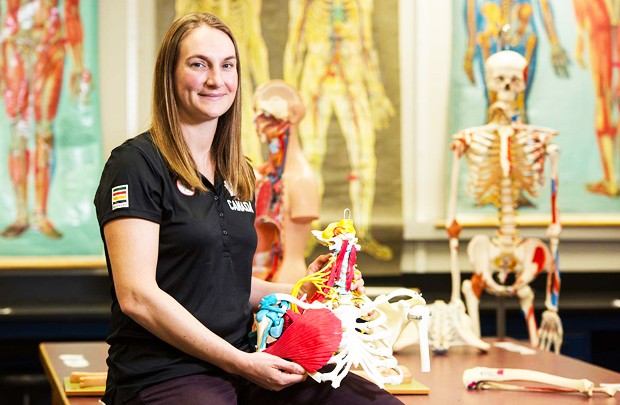 Christina Grace: "Supporting para athletes allows you to appreciate the incredible ability they have."

Where can an exercise science degree take you? One Concordia graduate's long list of international destinations includes Austria, Lebanon and China.
Christina Grace (BSc 01) is an athletic therapy instructor in the Department of Exercise Science. Through her work, she has been to five Canada Summer and Winter Games, the 2009 Francophone Games in Beirut, the 2012 Winter Youth Olympic Games in Innsbruck and the 2014 Summer Youth Olympic Games in Nanjing.
"Travelling to all these places and meeting incredible athletes and coaches has allowed me to grow both on a personal and professional level."
Grace first came to Concordia as a student in the Athletic Therapy program (the only English one of its kind in Quebec or the Maritimes). She's glad she chose to study here — and to stick around after graduation.
"I absolutely fell in love with teaching," says Grace, who began her career in the department as a TA. In a typical day as a lab instructor, Grace now helps students learn how to assess injuries, apply various support techniques and identify muscles, bones and ligaments — first on models, then on people.
"I love being able to interact with the students in a lab setting. The small student–teacher ratio lets me really get to know the class."

'A truly inspiring experience'
In 2015, Grace was chief athletic therapist for the Parapan Am Games in Toronto, which led to her most recent trip to Rio for the 2016 Paralympic Games.
"Rio was a truly inspiring experience," Grace says. "Supporting para athletes of all levels allows you to appreciate the incredible ability they have, as opposed to the disability some people tend to see first."
Back home, Grace has plenty to keep her busy.
During the week of March 6, she is helping to organize the ninth edition of Concordia's Wellness Week. The Department of Exercise Science holds the charity event annually to promote healthy living. Proceeds raised this year will go to the Heart and Stroke Foundation.
Then, on May 18, in collaboration with Recreation and Athletics, Grace will support her department in hosting the third annual Born to Run event. It's a fundraiser that honours their late colleague David Jones, who passed away in 2014.
"Born to Run holds a special place in our hearts," she says.
While Grace is looking forward to future travel opportunities, she's happy to stay put in Montreal in the meantime. "What I do is very rewarding. I feel like I have accomplished something at the end of every day."

Find out more about Concordia's Department of Exercise Science.
---