Mental Health Awareness Month: 'We're all needed in the dialogue'
Concordia's 20-plus events include art workshops, chair yoga … and a labyrinth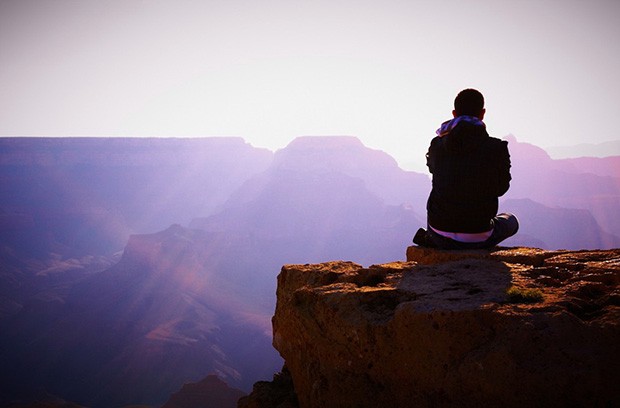 Photo by
Moyan Brenn
(Flickr Creative Commons)

It's just as important to monitor your psychological wellbeing as your nutrition, immune system or bad computer posture.
October is Mental Health Awareness Month — including World Mental Health Day on October 10 — and there is an array of events at Concordia to recognize its importance.
"Mental Health Awareness Month is a first for the university and I am delighted that its inaugural version brings together a variety of partners, including Jack.org, a student group, student services and faculty," says Gaya Arasaratnam, director of Concordia's Campus Wellness and Support Services (CWSS).
"We're all needed in the dialogue on mental health. We're stronger together."

Kickoff
It all started on Tuesday, October 4 with a kickoff event in the mezzanine of the Henry F. Hall Building.
"There were outreach tables advertising upcoming events, so community members could pick up handouts and pamphlets on apps for meditation and campus resources," says Anna Barrafato, disability accommodation specialist at the Access Centre for Students with Disabilities.

Personalized art therapy
Explore how engaging in art can improve your self-care. On Wednesday, October 5, faculty and staff are invited to attend Playing with Art: Conversation Tiles, from 12 to 1 p.m. Students are invited to attend from 1 to 2 p.m.
Participants will personalize ceramic tiles by painting and writing images, texts, words, symbols and designs. Event facilitator Vila Woo will provide instruction and guidance throughout the process. She will present samples and demonstrate basic techniques, while encouraging people to share ideas and draw inspiration from each other.
The final products could even be displayed as a collective piece.

Relaxing lunch hours
Starting Thursday, October 6, there will be four lunch-hour events from 12 to 1 p.m. for students called Building your Buddha Nature. Participants will get a chance to practice various mindfulness and self-compassion exercises to bring more presence into their everyday lives. Register through the MyConcordia portal.

How to reduce stress and anxiety
Check out "Psych Check" on Tuesday, October 11. It runs from 10 a.m. to 3 p.m. in the atrium of the Engineering, Computer Science and Visual Arts Integrated Complex (EV).
Learn ways to reduce stress and anxiety, improve your mood, increase your mental health and wellness and discover support resources. Worried that your symptoms of stress and anxiety are outside the norm? Complete short self-assessments and get feedback from a trained professional on the options available to you. Issues covered include depression, eating disorders and more.

Brush work
On Wednesday October 12, faculty and staff are invited to join event facilitator Vila Woo again for Playing with Art: Mini Canvases from 12 to 1 p.m. A separate student session will take place from 1 to 2 p.m.
Participants will get to personalize their canvases through painting and/or writing images, texts, words, symbols, and design. Woo will present samples and basic techniques, and perform a brief demonstration.
Students are encouraged to register beforehand through the MyConcordia portal.

Therapy Groups
Interested in working with a psychologist to overcome shyness, your inner critic, or even how you can introduce therapy into your every day lifestyle? Get proven tools, skills and techniques that psychologists use.
Check out the list of therapy groups offered during Mental Health Awareness Month, and links for online registration.

Try the Labyrinth Walk!
To quiet your thoughts, walk the 22-foot diameter Labyrinth on October 24 (10 a.m. to 3 p.m.). The portable maze — painted on a piece of fabric on the floor — is a scale model of the one at Notre-Dame de Chartres Cathedral in France.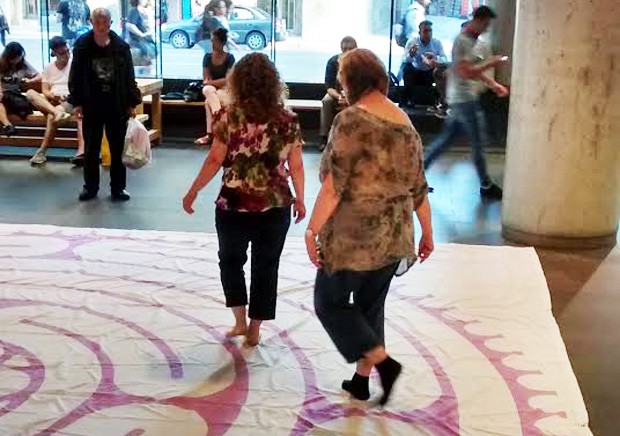 "Labyrinths have appeared in many forms and sizes across the world's cultures, from the Neolithic Period to their popular revival today," says Sara Terreault, lecturer in the Department of Theological Studies. "While their earliest uses remain a mystery, their patterned pathways suggest pilgrimage and inner journey."
Arasaratnam's team at CWSS co-organized the event in collaboration with Multi-Faith and Spirituality Centre and the Department of Theological Studies. "The labyrinth offers an opportunity to quieten the pace in peaceful reflection," she says, adding that they hope to introduce it again during the final exam period.

You better sit down
Take your yoga practice off the mat and onto your chair.
On Monday, October 17 and Wednesday, October 26, Vila Woo will lead sessions of Mindfulness/Yoga in a Chair for faculty and staff. Participants will perform gentle, adaptive yoga movements targeting the upper body. The stretches will help release stress on the neck and spine. Stretches will also work the back, shoulders and forearms.
Workshops will begin and end with breathing and meditation. Walk away feeling calm and clear headed. Don't forget to wear comfortable clothing!
The sessions are from 1 to 2 pm, in Room 200 of the Guy-De Maisonneuve (GM) Building. Please contact Kathleen Glustein at kathleen.glustein@concordia.ca to reserve your spot.
Other events include Art Fridays for International Students (H-653) hosted by International Students Office and Bibliotheraphy for Mental Health (H-440) in the Career Resource Centre.

Consult the complete list of activities at Concordia for Mental Health Awareness Month, including shyness clinics and group therapy.
During the month of October, feel free to drop by the Mental Health Resource Display in the Career Resource Centre in Room H-440 (Hall Building) to check out books and other resources available to you on mental health.
The International Students Office offers Art Fridays, where students can explore their creative side in a fun and friendly atmosphere. Check out the ISO website or Facebook page for more details.
---