Indie gamers: Critical Hit 2015 wants you to try this on for size
Can wearable technology change the world? A Concordia-based incubator thinks so — and its video-game creators want your help on July 30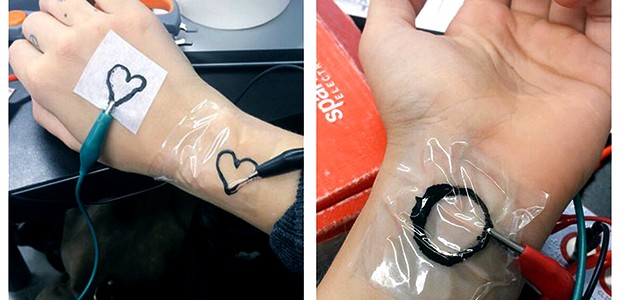 Video games with a difference: Critical Hit 2015's Utopia uses wearable technology and video/audio clips to explore oppression and "offer visions of hope." | All photos courtesy of Kara Stone

Cyberpunk, e-waste crusades ... and conductive stickers?
It's all par for the course at Critical Hit 2015, a Concordia-based interdisciplinary incubator dedicated to hatching "experimental, avant-garde, unique and otherwise innovative games that might not get made in a commercial ecosystem."
The intensive 10-week project is now playtesting this summer's prototypes — and the game-makers are looking for volunteers to stop by and give 'em a whirl on Thursday, July 30 in Room EV-11.655 of the Engineering, Computer Science and Visual Arts Integrated Complex (EV).
We asked Jessica Marcotte, Critical Hit's co-director and a member of the university's Technoculture, Art and Games (TAG) Research Centre, to fill us in on the details.

What can prospective gamers expect, exactly, between 5 and 7 p.m. this Thursday?
Jessica Marcotte: The 16 participants of Critical Hit 2015 are playtesting four game prototypes that they spent just two weeks creating. It's the third set of prototypes that have been made over the course of the summer.
Critical Hit is divided into different phases — "introductory," "prototyping" and "polish" — that aim to help creators make games that would not normally be made in a commercial environment. It's a part of the larger program of innovative opportunities TAG provides for researchers and creators to make connections in local and world communities, fostering exchange and dialogue.
On Thursday, you can give the creators feedback that will help to shape the outcome of the games: this playtesting session will help our participants choose which prototypes to polish for the final phase of the program, which culminates in a showcase on August 20. You can find out more here about the Critical Hit games from previous weeks.
Critical Hit's 2015 theme is "Wearable Games." What angle do these particular test subjects take?
JM: This Thursday's games were inspired by the theme "Critical Subjects" and deal with all sorts of related themes, from protest movements and the day-to-day experiences of people who experience oppression to digital sustainability and e-waste.
Is there a girl gaming connection, like there was at TAG's annual jam GAMERella?
JM: Yes! For one, over half of our participants identify as women or have non-binary gender identities.
For another, since the inception of Critical Hit two years ago, many of our participants made their first solo games with the women-in-games Pixelles Incubator program — including me, actually. I participated in Critical Hit 2013.
Last year, our Pixelles alumnae were Anh Chi Bui and Kim Hoang. This year, Pixelles alumna Nicole Pacampara [see Critical Hit 2015 playtesting preview: Utopia, below] is wowing us all.
Another interesting fact about this year's program is that, between TAG director Gina Haraszti, PhD student/game designer Ida Toft and myself, we have an all-women director team for the first time.
Do prospective players need to be pros?
JM: Everyone is welcome — these aren't the traditional games that you'll see sold in stores. They are accessible to beginners and pros, and everyone's feedback is valuable.
In some ways, these games are an ideal introduction for people who wouldn't normally consider themselves game players.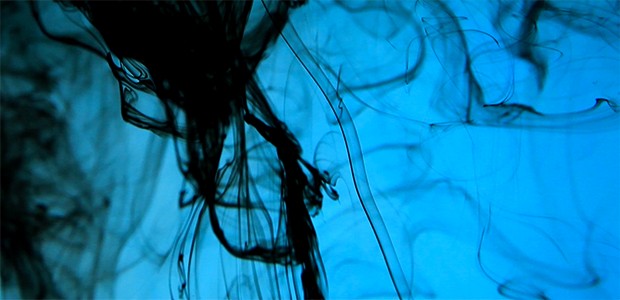 Imagery from Critical Hit 2015's Utopia video game.

Critical Hit 2015 playtesting preview: Utopia
Kara Stone and her fellow game-makers Nicole Pacampara, Raoul Olou and Owen Bell will be testing Utopia this Thursday.
What is the concept and goal of your latest game?
Kara Stone: Utopia is a four-player game about personal experiences with oppression and injustice, and the navigating hope for the future.
To play it, four people gather in a circle around a projection on the floor. Each person sticks on two conductive stickers to their body in a place they are comfortable with, or in a place near their body. The game is activated by a person touching someone else's sticker, which in turn activates a video or audio clip of someone talking about their experiences with sexism, racism, mental illness, poverty — or other factors that make life unbearable.
Some stickers activate audio clips about a person's version of utopia: what they're hoping for and working towards. The game is ended by players peeling each other's stickers.
Is Utopia intended for a particular audience?
KS: It was really important to our group to make something that isn't directed towards white, cisgendered men.
Too often, games and art dealing with social justice and identity politics aim to make others understand, but what about those of us who experience it every day?
We wanted to make something that recognized oppression, while offering visions of hope and a reason to keep living and fighting, not giving up.
Local programs like the Pixelles Incubator aim to "bring women into the conversation." Does your game speak to that?
KS: Of course we want to "bring women into the conversation" — especially conversations about video games — but with a decidedly intersectional approach that embraces women, gender non-binary, gender queer and trans folk as well as race, class, disability and debility.
All of these things are inherently connected.
Keen to get your hands on a Critical Hit game? Between 5 and 7 p.m. on Thursday, July 30, stop by Concordia's Technoculture, Art and Games (TAG) Research Centre in Room EV-11.655 of the Engineering, Computer Science and Visual Arts Integrated Complex (1515 St. Catherine St. W.) on the Sir George Williams Campus.
---