Countdown: 48 days to the new Student Information System
Staff prepare for the big switch that starts on January 22, 2015
December 10, 2014
Source: University Communications Services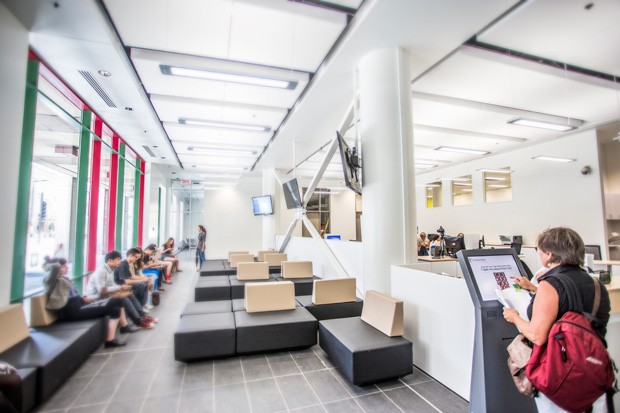 Get ready for "go live"! There's 48 days left, and counting…
One year to the day since Concordia first announced that it was modernizing its Student Information System (SIS), the big switch is happening in January 2015, and staff involved are busy preparing.
The new SIS is a software package from Oracle/PeopleSoft called Campus Solutions that will replace SIMS — the university's 32-year-old legacy system. It's an institution-wide transformation that will completely change the online experience and interactive relationship that students have with the university, while also offering improved access to key information for faculty and staff.
The SIS team is working hard to facilitate a smooth transition for students, faculty and staff.
Here's how it will happen.
Shutdown: Thursday, January 22 at 5:00 p.m.
The legacy system, SIMS, will not be available from Thursday, January 22, 2015 at 5 p.m., when the conversion process begins. The shutdown only affects SIMS; all other systems will remain active.
Conversion involves migrating a data set that encompasses more than 800,000 student records — plus some stand-alone, student-related systems — into one unified, digital system. No online transactions within SIMS will be possible during the blackout period from 5 p.m. on January 22, 2015 until the start-up of the new system.
Start-up: Monday, January 26, 2015 at 12 p.m.
The new Campus Solutions system will be up and running by 12 p.m. on Monday, January 26, 2015. The new system is accessed by logging into the MyConcordia portal.
Faculty and staff will notice that the portal has been streamlined and some facilities have been moved into Campus Solutions.
Birks Student Service Centre: closed on Friday, January 23
After shutdown on Thursday evening, the Birks Student Service Centre will remain closed until 9 a.m. on Monday, January 26.
On Friday, January 23, phone lines will remain open to answer student inquiries, but no online transactions will be possible until the new system is up and running.
Before the shutdown
To further ease the transition, the SIS team is encouraging faculty, staff and students to complete some time-sensitive tasks in advance of the shutdown on January 22 to avoid potential delays.
All transactions performed after noon on January 26 will be completed in the new Campus Solutions environment.
For staff
Staff are encouraged to process things like tuition receipts, transcript requests and graduation-related information.
Graduate student requests, thesis defense processing, and financial aid and awards are other time-sensitive tasks that could benefit from early processing, as are health insurance and study permit applications for international students.
For teaching faculty
Faculty are asked to enter grades for the fall 2014 semester by Friday, January 16 at 5 p.m., which is also the suggested deadline for grade approvals, entering grade-change requests and downloading class rosters for the January 2015 semester.
See a complete list of suggested tasks for faculty and staff.
For students
Students are encouraged to pay their tuition before the shutdown on Thursday, January 22 at 5 p.m. Online transactions will not be possible during the blackout period, until the new system is live on Monday, January 26 at noon. The winter fee payment deadline is January 31, 2015.
Students should also collect any financial aid or awards they are expecting, and submit their CREPUQ documentation and code permanent applications as soon as possible. Graduate students should also accept their graduate awards, and submit their graduate student requests and thesis defense applications as soon as possible prior to the shutdown.
Reminders will be sent to students in early January and detailed information will be available
on the Student hub.
About the SIS Renewal Project
The business case for implementing a new Student Information System at Concordia was approved by the university's Board of Governors in November 2012. Deloitte Consulting LLP was hired as the integration partner after a rigorous bidding process, and based on its successful track record of implementing the chosen system at other North American universities.
Learn more about the new system's benefits on the SIS Renewal Hub in Cspace.

---