Social movements on celluloid at Encuentro 2014
Cinema Politica is screening 14 titles that explore the Concordia conference's revolutionary theme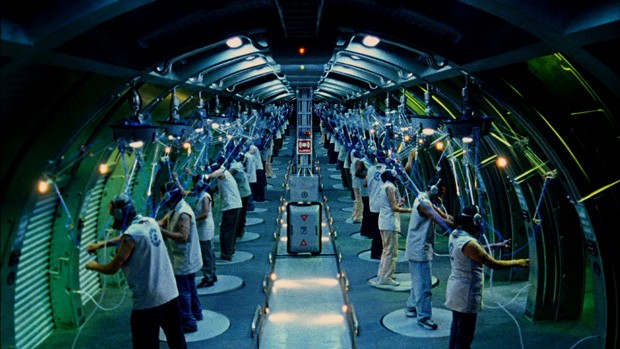 Alex Rivera's Sleep Dealer envisions a dystopian Mexican town dominated by a large corporation. | Photo courtesy of Likely Story and That Is That Productions

If the Encuentro — a conference and performance festival that will see more than 750 scholars, artists and activists convene at Concordia from June 21 to 28 — has a goal, it is to generate experimentation, collaboration and dialogue.
So it makes sense that, over the course of the week, the university's Cinema Politica series will screen 14 films that speak to the Encuentro's theme: Manifest! Choreographing Social Movements in the Americas.
As Ezra Winton (BA 05, MA 07), co-founder and director of programming of Cinema Politica, explains, the opportunity to work with the biennial festival arose through Liz Miller, a professor in the Department of Communication Studies and Cinema Politica board member who had been involved with the Encuentro before.
"We looked up the Encuentro and the Hemispheric Institute of Performance and Politics" — the organization behind the conference — "and we really like what they do," Winton says. "This idea of encounters, of encouraging dialogue, is exactly what we are interested in."
Since 2003, Cinema Politica has been showcasing independent political documentaries with precisely that objective in mind. Though the series was born at Concordia, it has spawned 100 semi-autonomous chapters, most of them located at other Canadian universities, with the same mission.
During the Encuentro, its offerings will focus largely on the work of Canadian aboriginal filmmakers. Among the screenings is TimeTraveller™ (2013; June 26, 5 p.m.), by Montreal-based Skawennati (Skawennati Tricia Fragnito, BFA 92, GrDip 96). TimeTraveller™ features a series chronicling indigenous life through machinima, a video game technology.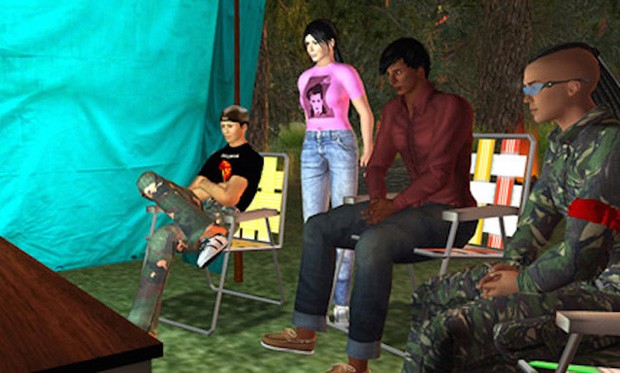 In TimeTraveller™, filmmaker and Concordia alumna Skawennati explores indigenous life through machinima. | Photo courtesy of Cinema Politica

In Finding Dawn (2006; June 27, 5 p.m.), Christine Welsh, a Métis director from British Columbia, explores the disappearances of an estimated 500 aboriginal women in Canada over the past 30 years. That title will be screened alongside Missing Young Woman (2001; June 27, 5 p.m.), Mexican filmmaker Lourdes Portillo's documentary on the hundreds of women who have been kidnapped, raped and murdered in Mexico's Ciudad Juárez, an industrial town on the border of El Paso, Texas.
"We're trying to highlight a very serious injustice," Winton says. "These films, though set geographically far apart, look at the problem of gender violence as a component of colonialism, capitalism and patriarchy."
Other titles address similar themes through different approaches. American filmmaker Alex Rivera's Sleep Dealer (2008; June 23, 5 p.m.), a science fiction feature, presents a vision of a dystopian Mexican village governed by a corporation that has erected a high-tech dam to control its water supply.

"It's a commentary on the surveillance state, war technologies and immigration in America," Winton says. "It's very political, and resonates very deeply with the themes of the Encuentro."
A handful of filmmakers, including Skawennati, will be on hand at the conference to discuss their work after the screenings. Through those conversations — and, more so, through the films Cinema Politica will showcase — Winton hopes that audiences leave with a sense of the impact of globalization, transnationalism and interconnectivity on their own lives.

"These are not just concepts in the purview of corporations and governments. They affect ordinary people, and one way to look at how we're all connected in the Americas is through communities of struggle and communities of artistic practice and expression."


All screenings will take place at the J.A. DeSève Cinema in Room LB-125 of the J.W. McConnell (LB) Building (1400 De Maisonneuve Blvd. W.) on the Sir George Williams Campus.

See the complete Cinema Politica schedule for Encuentro 2014.
---