'These are manifestations': visual arts at Encuentro 2014
Four Concordia academics discuss their contributions to the upcoming conference and performance festival
From "école libre" by Tina Carlisi. | Photo courtesy of the artist

The Encuentro is almost here.
Part academic conference and part performance festival, the Encuentro is held biannually at various sites in the Americas. This year, Montreal will become the first Canadian city — and only the second outside of Mexico, Central and South America — to host the event since its inception in 2000. From June 21-28, artists, academics and activists are converging on Concordia for a wide-ranging series of workshops, discussions and exhibitions that explore the theme of Manifest! Choreographing Social Movements in the Americas.
Visual arts play a pivotal role in the Encuentro's fostering of experimentation, dialogue and collaboration. As Stephen Lawson — artist-in-residence in the Department of Theatre and a leading Encuentro organizer — explains, the visual material is all strongly linked to this year's theme.
"The idea of including visual arts in Encuentro is that these are manifestations," he says. "They make manifest the actual political underpinnings of the works themselves — whether it's extremely obvious because it's connected to a social movement or a political message or less obvious because it's cloaked within an experience that the spectator is having."
As Mark Sussman, associate dean of Academic and Student Affairs in the Faculty of Fine Arts and the Encuentro's convenor, points out, an aspect of performance is present in all of the visual art chosen for the conference.
"In some cases, we're seeing artifacts of performance events," he says. "An example would be banners, flyers and visual works that come from political protests. In other cases, they are artifacts of works of performance art that leave behind traces, or interactive live events that will happen with spectators."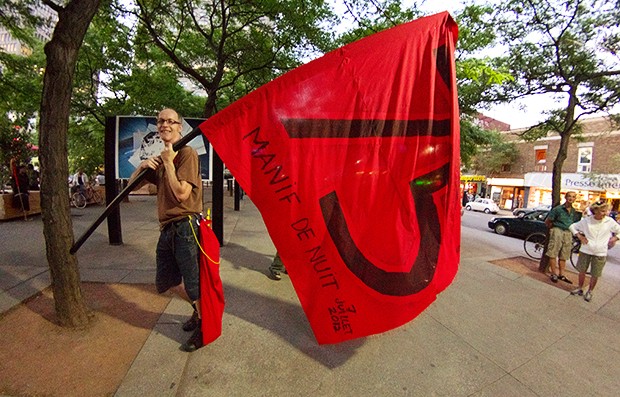 "When It's Good to be Unruly" by David Widgington | Photo courtesy of the artist
David Widgington: Activating an archive of dissent
For the duration of the Encuentro, David Widgington, a master's student in Media Studies, is exhibiting the installation "When It's Good to be Unruly" in the J.W. McConnell Library Building (LB) atrium. The piece is a massive cube made of banners Widgington collected during the Quebec student protests of 2012.
For his master's thesis at Concordia, Widgington created a digital archive from those banners, along with posters, signs, stencils and actions from the protests. He describes the Encuentro installation as an activation of that archive — an opportunity to make it accessible to the public.
"Creating the exhibit tells people that it exists, and allows people who go and see it together to discuss it, even if it's among each other as part of their own debriefing phase."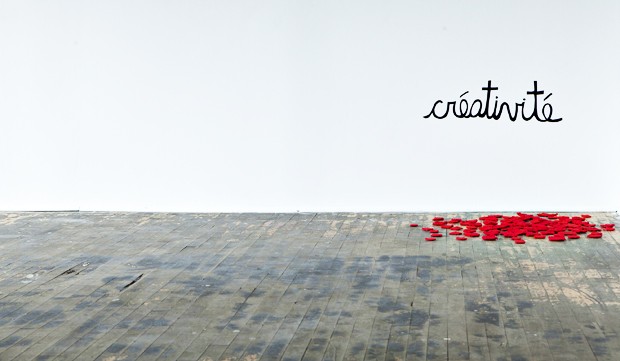 From "école libre" by Tina Carlisi. | Photo courtesy of the artist
Tina Carlisi: Protest and pedagogy
With her installation "école libre," Tina Carlisi, a PhD student in the Individualized Program, also hopes to inspire reflection about Quebec's recent student movement.
Carlisi created the work, which will be exhibited in the FOFA Gallery's York Corridor Vitrines, as part of her master's thesis in Art Education, which focused on the pedagogical use of public art and design by the protestors.
"When the movement started, I immediately noticed the amount of art and design that came out of it," Carlisi says. "This was fascinating, because art and design being used as a vessel to communicate ideas in a very strong way was something that we hadn't really seen perhaps since the late '60s or early '70s.
While "école libre" speaks directly to the street art, posters and banners that became emblematic of the protests, Carlisi says that the research-creation project explores her own scholarly ideas.
"It was really important for it to have more of a reflective aesthetic as opposed to an aesthetic of action. But there's a suggestion of action within all the elements that are used."
"Cuddle Commandos" by Chris Moore. | Photo courtesy of the artist
Chris Moore: Rethinking everyday actions
Chris Moore, associate professor in the Department of Design and Computation Arts, addresses themes of art and social change by way of "Cuddle Commandos," a performance installation which will inhabit a public space in the John Molson School of Business Building (MB) during the Encuentro.
The work invites participants to engage in a mock military recruitment process. The exercise was designed to encourage them to look critically at themselves and how they treat those around them.
"Cuddle Commandos" creates its own social experience.
"Some people go through the questions in five minutes," Moore says. "Other people stay for an hour, and we have a more in-depth conversation, and they say, 'Yeah, actually, I could be more sensitive in everyday life.'"
The performance ends with an oath and a hug, something that often causes participants discomfort. But, as Moore explains, it's all part of examining how we interact with each other. "People are used to knowing how to deal with aggressive behaviour, but not so much when someone offers a genuine moment."
In creating "Cuddle Commandos," he was inspired by the popularity of camouflage clothing. "It occurred to me that this kind of normalization of aggressive behaviour in everyday life was symptomatic of a lot of other issues."
From "The Slow Colour Project" by Erin Manning. | Photo courtesy of the artist
Erin Manning: A work in perpetual progress
Another performance piece comes from The Slow Colour Project by Erin Manning, assistant professor in the Departments of Studio Arts and Film Studies, and Concordia University Research Chair in Relational Art and Philosophy.
The unfinished installation — which will inhabit a space under the stairs in the Engineering, Computer Science and Visual Arts Integrated Complex (EV Building) atrium — invites the public's participation in creating new objects from fabric and dye.
"This piece is interested in making dyes with spices," Manning says. "So the work explores smell and colour together — synesthesia."
While the artwork has its origins in the slow-food movement, it isn't overtly political. Instead, she says, it's an open proposition that will allow conference attendees to work with others while exploring art's limitless possibilities for expression.
"I think that's art's strength — that it generates something that we couldn't have imagined."

The 2014 Encuentro takes place at Concordia from June 21 to 28, and includes public performances and exhibitions.
The Leonard and Bina Ellen Art Gallery and the FOFA Gallery both have full programs scheduled for the duration. Public spaces at the university will also feature related artwork.
The study areas on the second and third floors of the John Molson School of Business (MB) Building will be transformed into gallery spaces. There will also be works in the atriums of the Computer Science, Engineering and Visual Arts Integrated Complex (EV Building) and the J.W. McConnell Library (LB) Building.
Find out about the performing arts at the 2014 Encuentro.
---