Shining a light on harassment
University policy highlights education and prevention of unwanted behaviour
This article is the sixth in a series of seven, published weekly on important Concordia policies. This is part of a policy-awareness campaign that will culminate in employees being asked to confirm that they have read the policies when they access myempath in the MyConcordia portal following the publication of the last story.

Childhood bullying makes news. Schools are aware of the trauma this form of harassment can cause and are equipped with educational programs, specialists and tools to identify, treat and eliminate such unwanted behaviour.
When harassment occurs in the workplace, it is more difficult to diagnose and remedy, as it is rarely overt and can be interpreted as managing, moodiness or teasing. How can we be sure?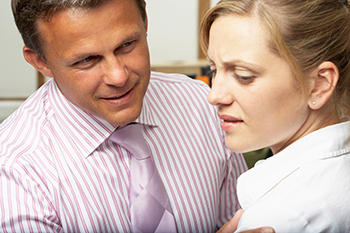 Harassment, as defined by Concordia's Code of Rights and Responsibilities (BD-3), constitutes repeated, ongoing and unwelcome, troublesome conduct that could be in the form of sexual or psychological harassment or the kind that breaks laws governing a person's right to work in a safe and civil manner.

"People generally recognize when they are being harassed. Psychological harassment really can affect a member's dignity," explains Concordia's Director and Senior Advisor, Rights and Responsibilities, Louise Shiller. "It can affect their psychological and/or physical integrity. All forms of harassment can interfere with a person's right to pursue their work or study in a safe and civil manner. Basically, harassment can create an intimidating or hostile environment."

Concordia's Harassment, Sexual Harassment and Psychological Harassment Policy (HR-38) highlights awareness, education and prevention as the best strategy for eliminating such behaviour. The policy was developed to ensure employees have the opportunity to learn about what constitutes harassment and advise them on how to handle situations that may be distressing.

This year, the Office of Rights and Responsibilities has teamed up with the Department of Human Resources to deliver a course that informs and trains managers and supervisors on the provisions of the Act Respecting Labour Standards as they relate to psychological harassment, as well as the terms of HR-38 and the Code of Rights and Responsibilities. It will be offered throughout the year for managers and supervisors of the university.

"We wanted to offer a course that would facilitate the identification of harassment and provide tools for managers when faced with these potentially difficult situations," says Andrée-Anne Bouchard, manager of Employee Relations. "It is not healthy or sustainable to work in an intimidating atmosphere and we want employees to know that they are respected and supported by the university."

All Concordia employees are encouraged to review the policy on Harassment, Sexual Harassment and Psychological Harassment (HR-38), as well as the Code of Rights and Responsibilities (BD-3) for more details. There are also other important policies available on the Official Concordia Policies website that have been developed to clarify ambiguous conditions, which may be relevant to employees within specific departments. See the question-and-answer section on the Human Resources page under "policies and procedures" for a full list of policies related to the awareness campaign.

Related links:
• Harassment, Sexual Harassment and Psychological Harassment Policy (HR-38)
• Code of Rights and Responsibilities (BD-3)
• "Code exists to protect" – NOW, September 12, 2012
• "Policy awareness campaign highlights employee Code of Ethics" – NOW, September 19, 2012
• "Protecting of Personal Information" – NOW, September 26, 2012
• "Safety First" – NOW, October 3, 2012
• "Promoting a culture of safety" – NOW, October 10, 2012
• FAQ - Policy on Harassment, Sexual Harassment and Psychological Harassment (HR-38)
• Official Concordia policies website and Q&A




---