Health & wellness, General, Mental health
Building Bridges with Thomas Khullar
Interpersonal relationships and psychological well-being
---
DATE & TIME
Tuesday, October 5, 2021
12 p.m. – 1 p.m.
Registration is closed
SPEAKER(S)
Thomas Khullar
---
Healthy relationships are strongly associated with positive mental and physical health. In parallel, an ever-growing number of people report strong feelings of loneliness and disconnection in recent decades, prompting many researchers to describe our societies as suffering from a "loneliness epidemic."

In this workshop, we will discuss features of healthy interpersonal relationships, based on psychology research and clinical practice. Concrete tips and tools will be offered to help attendees navigate common interpersonal challenges: deepening new or existing relationships through vulnerability and authenticity; facing difficult emotions related to interpersonal struggles; communicating and listening effectively; and resolving conflicts.
This event is part of Creative Connections and Campus Sustainability Month.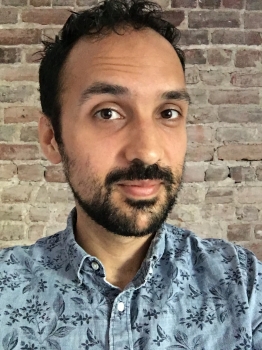 Thomas Khullar is a PhD candidate in the Department of Psychology at McGill. His research focuses on friendship experiences and mental health in university students. He has trained in sex and couple therapy, and works with clients dealing with a number of difficulties including mood and anxiety disorders, PTSD, and interpersonal problems. In his psychotherapy work, he explores links between clients' well-being and their ability to form and maintain healthy relationships. Both in his research and therapy practice, he is fascinated by the way people communicate verbally and non-verbally.
---
This event is part of:
---