Notable Concordian
Oscar Peterson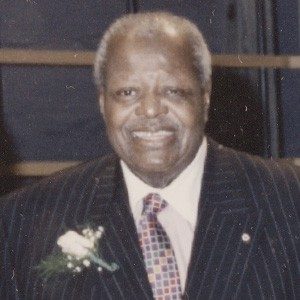 Awards & Distinctions
Loyola Medal
Montreal-born pianist is an unofficial Canadian ambassador
Montreal's gift to the world of jazz, Oscar E. Peterson, C.C., was presented the 1997 Loyola Medal at a reception at the Loyola Concert Hall on June 17.
Peterson, with his long international career and involvement across an astonishing span of countries and causes, has become an unofficial Canadian ambassador.
He was born in 1925 into a musical family of immigrants from the British West Indies and the Virgin Islands. He showed promise right away, taking trumpet lessons from his father, and then piano lessons, first from his sister Daisy, and then from Paul deMarky.
Before he was out of his teens, he was playing on national radio and in the best clubs in Montreal. In 1947, an impresario heard him playing with his Canadian Trio, and took him to New York's Carnegie Hall, where he was a sensation.
In 1950, he won the prestigious DownBeat Award as best jazz pianist of the year, and he continued to win it for the next 12 years. Peterson toured the world for the next 40 or so years, always giving something of his pride in Canada along with his musical talent.
He has made hundreds of recordings with virtually every major jazz artist, and in his later years, has devoted more and more time to composition. His Hymn to Freedom was one of the anthems of the civil rights movement in the United States, and he has written music for a wide variety of media, including films, ballet companies, and the 1988 Olympics.
A deeply private person, he remains a remarkably cosmopolitan artist. For example, he has played the piano on television with novelist Anthony Burgess, pop-opera composer Andrew Lloyd Weber, British actor Tim Rice, and former British prime minister Edward Heath.
On October 16, 1999, the Loyola Concert Hall was renamed the Oscar Peterson Concert Hall.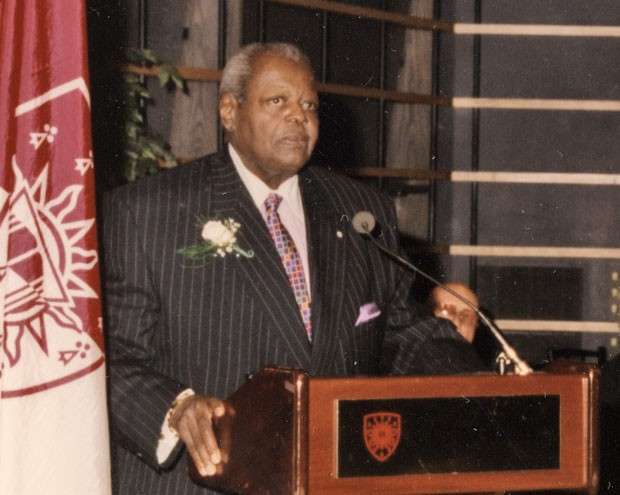 Oscar Peterson speaking at the Loyola Medal ceremony, held after the Faculty of Fine Arts' Spring Convocation ceremony in the concert hall named in his honour.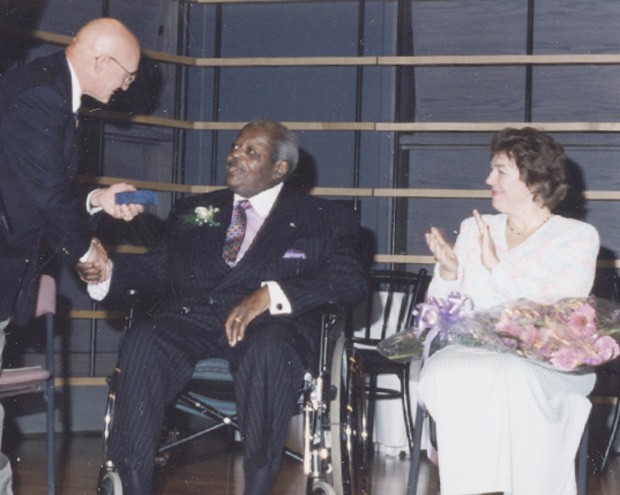 John Freund, President of the Loyola Alumni Association, presents the Loyola Medal to Oscar Peterson, as Oscar's wife Kelly Peterson looks on. June 1997
Other Loyola Medal recipients