Introducing Concordia's new sustainability policy
The university-wide plan builds on a long tradition of green campus practices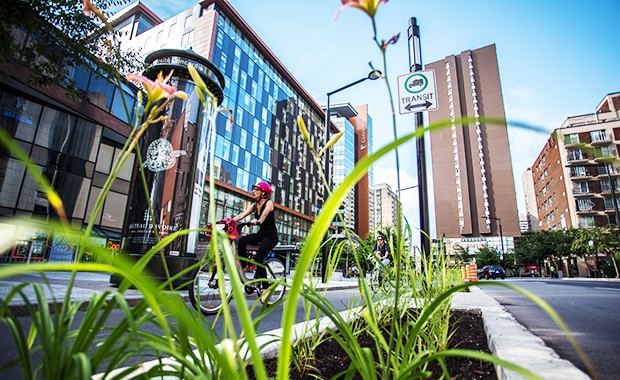 Concordia's Senate and Board of Governors have given the green light to a university-wide sustainability policy.
Putting down on paper Concordia's long-term commitment to sustainability, the new policy outlines guiding principles that will assist with its integration into university activities.
"While the policy is a new addition, sustainability has been a key part of Concordia's practice for many years," says Roger Côté, vice-president of Services. He points to Concordia's 18-year reign as the lowest consumer of energy per unit area among the six major universities in Quebec and the numerous sustainability initiatives across campus as primary examples.
The 35 active student groups promoting sustainability on and off campus and numerous faculty members involved in related research "were among the driving forces leading to the creation of this policy," Côté adds.
Concordia has increasingly encouraged more sustainable practices institutionally. Highlights include a landfill waste diversion rate of 56 per cent and rising, a campus fleet that is made up of 22 per cent hybrid and electronic vehicles, and recent certification as a Fair Trade Campus.

'Reducing our ecological footprint'
Approved on December 14, the new policy defines sustainability broadly as "a mindset and process that leads to reducing our ecological footprint and enhancing social well-being while maintaining economic viability."
By providing a common understanding of the concept, the policy will serve as a catalyst to facilitate innovative, interdisciplinary and interdepartmental sustainability initiatives.
A sustainability governance framework — composed of the Sustainability Advisory Committee and three sub-committees — will provide direction in further integrating the 12 guiding principals within the university with input from the Concordia community at large.
In early 2017, committee members will consult the university community for input on the development of long-term sustainability plans and goals.
The Sustainability Advisory Committee will also monitor and report on progress, and review the policy every five years.

Learn more about Concordia's many sustainability initiatives, or read the new sustainability policy.
---