ASGM L082_GP49 Maison mère, Chapelle, cérémonie de profession perpétuelle, 1947.
The spiritual and architectural centrepiece of the Mother House, the Chapel of the Holy Cross hosted its first mass on December 1, 1878.
Residents who were otherwise separated by the building's vast wings and floors came together within this impressive space. Services took place daily, and even those too frail or sick to pray in the pews could take part. Many infirmary rooms overlooked the chapel floor, allowing the bed-ridden to hear or see the ceremonies below. A closed-circuit television system was later installed to connect the entire building to its spiritual heart.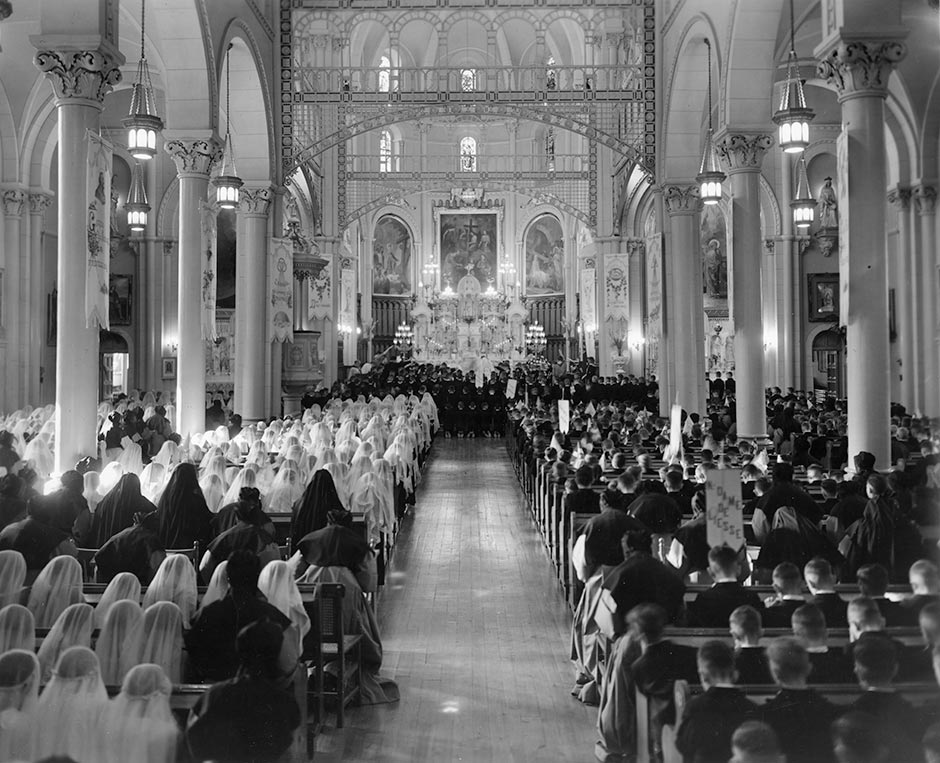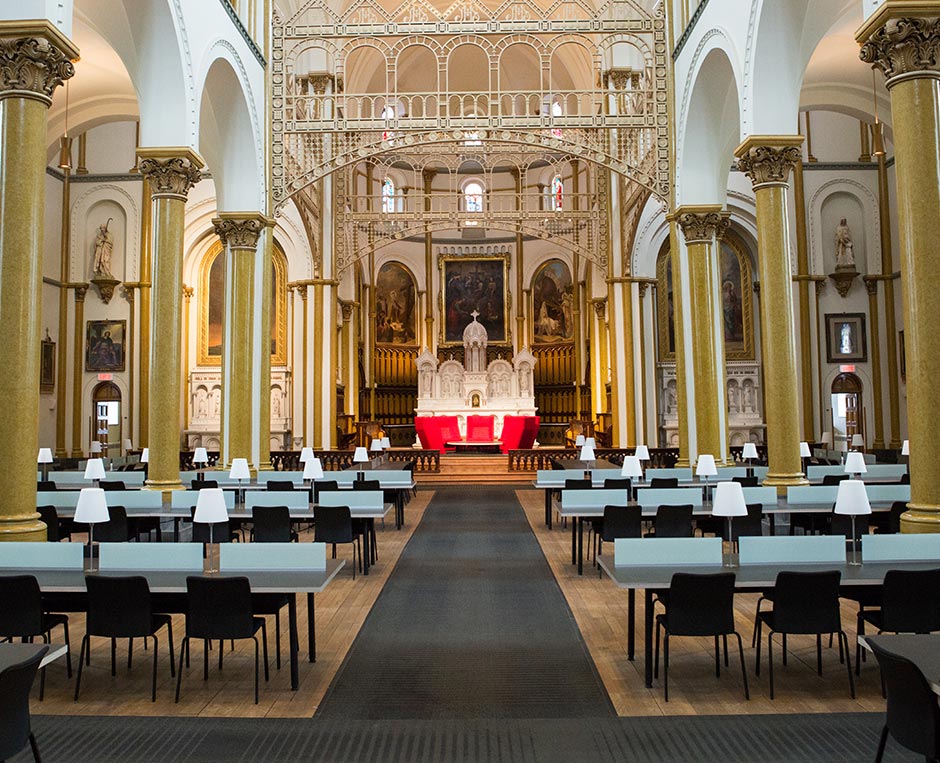 "There were always nuns seated in the chapel. All day."

Sister Louiselle Ferland
When Concordia acquired the Mother House, the chapel was protected under Quebec heritage preservation laws, both as part of the wider Mother House complex, and in its own right. Religious symbols, stained glass windows, intricate woodwork and a strict no-noise policy maintain the space's original, contemplative spirit. But in the Grey Nuns Reading Room, part of Concordia Library, today's visitors sit at lamp-lit tables rather than pews, devoting themselves to enlightenment on all subjects. In the apse, where priests once orated, scholars now curl up in comfortable reading chairs.
ASGM L082_7Y20C Maison mère, Chapelle extérieure, 1986.
Complete with private group-study rooms, this prestigious structure is popular among students and faculty alike. It stands out proudly among Concordia's more contemporary facilities.

The rear balcony of the Grey Nuns Reading Room attests to the room's ceremonial – and musical – heritage. There resides the chapel's beautifully maintained organ, installed by world-renowned Quebec organ-builders Casavant-Fréres in 1892.
The instrument was unveiled at a concert on December 24 that same year. Its oak case, still in fine shape for its age, was custom-built to complement the style of the chapel. The organ helped the Grey Nuns celebrate mass and other occasions with only minor modifications until 1922, when Casavant-Fréres replaced its inner mechanical system while preserving its pipework, oak case and structure. The original pipework, complete with stenciled-painting and lead façade, is especially interesting and characteristic of organs from the 1890s.
"[The sisters] were able to make adjustments in their musical performance without any problem because a nun, fundamentally, is someone who listens…They're very attentive."

Maurice Lauzon