'Student success is more gratifying than any prize'
Library reference assistant Aline Sorel and engineering professor Sofiène Tahar reflect on 20 colourful years at Concordia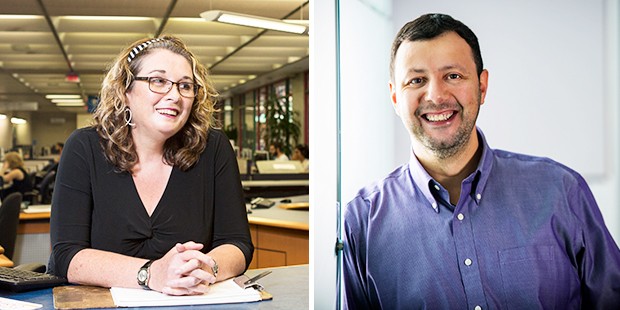 From left: Aline Sorel and Sofiène Tahar. | Photos by Concordia University

On December 12, Concordia will host a special event to recognize 166 employees who have reached milestones in their careers.
In the week leading up to the annual Long Service and Retiree Luncheon, we are profiling some of this year's honourees to both celebrate their important achievements and acknowledge their service, loyalty and dedication to the university community.

Aline Sorel: devoted library technician
Reference assistant, Vanier Library
20 years at Concordia
Back in 1995, Aline Sorel was living in Nova Scotia when she decided to "turn the page" on that chapter in her life and move back to her native province of Quebec. It was nice to be home.
"I was so happy to get the job at Concordia," says Sorel, who grew up in the Eastern Townships, where she received a diploma from Champlain Regional College in library technology.
"I started as a seasonal employee at the Webster Library, shelving bound periodicals. Back then, we must have shelved 700 to 800 periodicals a day, plus books."
Things changed. The wide-scale automation of resources shifted the job's focus to different tasks.
"Now, print journals and reference materials are digital, so the physical labour aspect of the job has radically decreased," Sorel says. "We do a lot of email reference."
She became a full-time employee in 1996, working in the circulation department, then in an area called "Periodicals and Media," with material like CD-ROMS and videos.
"I'll never forget — we had a pilot project, lending out eight laptops. Now the Webster library and Vanier library have 260 laptops and 125 tablets that students can borrow!"
In 2008, Concordia promoted Sorel to reference assistant at the Vanier Library, in Special Collections. She liked the move out to Loyola Campus.
"There's something about Loyola that suits me. It's quiet and green," says Sorel, an amateur singer in her spare time and a voracious reader of biographies during her daily bus ride to work from Lasalle.
She says she relishes her time spent around rare holdings, such as The Scots Magazine, published in Edinburgh. Vanier's collection includes issues dating from 1739 to 1835.
"We have the first volume! It's a fascinating digest of news, poetry, commentary, medical cures, building maps — even an account of the siege of Quebec."
Sorel gets great gratification from helping students solve research problems and find resources.
"If you answer their questions or do something to help, you can see the students' worries fade away."
Concordia played one more important role in Sorel's life: it's where she met her second husband, another member of the university community. They've been very happy ever since.

Sofiène Tahar: accomplished scholar and mentor
Professor, Department of Electrical and Computer Engineering
20 years at Concordia
Let's do the math: 300 peer-reviewed papers, 20 keynote addresses, 60 hosted scholars, 20 PhD graduates, 50 Master's graduates, 20 industrial collaborations, 15 chaired conferences, 6 books and 4 languages.
A standout scholar and mentor, Sofiène Tahar has brought a lot of recognition to the Department of Electrical and Computer Engineering over his two decades at Concordia. The focus of his research is hardware verification.
"When I started in the late 1990s, it was the dotcom boom," says Tahar, who was born in Tunisia but received his post-secondary education on scholarship in Germany. "All of my projects were in the area of telecommunications. We were working with big companies (Nortel!) to help them resolve problems with their hardware. Now, we've shifted our focus to other occupations, like health-care devices."
In 2000, Tahar received an early promotion to assistant professor and was given early tenure — a first for his department. Then in 2006, it happened again. He was promoted early to full professor, another first.
In the meantime, he founded Concordia's Hardware Verification Group in 1996. He's still the director today. It's a thriving laboratory with 25 researchers, including three faculty members, postdocs and 15 PhD students. The lab is well-funded, in part through support from multinational industries including Ericcson, Intel, ST Microelectronics, Oracle and Huawei.
Despite all of Tahar's success — being invited to lecture at NASA, becoming the youngest faculty member in the university to get the Concordia University Research Award in the senior category and becoming a Concordia Research Chair (tier 1) in 2007 — he derives the greatest satisfaction from his students' success.
Take Behzad Akbarpour, for example. In 2006, the graduate student's PhD thesis won the NSERC Doctoral Prize in Engineering in Canada. That same year, he also won the ADESAQ Doctoral Prize for Best PhD Thesis in Engineering and Science in Quebec.
"It was a huge accomplishment to win at the national level, then again at the provincial level for all science disciplines — math, physics — as well as engineering," says Tahar, pointing out that Akbarpour went on to Cambridge and now works in California at Nvidia.
"It was the first time any graduate student at Concordia, across all faculties, achieved this height. It gives me more gratification than any book or prize. When students graduate and start their own careers in industry or academia, you feel the accomplishment the same way a father feels pride."

Read about Concordians celebrated at last year's Long Service and Retiree Luncheon.
---