The National Assembly of Quebec welcomes the Concordia Stingers champion women's hockey team
'It was an honour to visit with the ministers and to be recognized'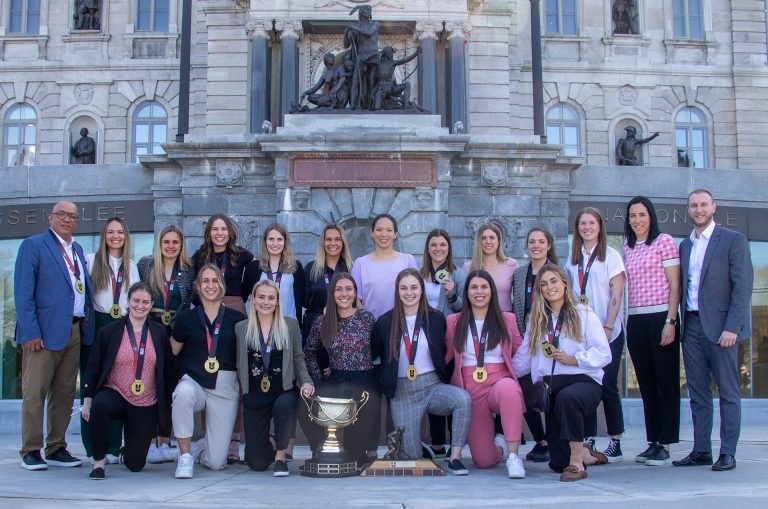 The honours continue to roll in for the 2022 national champion Concordia Stingers women's hockey team. On May 10, MNAs welcomed them at the National Assembly of Quebec.
Members of the team made the trip to Quebec City led by head coach Julie Chu. They met Isabelle Charest, the minister responsible for sports, Chantal Rouleau, the minister responsible for the Metropolis and the Montreal Region, and Premier François Legault.
Rouleau recognized Concordia's championship season before the start of the formal proceedings, sharing details of the team's success at the U Sports nationals.
The Stingers then observed the assembly's afternoon session, where Quebec's elected officials took part in a question period. Afterward Charest, Rouleau and Legault met and congratulated the team. The Stingers presented them with gifts and took photos.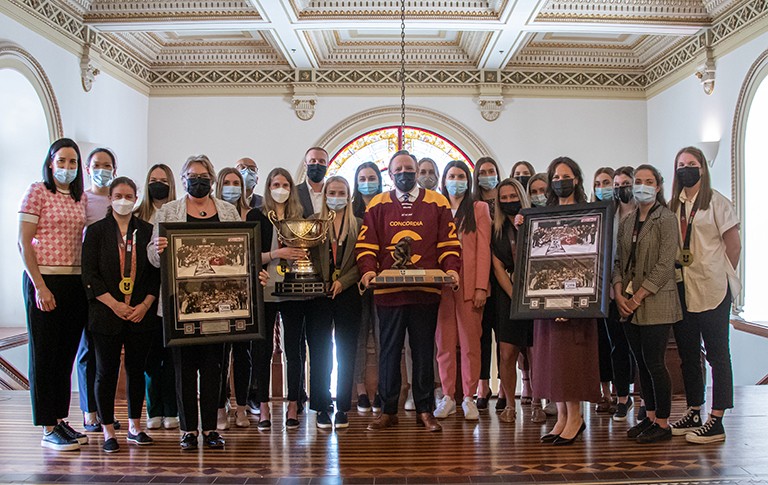 'Really special'
"It was impressive and interesting to see the debate," says Concordia captain Audrey Belzile. "It was an honour for our team to visit with the ministers and to be recognized."
Chu echoed her captain's sentiments.
"The opportunity to continue to celebrate the success of our championship season is really special," she says. "To be in a place where the provincial leadership is and where they make decisions was a great moment for our team."
The Stingers have also been honoured by the Montreal Canadiens at the Bell Centre and at multiple women's hockey tournaments and events. These include the Saint-Georges tournament, at a Champlain College Lennoxville Cougars hockey game and at the Professional Women's Hockey Players Association showcase.
The team will also visit Montreal City Hall and Concordia will hold a celebration in the days ahead.
The Stingers won a hard-fought battle with the Nipissing University Lakers 4-0 to earn the Golden Path Trophy and raise the U Sports championship banner on March 27 in Charlottetown, P.E.I.

Find out more about the Concordia Stingers.

---