Concordia student quilts using 3D-printed fabric and embedded electronics
Houda Jawhar's mixed-media tapestry tells the story of the Milieux Maker Space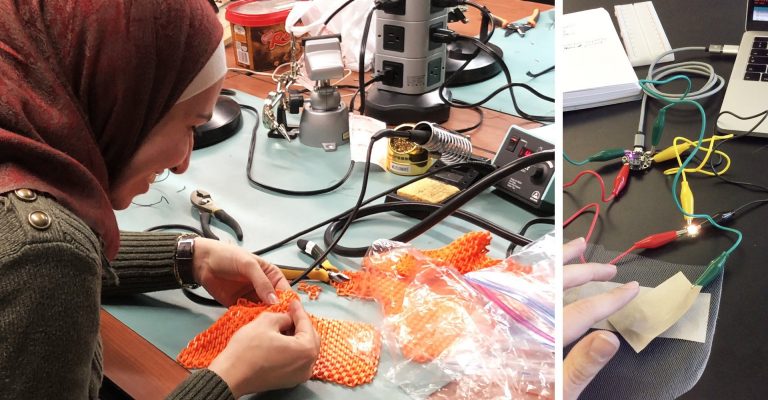 From musical instruments to human tissue, the scope of 3D printing today seems almost limitless. But can this modern technology breathe new life into age-old traditions?
Education technology master's student Houda Jawhar thinks so. As a member of the Education Makers team at Concordia's Milieux Institute for Arts, Culture and Technology, she is 3D printing "knit" fabrics to turn into a quilt.
Jawhar, a former neonatal intensive care nurse, researches embedded wearable prototypes and interrogates what these new plastic composites mean for everyday life and how our skin interacts with them.
Following in the footsteps of the family members who first taught her to knit, Jawhar hopes to encourage other women to take up the role of makers and push themselves to learn new skills they never thought possible.
There is a maker in each one of us
How does this specific image relate to your research at Concordia?
Houda Jawhar: I grew up watching my two grandmothers knit. With time, my passion for knitting grew and I learned from them. Knitted fabric is soft and flexible, whereas 3D prints are rigid. I never imagined it would be possible to "knit" 3D-printed fabric and get almost the same flexibility as yarn-knitted fabric.
This image is from the first time Ann-Louise Davidson, Concordia University Research Chair in Maker Culture, introduced me to 3D-printed fabrics. Through experimenting with these prints, I reflected on the proximity between 3D-printed fabric and yarn-knitted fabric and the potential this technology holds for the future of fabrics and electronic wearables.
What is the purpose of the project you're working on?
HJ: This project was inspired by the work of Joyce Wieland, merging her exploration of various materials in her artwork and her attempt to reclaim needlework as an art that requires high levels of skills and inventiveness. This opposes the traditional devalued perception of quilting being "women's domestic work" or craft work.
Weaving the Fabric of #MilieuxMake is a quilt that tells the story of the Milieux makerspace, highlighting its main projects and events. Pieces within this quilt will combine various materials, including knitted yarn, 3D-printed fabric and embedded electronics and sensors.
What impact could you see it having on people's lives?
Each piece aims to present a different approach to making, thus contributing to the overall "fabric" of maker cultures as experienced in our university makerspace.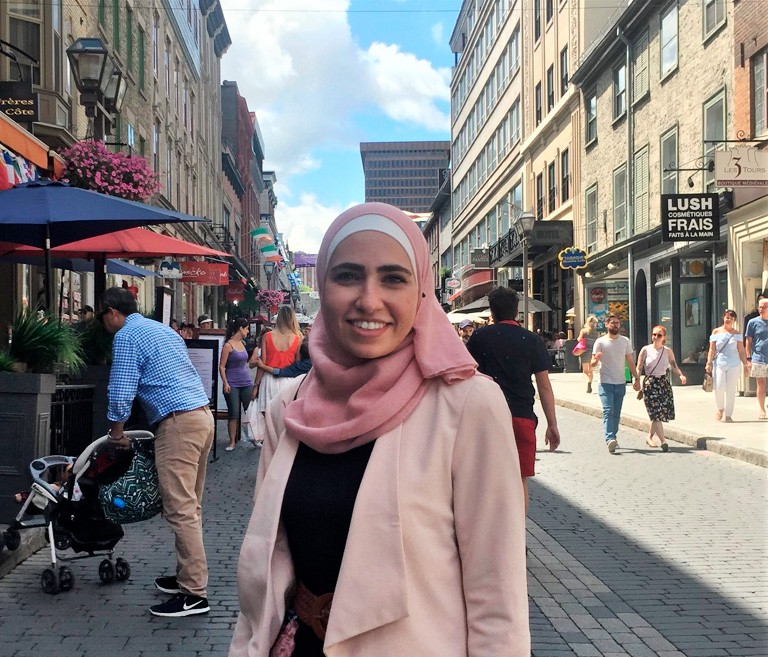 What are some of the major challenges you face in your project?
HJ: For every piece of the quilt, I have to develop new skills. It translates into a great and continuous learning opportunity. As I plan the ideas and their design, challenges emerge.
I have to constantly ask, "How can I make this?" These challenges are at the root of what maker culture is about. Solutions are sought through different channels, collaborations with others, DIY experimentation and iterative tinkering to reach the best solution.
In three months, I learned how to use 3D printers and design 3D objects, make electrical circuits work, understand electric signals and Arduino programming and many other skills. For someone coming from a nursing education background, I didn't think this was possible.
What advice would you give interested STEAM (science, technology, engineering, arts and mathematics) students to get involved in this line of research?
HJ: My advice to STEAM students, particularly girls who are interested in getting involved in maker culture, is to not be shy and to share your ideas. There is a "maker" in each one of us, and through active involvement in making, we can break down the stereotypes around girls in STEAM.
My second piece of advice is to choose a supervisor who you can grow with and who sees your ambition to succeed as one of the main goals and drivers behind your work. Ann-Louise has empowered me to continuously learn and grow in ways I never imagined myself capable of.
What do you like best about being at Concordia?
HJ: I like the inclusive community within it! Concordia is a house for diversity and multiculturalism. From the moment I started my master's here, I felt very welcomed and able to express my ideas and opinions in a safe environment that offers respect and appreciates difference.
Are there any partners, agencies or other funding/support attached to your research?
HJ: I received support from the Concordia University Research Chair in Maker Culture, the Milieux Institute for Arts, Culture and Technology and the Social Sciences and Humanities Research Council (SSHRC).
Find out more about the Milieux Institute for Arts, Culture and Technology and the educational technology program. Follow the Education Makers on Twitter.
---