A digital project crowdsources 27,000 queer memories from around the globe
Concordia design student Lucas LaRochelle's Queering the Map goes viral, resists attacks, comes back strong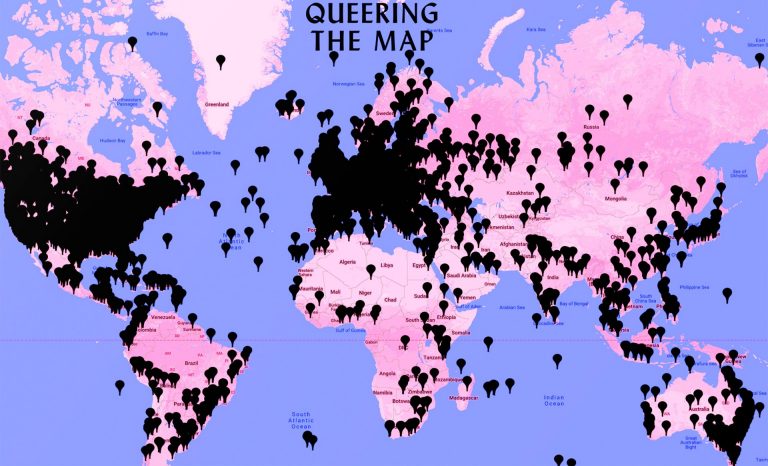 What are the positives and negatives when your website suddenly goes viral?
That's a question that Lucas LaRochelle, a student in Concordia's Department of Design and Computation Arts, unintentionally answered when they created a successful public archive called Queering the Map.
The project, which began as an artist residency in the Fine Arts Reading Room, invites internet users to contribute queer memories to an interactive map, linking them to a real geographic location.
A world animated by queer past and present
While LaRochelle was biking their usual route home from the university one day, they passed by a certain tree in Parc Jeanne-Mance. The tree marked the place LaRochelle had begun their first long-term partnership and had a coming out experience regarding their non-binary gender.
"As a location it holds a significant amount of queer affect that is reanimated every time that I move past it," LaRochelle says. "It grounds me materially in my relationship to my queerness and the people that constitute my queer community."
That experience set off a series of recollections, each one anchored to a geographic location in Montreal.
"I started to imagine what it could be like to move through a world animated by queer past and present, and how that could inform the future. All of these stories become part of a collective experience, a collective entity that is this platform."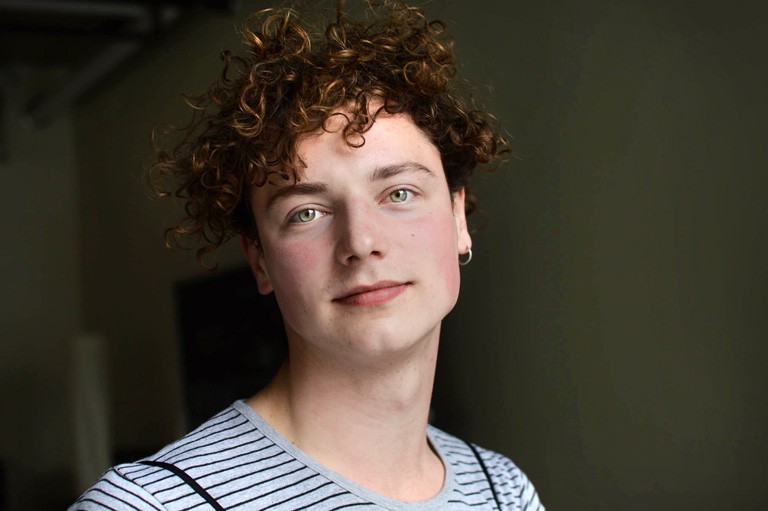 Lucas LaRochelle | Photo by Mackenzie Lad
It's like a feedback loop
When users click on a point on the map, they read a personal story that connects a person to a place and a memory.
"It's like a feedback loop," LaRochelle says. "It starts in the physical environment where people are having the experiences that they share on Queering the Map, and then the map in turn frames certain relationships to space."
These spaces and places range from bars to back alleyways and from schools to parking lots. People's experiences are just as wide-ranging: bitter laments, broken hearts, joyful recollections — and lots of nostalgia.
Many of the stories, even the happy ones, negotiate between shame and visibility versus invisibility, explains LaRochelle. And many of the places are often hidden from the public eye.
Unlike social media platforms, the archive is not algorithmically governed to generate a particular user experience, nor are users tethered to self-identifying information.
"What works about this project is very much its anonymous nature. People can articulate experience outside of the individualist frameworks of social media platforms."
A target for the alt-right
Queering the Map went viral in February 2018 after being live for a few months. Six hundred points quickly became 6,500 points in three days. New contributions came in from multiple countries, in many languages. The Outline, CBC, Vice's Broadly and CityLab all covered the project.
Soon LaRochelle's anonymity as Queering the Map's creator had vanished, and as it grew in popularity, the map became a target for alt-right hackers.
"At that point I had just learned how to code. It was set up in a very basic way and there was no moderation process," LaRochelle says. "I was operating from quite a techno-utopian standpoint where I thought this project would stay small and nothing bad would happen."
They believe an ultra-conservative bot roaming the internet looking for vulnerable websites added malicious JavaScript code to the site. Queering the Map was inundated with rapidly multiplying pop-ups of pro-Trump propaganda whenever a user clicked on it.
LaRochelle quickly took the site offline and put out a call for help.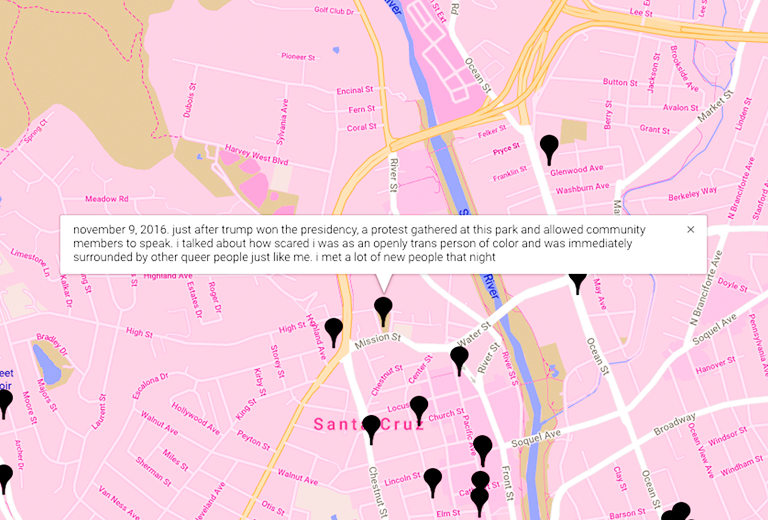 A labour of love
Queering the Map relaunched in April and the site has remained secure, thanks to a community of queer coders who offered their time and resources to resurrect the project.
"It was saved out of the mutual desire for this thing to exist, which was a really wonderful and gratifying experience," LaRochelle says.
Although submissions are now monitored, the criteria for moderation is still very open.
"It's essentially no hate speech, no spam, no advertising and no full names, addresses or phone numbers. One of the primary tenets of the project is anonymity above all else."
There are now over 27,000 points across every continent (except Antarctica) written in more than 25 different languages.
"It's incredible. The range of experience that's being articulated on Queering the Map is something I'm continuously in awe of," LaRochelle adds.
It's gone far beyond anything they had anticipated.
"It's a labour of love, and it's an enormous amount of labour. But I've learned more than I ever thought — it has solidified the value of accessible, community-based art practice for me. It's amazing being able to move through this digital world bearing witness to the stories of so many other people."

Visit the Queering the Map project today.
Find out more about Concordia's Department of Design and Computation Arts.
---