Tools and resources for adopting, customizing, and creating OER
---
Before authoring, adopting or customizing may be possibilities.



Consider:
Does an equivalent OER already exist?
Can you improve upon one or more existing OER?
Are there materials you can draw from in your discipline, research, teaching practice?
What textbooks, open textbooks and other OER, do you find inspiring? How so?
As part of open education at Concordia, Concordia University Library hosts an instance of Pressbooks to create and distribute open educational resources, including but not limited to open textbooks.
What is Pressbooks?
Widely used in OER initiatives worldwide, Pressbooks is an easy-to-use book writing and publishing open-source software that lets you create a book in multiple formats. It works with different plugins, including H5P (interactive content), Hypothes.is (collaborative annotation), and MathJax (accessible equations). The open textbooks created in Pressbooks can be read online and downloaded in various formats (e.g. PDF, ePub, XML).
Are you interested in a Pressbooks account?
For any questions, including setting up an account, please email oer@concordia.ca.
Guides for Adopting, Customizing, and Creating

Learn more about Pressbooks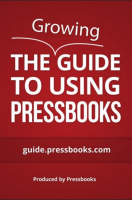 Author: Pressbooks
Title: "Make Your Own Book" in Growing To Using Pressbooks
CC BY
The "Make Your Own Book" chapter provides a guide to bringing your content into Pressbooks, cloning existing books, editing sections working with media and images, creating and displaying contributors and so forth.

On adopting an existing open textbook for your class with little to no modification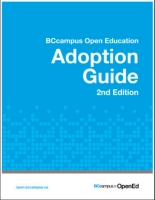 Author: Lauri M. Aesoph
Title: BCampus Open Education Adoption Guide
Description: The second edition is an updated and expanded version of the original adoption guide. The first sections address three distinct groups involved in open textbook adoption: instructors, post-secondary institutions, and students. The second--most comprehensive--section focuses on the operational aspects of adoption: surveying instructors about, tracking usage of, and reporting out about open textbooks (and other OER). The last "Learn More" part provides additional adoption information.
CC BY

On customizing existing OER for the needs of your class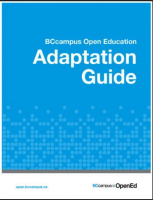 Authors: Lauri M. Aesoph
Title: BCcampus Open Education Adaption Guide
Description: The Adaptation Guide is a practical reference about how to customize — or adapt — an open textbook so that it better fits your needs in the classroom and elsewhere. This guide defines the term adaptation and discusses reasons for revising a book, why this is possible with an open textbook, and the challenges involved. CC BY

Creating your own open textbook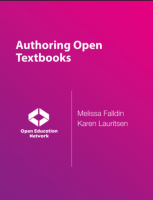 Author: Melissa Falldin and Karen Lauritsen
Title: Authoring Open Textbooks
Description: This guide is for faculty authors, librarians, project managers and others who are involved in the production of open textbooks in higher education and K-12. Content includes a checklist for getting started, publishing program case studies, textbook organization and elements, writing resources and an overview of useful tools. CC BY