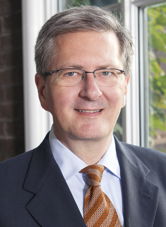 It is my pleasure to invite you to attend Encuentro, the 8th edition of the Hemispheric Institute of Performance and Politics' festival, which Concordia University will host June 21 to 28, 2014.
As Canada's leading arts university, we are the first Canadian institution to host this international event — part academic conference, part performance festival. And the theme of this year's event — Manifest! Choreographing Social Movement in America — is appropriate for Concordia, where much of our research and creative practice focuses on how political ideas are transformed into artistic performances and real-world action.
Encuentro is a wonderful opportunity to showcase the creativity and work of Concordia researchers, professors and students. I encourage you to seek encounters with the 700 delegates during their week in Montreal, in the festival's working groups, exhibitions and public performances.
Thank you to the organizing committees, including those at Concordia, for their hard work to make this conference a reality.
I wish everyone involved with the conference great success.
Alan Shepard
President
Concordia University