notice
Nura Jabagi, Younes Medkour and Milan Valyear organized an interactive STEM event for Dawson College students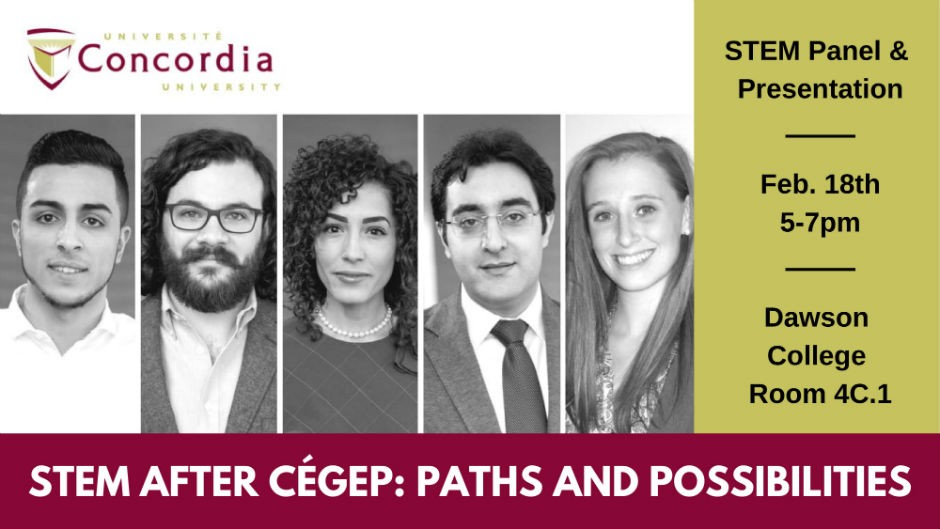 Nura Jabagi, PhD candidate in Business Technology Management, Younes Medkour, PhD candidate in Biology, and Milan Valyear, PhD candidate in Psychology, organized an interactive STEM event for Dawson College students interested in pursuing studies and careers in the fields of science, technology, engineering, and mathematics.
The event, entitled "STEM after CÉGEP: Paths & Possibilities," took place on February 18 and featured short presentations from the three organizers, as well as from Amir Hooshiar, PhD candidate in Mechanical Engineering, and Laura Broley, PhD student in Concordia's Individualized Program.
Each PhD candidate shared the story of their unique path to entering STEM. Heralding from diverse backgrounds, including economics and psychology, the scholars let Dawson students know that there's no wrong way to get to STEM — all they need is curiosity and drive!
The scholars also shared their views about the future of their respective fields with regards to the emerging career opportunities and areas of growth that potential STEM students can get excited about.
An interactive panel discussion — moderated by David Spinner (MBA 16) — and a lively Q&A session followed the presentations.
---