Thank you for propelling Shuffle 25!
Silver anniversary of annual walkathon raises $65,000 in student support
It turns out Concordians' shoes are made for giving!
Shuffle 25 — the 25th anniversary of Concordia's annual walkathon — raised $65,000 for financial aid and scholarships for students. More than 600 members of the Concordia community walked the 6.5-kilometre Shuffle route from the Sir George Williams Campus to the Loyola Campus on September 19.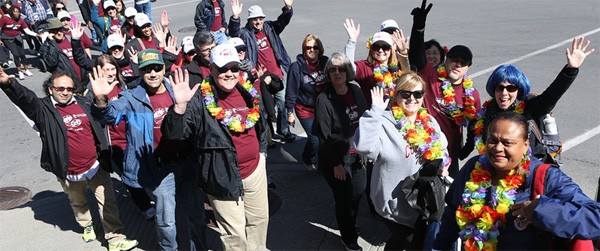 Faculty, staff, students and alumni Shuffle to raise funds for financial aid and scholarships for Concordia students | Photo: Joe Dresdner
"The total funds raised exceeded our expectations and then some! We wanted the silver anniversary Shuffle to be a very special one, so I'm really glad it turned out that way," says Jang Kwon, chair of the Shuffle 25 Advisory Committee and manager of administrative systems for Concordia's Instructional and Information Technology Services.
Shuffle 25 marks the fundraiser's biggest success since 1999. The walkathon has raised over $1.1 million­ for students since its inception in 1990.
"The Shuffle allows us to come together and really show what the university is about," explains Brad Skog, director of Annual Giving, himself a nine-time Shuffler. Spearheaded by Annual Giving, the event is organized by Advancement and Alumni Relations and a team of volunteers.
"I am unaware of any other university out there that holds an annual event where faculty, staff and students come out united to raise dollars for a common cause," adds Kwon.
The newly launched Shuffle 25 web application is user friendly and offers new functionality.
"I think the new web application helped people reach out to their networks more effectively, contributing to the impressive response," says Skog.
Immediately following the walkathon was the President's Picnic, hosted by Concordia President Alan Shepard at Loyola Campus, where the Shuffle prizes were drawn.
Lucky Shufflers picked up grand prizes: an iPad, Nespresso coffee machines, travel vouchers and a round-trip flight for two to New York City, Chicago or Washington, D.C. The winners of dozens of other prizes — including restaurant and retail certificates, hotel stays and Stingers memorabilia — are now listed on the Shuffle prize page.
Says Kwon: "After 25 years of Shuffling and in conjunction with the university's 40th anniversary, it's only fitting to say 'Long live the Shuffle! Long live Concordia!'"
---