International Women's Day: Break the Bias
Three women from three industries historically represented by males delve into how they've navigated through their fields and touch on the significance of International Women's Day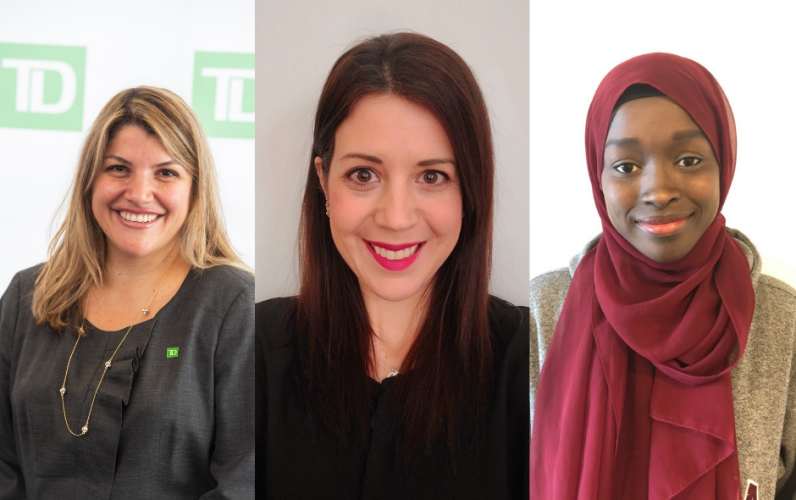 From left: Sylvie Makhzoum, Véronique Ménard and Seynabou Gueye Ndiaye.
Sylvie Makhzoum is an executive of data and analytics at TD. She first joined the company as an intern in 2000, after graduating from Université de Montréal with a bachelor's degree in Mathematics and a master's degree in Statistics.
Véronique Ménard is a senior cyber security advisor at National Bank of Canada. She graduated from Université de Montréal with a bachelor's degree in Political Science before completing a master's in Environmental Science at American Military University. Despite having no formal training in computer science or cyber security, Ménard developed her skills while working for the federal government.
Seynabou Gueye Ndiaye is a front-end developer for Sama, an Artificial Intelligence (AI) training data platform. She graduated from Concordia University with a joint bachelor's degree in Mathematics & Statistics and Computer Science.
How have you navigated through your field?
Makhzoum: It has traditionally been rare to have women in the Data & Analytics field. Interestingly though, this is something that is changing – at TD, we have networks like our Women in Data & Analytics (WiDA) Council that help connect women professionals in our space, broadening their networks and helping them become leaders. We have exceptional colleagues who are women in Data & Analytics at TD, and the community continues to grow and develop, year over year.
As I've navigated what was generally known as a male-dominant industry throughout my 20-year career, the advice I share with other women colleagues is "Don't change yourself." Be who you are, but learn, grow, and adapt. Even with something as simple as how you communicate – a simple pivot can help you better influence decisions and understand your audience on a deeper level. You aren't changing yourself, but you're changing the way a message is delivered. And that can make all the difference, especially when it comes to building relationships.
Ménard: In the cyber security field, there's a lot more men than women and I don't think this has played against me so far. There is also a lot of openness to welcoming women into cyber security and I am seeing many efforts being made to make space for women in the field. I've had many supporters and mentors that were men. I know I've probably had it easier than others.
Ndiaye: I'm lucky because I'm working for a company that includes diversity and inclusion amongst its core values. They wouldn't hire someone that would make me feel less worthy or capable because I'm a woman. Although most colleagues are men, I feel heard, and the environment isn't toxic. Sama is mission-oriented, so people who join the company are also mission-oriented and want to do good.
What obstacles have you had to overcome throughout your career?
Makhzoum: I've had to overcome obstacles, but I like to think of obstacles as opportunities. I think a can-do, positive attitude makes all the difference, and I've made every effort to never take things personally, but to rise above. I've been very conscious of managing perceptions – and indeed, there are many perceptions when it comes to being a woman in corporate Canada, and corporate North America – especially in a field where you're often the only woman in the room.
Someone once asked me: if I could go back in time and tell my younger self one thing, what would it be? My response was, and is, that the best way to learn, overcome challenges and grow is to know where you came from and stick to the person you know yourself to be. Every situation we face – the successes, failures, challenges – helps you grow and evolve, but having a strong sense of self is critical to grounding you. It has rung true throughout my career.
Ménard: I was lucky to work with the federal government, where a lot of attention is paid to equality and respect, and there were always senior positions occupied by women, so I had very little experience with any obstacles. However, as I was young and a woman, I encountered co-workers who wouldn't talk to me as openly. They would instead trust a colleague who was older, even if I had more experience. I saw individuals who had trouble being supervised by a younger woman, but it was only in a few cases.
I've only been at the National Bank of Canada for a few months, but they've also put a lot of emphasis on equal opportunities and respect, so I have been welcomed and supported. I think I've been lucky. Women that I have spoken with in other fields have shared that they have been treated differently.
Ndiaye: It's hard to say if I've overcome any obstacles because I haven't encountered people who are overtly sexist. If I ever had trouble moving up due to discrimination, I wouldn't know.
I didn't apply for the position I'm currently in; I was sought out and during the interview process, I had trouble believing that I would get the job because I know that if I had come across the position myself, I wouldn't think that I possessed the skills for the role. So, I feel like it's not about the obstacles that were placed on me, it's actually about the obstacles I set for myself.
What does International Women's Day mean to you?
Makhzoum: I take pride in advocating for the development and advancement of women across all fields, and I think International Women's Day is a great opportunity to do just that. I also think it serves as a reminder that we haven't done enough for women in leadership roles and there is still a long way to go to achieve gender equality.
I'm proud to work for TD, an employer that is committed to all colleagues, and especially women colleagues. TD's International Women's Day programming aligns with the 2022 theme, 'Break the Bias.' Breaking the Bias is especially important in our current environment, as the pandemic has had an impact on the gains that many women have made, including women who work in a corporate environment.
It might seem self-evident, but I believe if you want to see greater inclusion in your workplace, you need to be an active participant – not a passive spectator – so it's important for me to continue to stay involved in helping to create better experiences for women, and I look forward to doing more this year, as well. This call to action is also something I take home with me as the mother of two young girls – and I look forward to seeing them continue to be fearless, powerful young women. I can't wait to celebrate International Women's Day with them this year and every year after.
Ménard: International Women's Day means a lot to me. It means that a lot of people have recognized that historically, in our culture, we've set specific roles for men and women. This day signals that more and more people are recognizing these roles exist and are not necessarily constructive, right, or up to date. So, to me, today is a symbol. It's not the solution, but people are talking and thinking about it, which is the first step. This is a start.
Ndiaye: I started working at Sama on this day last year, so it's a big anniversary for me.
International Women's Day is about remembering history and not repeating the same mistakes we made in the past. These mistakes don't just include sexism or bias based on ethnicity, but any type of discrimination. I think International Women's Day is also about being more aware of all differences like cultural difference or the large amount of neurodiversity present, considering people who might be on the autism spectrum or have ADHD, or just different ways people think. I think it's really about making sure that any form of discrimination is diminished.
---