Winter Orientation 2020: kick-start your Concordia life
Get insider tips to help you adapt and thrive at university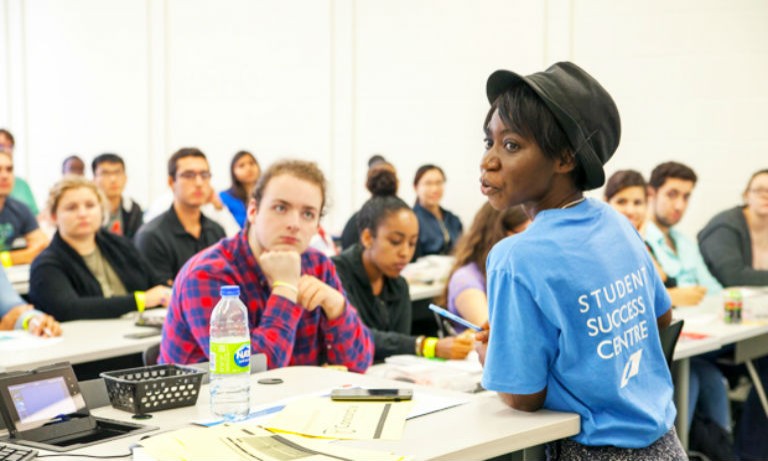 Orientation is a chance to meet other students, get introduced to Concordia and adjust to your new life as a university student.
This year, at Concordia's 2020 orientation events, you'll get the lowdown on the university's services, learn tried-and-true study strategies and connect with other incoming students.
Winter Term Welcome
When: Monday, January 6 (first day of class!), 10 a.m. to 4 p.m.
Where: J.W. McConnell (LB) Building, Sir George Williams Campus
On the first day of class — which is often a whirlwind of figuring out where to go and who to ask for help — the Welcome Crew will be set up all day to assist you with whatever you're trying to find or do.
"The Welcome Crew mentors were able to share exactly what I needed to know as a new student, all while creating an extremely welcoming and inviting atmosphere," says Rima Oassey, a psychology student and now a Welcome Crew mentor.
If getting to know an experienced student is exactly what you need to make a successful transition into your first year at Concordia, drop by the Winter Term Welcome event anytime for a chat.
WISE YUL
When: Tuesday, January 7, various time blocks throughout the day
Where: Guy-De Maisonneuve (GM) Building, Sir George Williams Campus
International students are invited to attend WISE YUL, organized by the International Students Office (ISO).
This open-house orientation is designed to help you integrate into life in Montreal. Students can get tips on taking care of administrative details, understanding the university structure, accessing key on-campus resources — like Health Services and the Students Accounts Office — and connecting with fellow students.
Delfine Lambert, the ISO's interim department and social events coordinator, points out the many benefits of attending WISE YUL. "Students will be able to scan and upload their Québec Acceptance Certificate (CAQ) and Study Permit in the portal, apply for their permanent code and learn about their health insurance plan," she says.
"They can also get help finding a student job, learn about free on- and off-campus resources to improve their English and French, and discover what the city and Concordia have to offer."
At WISE YUL, you can meet student association representatives and learn about a range of free activities where you can meet new students, both international and local.
Organizations such as I Choose Montréal and Eco-quartier Peter McGill will also have representatives on hand during the event.
Start Right Undergraduate Orientation
When: Friday, January 10, 9:30 a.m. to 4 p.m.
Where: John Molson (MB) Building, Sir George Williams Campus
Undergrads from all faculties are invited to attend this orientation event which aims to provide new students the basic information they need to start their first term off right. We'll cover the university system and structure, how to complete important beginning-of-term tasks and introduce helpful services and strategies for a successful university experience.
Learning specialists and Welcome Crew mentors from the Student Success Centre will also offer short crash courses on key topics such as time management, note taking, meeting friends and more!
Register for Start Right Undergraduate Orientation.

Connect with a Welcome Crew mentor for insider tips throughout your first year. Visit the Student Success Centre for academic and career-related support.
---