Sean Gordon (1971 – 2022): 'A tremendous athlete and a great Concordian'
The community mourns the loss of the former graduate program assistant and Stingers all-star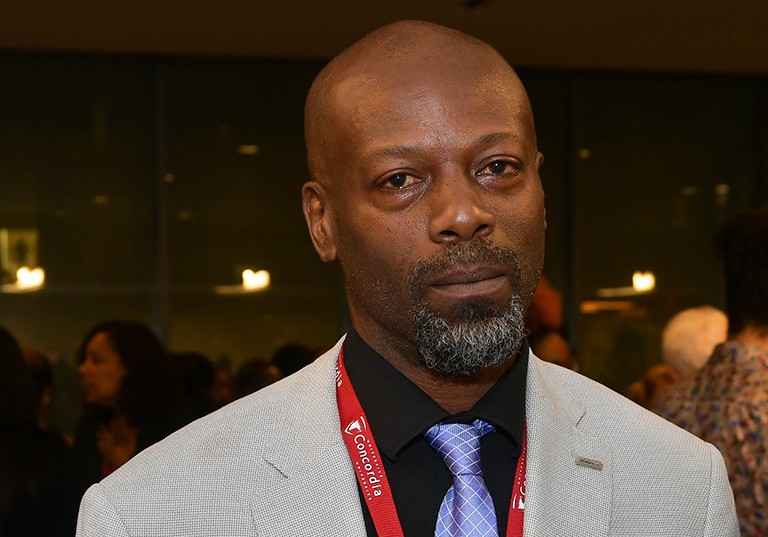 The Concordia community is mourning the sudden, recent loss of Sean Gordon (BA 06).
The alumnus and former Stingers football star enjoyed a long career at Concordia, where he was loved and well respected by colleagues.
Gordon graduated with a bachelor's degree in economics in 2006. He played football for the Stingers from 1996 to 1999 and earned team all-star honours his final two seasons.
'A great Concordian'
Paul Chesser (BA 94, GrDip 97), vice-president of University Advancement, was the defensive coordinator for the Stingers when they made a remarkable run for the Vanier Cup in 1998. The team, which took runner-up honours in the Canadian university national football championship game, was later enshrined in the Concordia Sports Hall of Fame.
"I had the pleasure of coaching Sean in his student days — he was a tremendous athlete and a great Concordian," says Chesser. "My sincere condolences to his loved ones."
Gordon went on to work at his alma mater in a variety of functions, including as graduate program assistant in the Department of Education and, from 2006 to 2013, service assistant at the Birks Student Service Centre.
Most recently, Gordon was graduate program assistant at the Department of Applied Human Sciences.
A department bedrock
Peter Morden, chair of Applied Human Sciences, expressed his sadness at Gordon's passing.
"As graduate program assistant, Sean was the bedrock that allowed our graduate programs to thrive and was the proverbial go-to guy for faculty and grad students who needed any questions answered," Morden says.
"Sean was a true pleasure to work with in the front office, and I could always count on his quiet professionalism, good humour and ready helpfulness. I will miss him a lot, both professionally and personally."
'Stingers always stick together'
Alison Piela, a coordinator in Applied Human Sciences, met Gordon in 1996 when they were both Stingers varsity athletes.
"We then worked together in Athletics and became friends," says Piela. "I remember at my wedding, he was so happy to be placed at table nine because it was his favourite number."
When they both landed jobs at Applied Human Sciences, the friends were happy to be back on the same team.
"Stingers always stick together," says Piela. "I am deeply saddened by his loss. Sean was a good man — my heart is broken."
Former teammate Brian Daley, who played defensive tackle for the Stingers, remembers Gordon fondly.
"Sean was the guy you could always depend on to do his job and lock things down," he says. "He was a good friend. If I needed something, he was always the one I could turn to."
'Mr. Football'
Giuliana Cucinelli, associate professor of education, met Gordon when she first interviewed at Concordia. The two became fast friends and shared a mutual love of sports.
"I used to call him Mr. Football," says Cucinelli, who recalls weekly chats about sports of all kinds. "He had a crazy dry sense of humour and such a positive outlook on life."
Cucinelli adds that they especially enjoyed talking about the Montreal Canadiens — a team Gordon was not a fan of. The pair had planned to attend a Habs game together as soon as pandemic-related protocols were lifted.
"Sean wanted to see them go down!" she says.
Upon learning of Gordon's passing, Cucinelli posted a touching tribute on social media: "Today, heaven gained a beautiful and gentle soul."


If you would like to make a gift in memory of Sean Gordon, please consider supporting the Friends of Concordia Football, or the Sean Gordon Memorial Fund in Applied Human Sciences.
Learn more about how Concordia provides support in times of need.
---