Concordia undergrad student receives 2021 Forces AVENIR Personality Award
Shaan Baig: 'You don't have to wait until tomorrow to lead'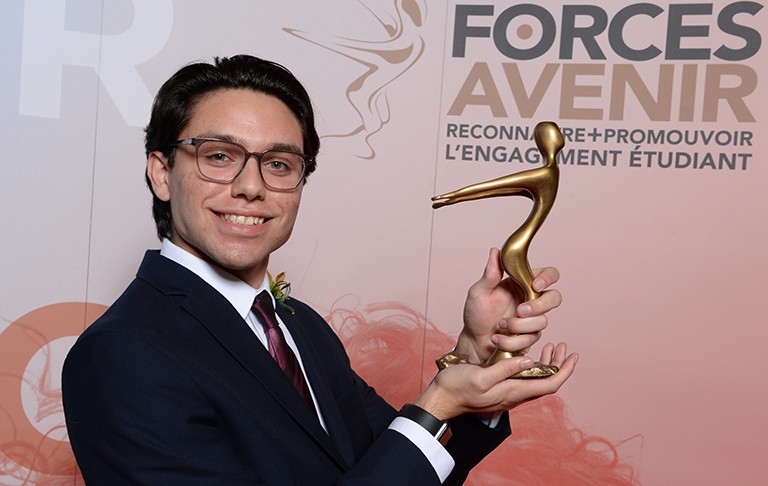 Shaan Baig: "I'm very much a product of my environment and my environment for a long time has been Concordia."
Third-year undergraduate student Shaan Baig has been an active leader in translational medicine since high school.
"Each year I've sought to solve a pressing issue that I found was important and affected our community," says Baig, who is pursuing a BSc with honours in kinesiology and clinical exercise physiology. "My research has expanded from a focus on engineering to more slow translational medicine projects."
And his hard work has not gone unnoticed. Among Baig's many accomplishments, he recently received a Forces AVENIR Award for 2021. He was recognized among more than 50 finalists from universities across Quebec, winning in the undergraduate Personality category.
The award recognizes students who have distinguished themselves through a balance of academic, personal and social achievements, as well as by their leadership, the concrete impact of their engagement and consistency throughout their studies.
Baig was one of Concordia's two undergraduate candidates for the award, along with Celeste-Melize Ferrus, who studies in the Department of Physics.
"Winning this award represents a combination of all the things I've done to date," Baig says. "It's a validation and encouragement that I'm on the right track with my projects."
A proud Concordian
Baig adds that it was quite an honour for him to win as a Concordia student, since the university has supported him through many of his endeavours.
Baig competed throughout high school and CEGEP in the Montreal Regional Science and Technology Fair, which is sponsored and often hosted by the university.
"I'm very much a product of my environment and my environment for a very long time has been Concordia," he shares.
A source of creativity and innovation amid the pandemic
Baig says that a long-time goal of his was to win best overall at an international science fair. In doing so by winning first place in the category of medicine and health in early 2020 in Taiwan, he found himself in need of a new challenge.
"For the whole months of March and April the world was shut down, so there was a lot of free time, but that's probably when I was the busiest."
With his organization Young Scientists & Innovators, which aims to inspire, empower and promote STEM (science, technology, engineering and mathematics) among youth, Baig launched a campaign to print 3D face shields in the early days of the COVID-19 pandemic.
At a time when hospitals were running out of personal protective equipment, members of his team were printing face shields out of their houses, with supplies coming in part from the Canadian Space Agency. They supplied thousands to hospitals in Toronto and Montreal, Baig says.
"I was able to work on hard relevant problems facing the world, with people I've met over the years at science fairs. It was just great to see over such a small period of time the skills I've developed and how we had meaningful impact."
Looking forward
At the age of 20, Baig can add this recent award to a growing list of accomplishments.
He was previously named a Shad Canada Fellow and Global Teen Leader by We Are Family Foundation and was inducted as junior member of the New York Academy of Sciences.
"Over the years I've spent in school I learned that you don't have to wait until you graduate to start working on cool things," Baig says.
"Younger generations are always told we're the future lawyers, doctors, engineers, activists, journalists, but you don't have to wait until tomorrow to lead."

Find out more about Concordia's Department of Health, Kinesiology and Applied Physiology.

---