5 great ways to celebrate this year's Montreal Pride
The weeklong 2SLGBTQI+ festival will take place in-person and online from August 9 to 15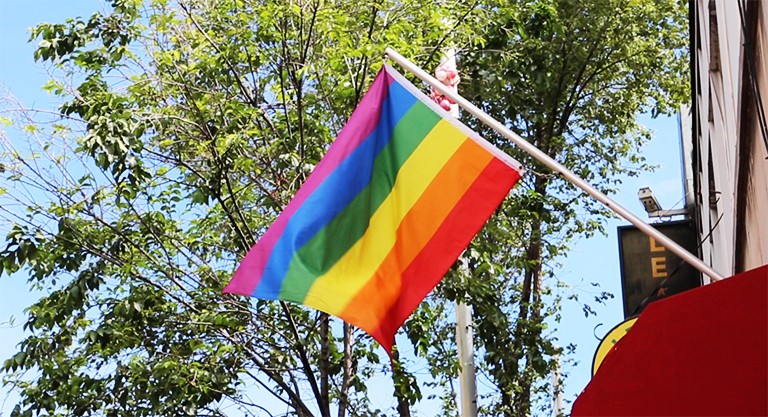 While much of the country celebrates Pride in June, Montreal's 2SLGBTQI+ festival has always taken place later in the summer. Following an online program to comply with Quebec's health and safety measures last year, the 2021 edition is offering a hybrid version, with many live events including the flagship Pride March.
For those who opt not to participate in person, many panels, DJ sets and performances will also be streamed via Zoom, Twitch and MaTV.
1. Opening concert with award-winning musician Jeremy Dutcher
Catch the opening ceremony live at Cabaret le Lion d'or featuring Jeremy Dutcher, an award-winning Two-Spirit musician from Tobique First Nation in New Brunswick. Dutcher is known for blending his classical opera training with his Wolastoq roots to produce beautiful and haunting compositions. The event takes place on the International Day of the World's Indigenous Peoples and marks the kick-off of the hybrid festival. The show will also be broadcast live.
When: August 9 at 8 p.m.
Where: Live from Cabaret le Lion d'or | Online via Facebook
2. Discussing diversity in the 2SLGBTQI+ community
A number of panels centre Black, Indigenous and People of Colour voices. On August 10, BIPOC Hour will feature three Two-Spirit panellists including artist and Concordia alum Dayna Danger (MFA 15).
The following day, join the Bibliothèque et Archives nationales du Québec in a virtual roundtable conversation that will focus on multiple identities and embracing diversity among the 2SLGBTQI+ community.
When: August 10 at 10 a.m. and August 11 at 7 p.m.
Where: Online via TD Virtual Stage | BAnQ is Proud
3. MajestiX drag show
On August 13, via Twitch stream, local drag queens will put on a megashow titled MajestiX. Hosts Barbada and Uma Gahd will present a magical, camp-inspired pop show featuring Kiara, Alice Wildflower, Bambi Dextrous and many more!
When: August 13 at 8 p.m.
Where: Online via Twitch
4. Beach volleyball in the park
There will be a community beach volleyball tournament on August 14 open to everyone. There is a 60-person capacity and participants will be divided into teams of six. In order to respect the current sanitary measures, you must complete this online form prior to attending the event.
When: August 14 from 9 a.m. to 2 p.m.
Where: Parc Lafontaine
5. The traditional Pride March
The annual Pride March will close out the celebrations on the final day of the festival. Advance registration is not required. The march will head south on Parc Avenue, heading toward René Lévesque Boulevard and east toward Atateken Street. The final destination is Montreal's Gay Village in Centre Sud.
The march will be followed by a moment of silence for victims of HIV/AIDS and acts of homophobic violence. Organizers welcome all banners, decorative signs and streamers so long as they respect the safety of others.
When: August 15 at 1 p.m.
Where: Parc Jeanne Mance

BONUS: Queer walking tour of Montreal
Watch journalist and Concordia alum Richard Burnett (BA 88) make stops around the city to share Montreal's rich queer history. In fact, you'll spot some familiar buildings — including Queer Concordia's offices on Mackay Street that have been around since 1978! Also on the tour: the Lime Light, the Tropical Room — where gay men were first allowed to dance with each other in 1958 — Café Cleopatra and, of course, Théâtre National, originally called Cinéma du Village, which is where the Gay Village got its name.
---