Make your graduate research stand out
Win up to $2,500 from Relève étoile and Concordia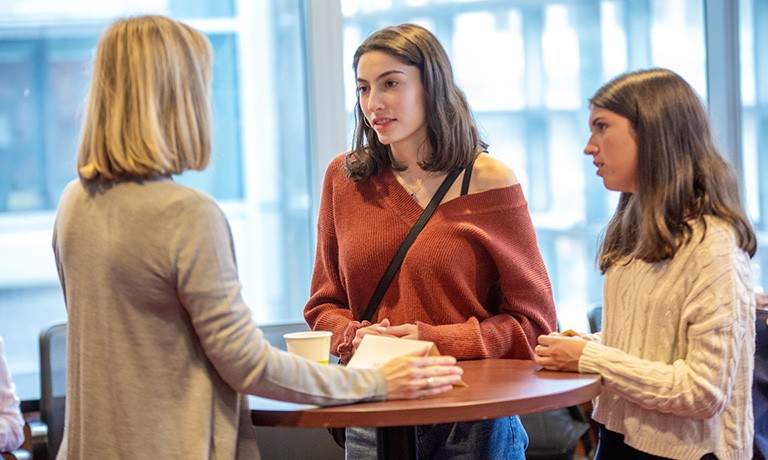 Looking to be recognized for your hard work? Don't miss your chance to win $1,000 from the Relève étoile (formerly known as Étudiants-chercheurs étoiles) competition.
The program is run by the Fonds de Recherche du Québec (FRQ), an organization dedicated to promoting and financially supporting research training throughout the province. The FRQ will award a prize to one graduate student or postdoctoral fellow from each of its three branches every month in 2020.
That means whether your research focus falls under science, math and engineering, health or humanities and social sciences, you are eligible to apply. Moreover, you only need to submit your project once and it will stay in the running for the entire year.
Paula Wood-Adams, interim vice-president of Research and Graduate Studies, encourages all grad students at Concordia to apply.
"The Relève étoile recognizes those talented student researchers who strive to bring their ideas forward and communicate them to the public in as open a way as possible," she says.
"It's an excellent opportunity to forge meaningful connections within Quebec's research community and receive exposure for your work. Not to mention you have 12 shots at winning."
Only research projects that have been released to the public within seven months of the March deadlines will be considered.
Double your chances
Those who apply for the Relève étoile will become eligible to enter another research competition targeted specifically at Concordia's grad students.
The graduate awards office launched a program that mirrors the Relève étoile called the Stand-Out Graduate Research Award.
Cynthia Raso is manager of graduate awards and postdoctoral studies at Concordia.
"The Relève étoile program focuses attention on student and postdoctoral researchers from all disciplines, and it really helps promote the importance of research at the student level," she says.
"The Stand-Out Award is similarly aimed at allowing graduate students to prepare a dossier that will give them a greater chance of success at the provincial level."
The $1,000 award is given biannually to two students who show exemplary research capabilities in two categories: Fine Arts, Humanities and Social Sciences; and Engineering, Medical Sciences and Natural Sciences.
The next deadline for a Stand-Out Award is March 8. Applicants must also have entered the Relève étoile competition. Those who are successful in both competitions will receive an extra $500.

Apply for the Relève étoile prize by the March deadlines and Concordia's Stand-Out Graduate Research Award by March 8.
Find out more about Concordia's School of Graduate Studies.
---