Concordia University Support Staff Union signs a new agreement with the university
Graham Carr: 'The efforts of our dedicated staff are a big part of why Concordia is successful'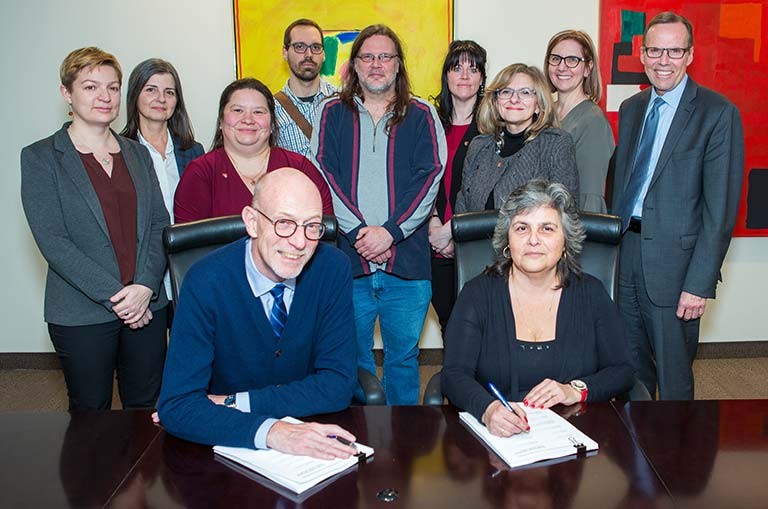 "This is a happy day," said Concordia President Graham Carr, as representatives of the university and the Concordia University Support Staff Union (CUSSU) gathered to sign their new collective agreement on December 17.
"The efforts of all the people who are our dedicated staff are a big part of why Concordia is successful."
Carr pointed out that this was his first signing after formally being named president on December 12. "This is a great way to start my term," he added.
Carolina Willsher, Concordia's associate vice-president of Human Resources, noted that arriving at a collective agreement is always the result of great effort from all parties involved.
"It's really important to pause and reflect on the work that's been done by both teams to get us to this place," she said.
Donna Fasciano, president of CUSSU and human resources data coordinator at Concordia, expressed her appreciation for the agreement. "I thank everyone on both teams," she said — a sentiment echoed by Willsher and Carr.

Participants representing the university: Caroline Baril, Andrée-Anne Bouchard, Graham Carr, Roger Côté, Sonia Coutu, Angela Tsafaras and Carolina Willsher.
Participants representing the union: Donna Fasciano, Guillaume Forest-Allard, Derek Page and Jennifer Srey; not in photo: Filomena De Gennaro.
---