October 22 to 28 is Open Access Week
Find out how the Concordia Library supports accessible research — and catch a film on the business of scholarship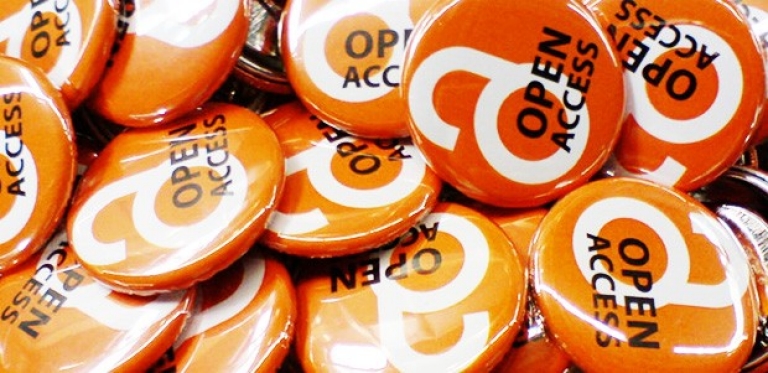 Open Access Week is an occasion for the Concordia Library to remind the academic community of the value of keeping publications accessible.
Generally, the open access movement seeks to ensure unrestricted, free, online access to peer-reviewed, scholarly research — something that helps authors and researchers benefit from important knowledge production.
In Canada, open access publishing is also a requirement for Tri-Agency funding. The Canadian Institutes of Health Research (CIHR), the Natural Sciences and Engineering Research Council of Canada (NSERC) and the Social Sciences and Humanities Research Council of Canada (SSHRC) require that work they fund be freely accessible within 12 months of publication.
Aside from funding requirements, the university signed on to the open access movement nearly a decade ago, out of principle, explains Guylaine Beaudry, university librarian and vice-provost of Digital Strategy.
"With its 2010 Senate resolution, Concordia became the first major university in Canada to encourage faculty and students to make their peer-reviewed research and creative output freely accessible through Spectrum, our institutional repository. We did that because we wanted to take a leadership role and exemplify the social responsibility of open access to research outputs," she says.
"More recently, we expanded our open access program by creating the Concordia University Press that will publish open access scholarly monographs."
Screening of Paywall: The Business of Scholarship
To help the Concordia community better understand issues around open access publications, the Library is screening a new documentary about the scholarly publishing industry on October 23. Paywall: The Business of Scholarship looks at the ramifications of restrictive publishing on research and limits on the sharing of ideas.
"The documentary addresses a wide variety of issues around open access, the scholarly publishing industry, the research life cycle, tenure, access to research and a lot more," says Joshua Chalifour, digital scholarship librarian.
"It also provides perspective for reflection about our own practices and on the sustainability of different publishing models, university library funding and the impact that has on researchers."
Following the screening, audience members can engage with eight panelists from the Office of Research and the Concordia Library.
"We hope that people will come away with greater understanding of how Concordia supports open access publishing. A lot of people are not aware of how it works, its value or its place at the university," says Jared Wiercinski, associate university librarian, Research and Graduate Studies.
"Often times, there are misconceptions or worries about the consequences of the shift toward open access with respect to scholarly work. We hope these can be raised and addressed and that people will take advantage of the knowledge and services offered by the Library."
Act-on-Acceptance
The Library's Act-on-Acceptance initiative is another way it's fostering the sharing of scholarly work. Librarians are asking researchers to deposit manuscripts in Spectrum as soon as they are peer-reviewed and accepted by a journal. You can visit the Library's Open Access page or email actonacceptance@concordia.ca if you need assistance.
"Spectrum makes your work visible to a much greater global community, so you get more readers and potential interaction from work deposited there," says Chalifour.
"It's also a good way to ensure you respect the Tri-Agency funding requirement on open access as well as Concordia's Senate resolution."
Concordia University Press
In fall 2016, Concordia launched a scholarly press, thanks in part to the Birks Family Foundation and Brian and Carolyn Neysmith. Concordia University Press is just one of 14 campus-based presses in Canada.
The non-profit publisher of peer-reviewed books is also founded on the open access model and reaffirms the university's mission of sharing cutting edge research.
With an editorial focus on fine arts, humanities and social sciences, the press will launch its first catalogue in 2019.
"By the end of its first half decade, Concordia University Press will be publishing 10 titles a year, including some titles in French. It is an exciting time in scholarly publishing and we've worked hard to build productive relationships with authors, series editors, and partners in the publishing community," said Geoffrey Robert Little, the Press's editor-in-chief.
Concordia's Open Access Author Fund
The Concordia Library and the Office of Research established the Concordia Open Access Author Fund in 2011.
The initiative reimburses university authors when they are charged author processing fees to publish monographs, monograph chapters or peer-reviewed journal articles in eligible open access journals.
It's open to full- and part-time Concordia faculty and staff members, as well as all currently registered graduate students and postdoctoral fellows affiliated with the university.
Find out more about open access at Concordia.
RSVP for the screening of Paywall: The Business of Scholarship at 5 p.m. on October 23 in the Visual Arts (VA) Building (1395 René Lévesque Blvd. W.) on the Sir George Williams Campus.
---