What are the keys to effective graduate mentorship?
April 16: Faculty supervisors will share their experiences at a Concordia seminar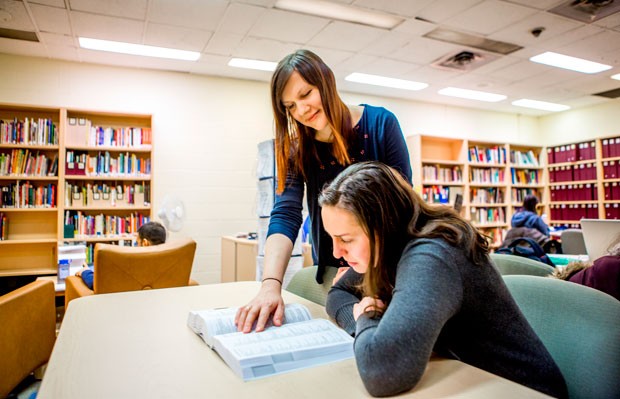 What do positive graduate supervisor-student relationships look like? How can faculty members assist students in fostering meaningful academic partnerships?
On April 16, a seminar will be held to address these questions. University staff involved in graduate student mentorship — from supervisors to graduate program directors to associate deans — are invited to participate in Graduate supervision at its best.
The half-day event will explore ways to improve supervisory practices, and tackle more specific questions, such as how to fill out progress reports and what to do in situations involving conflict.
Ann English, professor emeritus and honorary Concordia University Research Chair in Bioinorganic Chemistry, Chemistry and Biochemistry, says the seminar is just one of the ways in which Concordia recognizes the importance of mentoring graduate students.
"Teaching and mentoring enable the university to fulfill its dual mandate: helping students acquire knowledge at the undergraduate level and generate knowledge at the graduate level," she says.
English is the 2017 recipient of the Award for Graduate Mentoring, presented by Concordia's School of Graduate Studies. She will give a brief presentation on her experiences as a mentor.

New approaches and tips for success
The event will also feature presentations by Amy Fish, Concordia's ombudsperson; and Anthony Paré, professor of language and literacy education at the University of British Columbia.
Fish will offer 10 tips for building successful supervisor-student relationships, while Paré will discuss the importance of new approaches to the supervision of doctoral candidates. The presentations will highlight what it means to be a good mentor and will direct participants to available resources.
Amir Aghdam, associate dean of Student Affairs and Postdoctoral Studies with the School of Graduate Studies, says the event is part of a larger initiative at Concordia to improve the quality of graduate supervision.
"In 2016, the School of Graduate Studies established the annual Award for Graduate Mentoring to promote effective supervision and recognize our most successful graduate mentors. In accepting the award, the recipient agrees to present a workshop to share their experience with other colleagues at the university."
As the 2017 award recipient, English will share "her decades of invaluable graduate experience with the Concordia community," Aghdam adds.
English says she was delighted to be nominated with the support of her current and past graduate students.
"Then to be selected as the 2017 recipient of this award was an extra special honour."

Register for Graduate supervision at its best by emailing sgs.rsvp@concordia.ca. The event takes place Monday, April 16, in room MB-9A of the John Molson Building. Admission is free but space is limited.
---