Gold STARS for Concordia's green initiatives
The university gets top marks for campus sustainability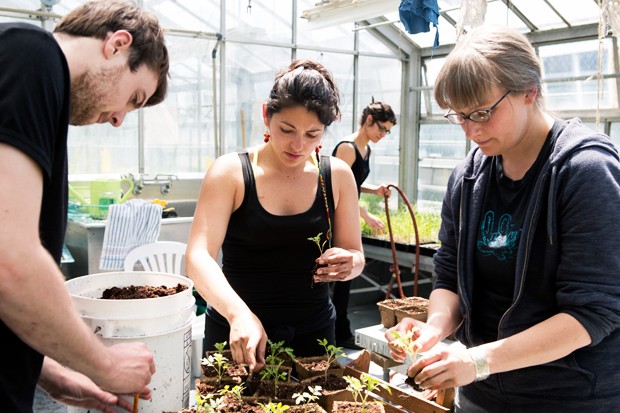 Concordia has just reaffirmed its leadership in campus sustainability — receiving a STARS gold rating from the Association for the Advancement of Sustainability in Higher Education (AASHE). The top marks come after ranking silver in last year's evaluation.
Roger Côté, vice-president of Services, says that Concordia should take pride in the accomplishment. "Thanks to the innovative ideas and tireless collaboration of our students, faculty and staff, we continue to advance our sustainability goals and receive recognition as a leader in higher education."
The AASHE's Sustainability Tracking, Assessment and Rating System (STARS) offers a way for universities and colleges around the world to measure their sustainability performance using a transparent, self-reporting framework.
Awarding bronze, silver, gold and platinum ratings, the STARS system measures sustainability by attributing points to in-depth criteria such as curriculum and research, campus operations, planning and institutional capacity.
The goal is to support strategic planning and increase dialogue among university sectors, says Chantal Forgues, sustainability coordinator at Environmental Health and Safety (EHS).
"What this translates into is that universities begin to weave sustainability into the fabric of their culture," she says. "The entire campus community becomes a driving force of change at all levels: student, faculty and staff."

A pioneering institution
Forgues says that Concordia has been engaged in sustainability initiatives for more than 14 years. The university began assessing its sustainability in 2003 using the Sierra Youth Coalition's Sustainable Campus Project framework, before the STARS tool was available.
In 2008-09, Concordia was among 66 pioneering higher education institutions in North America and one of only four in Canada who participated in the STARS project.
Today, Concordia is one of 120 gold-ranked members. More than 400 institutions internationally have earned a rating or recognition in the STARS rating system.
Forgues credits the many innovative and collaborative projects taking place at Concordia and the implementation of a Sustainability Governance Framework for the university's recent upgrade to gold status.

Find out more about Concordia's sustainability initiatives.
---