Intellectual exchange: Concordia offers up to $5,000 for student-led projects
The Graduate Community Building Fund aims to enrich the educational experience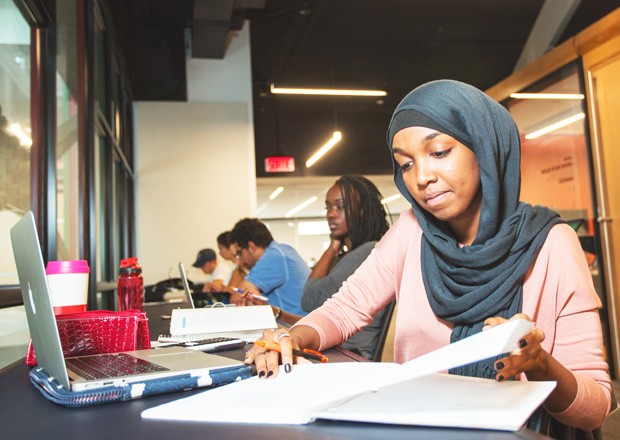 "We want to ensure that our graduate population gets as profound a learning experience as possible," says Paula Wood-Adams, dean of Graduate Studies. | Photo by Concordia University

If you want a truly immersive graduate experience, it's essential to go beyond the laboratory and everyday research activities.
In 2016, the School of Graduate Studies launched the Graduate Community Building Fund to foster intellectual communities across graduate programs at Concordia. The fund provides up to $5,000 to student-driven projects that have the support of graduate program directors.
These initiatives will allow students to interact with peers, professors and experts outside their immediate academic setting. The goal is for attendees to learn, and create networks that will benefit both their present research and future careers.
"We want to ensure that our graduate population gets as profound a learning experience as possible," says Paula Wood-Adams, dean of Graduate Studies. "The idea of the fund is to empower students to take a leading role in inviting guest speakers to campus or creating networking events and discussion forums with alumni and industry experts."
Building on success
The precedent and much of the inspiration for the fund can be traced to the Department of Mechanical and Industrial Engineering. For the last four years a committee formed of graduate students has spearheaded events that bring together people from across the department in a spirit of collaboration and discovery.

The idea came from graduate program director Ali Dolatabadi, who encouraged his students to become active players in the success of their department.
"If we want to improve the research profile of our department then students need to be involved," he says. "If there is a top-notch researcher out there that they would like to invite to Concordia, they can make this happen."
For PhD candidate Gita Ghiasi Hafezi, being part of the team has helped her develop networking, communication and event planning skills. "It also helps students to improve their presentation skills and learn how to present their research in a way that is comprehensible to audiences with different backgrounds," she explains.

Team member Lucas Hof sees the events they put on as key to deepening their community's understanding of research in the field. "Our events attempt to create important connections with other academics so we can come up with ideas to improve the quality of research and student life here at Concordia."
Balance is key when planning events. The committee helps to ensure that guest speakers have wide appeal, are gender balanced and cover several fields within the department.


Find out more about the Graduate Community Building Fund.
---