Concordia appoints two vice-provosts
University strengthens academic leadership team and broadens the Provost Fellows Program
Concordia's new academic leadership team. Front row, from left: Saul Carliner, Catherine Bolton, Deborah Dysart-Gale. Back row: Jorgen Hansen, Rosemary Reilly, Linda Dyer, Benoit-Antoine Bacon, Lisa Ostiguy and Ali Dolatabadi. | All photos by Concordia University
Concordia has bolstered its academic leadership team by appointing two vice-provosts and broadening the Provost Fellows Program.
Catherine Bolton is the new vice-provost, teaching and learning, and Jorgen Hansen has been named vice-provost, faculty relations. Both assumed their new positions August 1.
"We have a very strong faculty and they deserve first-class support," says Provost Benoit-Antoine Bacon. "I am very happy that Catherine and Jorgen have agreed to lead our two key portfolios. Their experience and judgment will be invaluable as we take our academic ambitions to the next level."
In her new role, Bolton will champion effective, innovative teaching and learning, and ensure rigorous and engaging academic experiences for students. Hansen is responsible for faculty development and academic personnel issues, helping to create the conditions and opportunities that allow Concordia's professors to excel.
Provost Fellows Program
The Fellows Program was inaugurated last year with the appointments of Associate Professor Saul Carliner (Department of Education) and Associate Professor Rosemary Reilly (Department of Applied Human Sciences) as Fellows for the Centre for Teaching and Learning Services. Carliner is spearheading the e-learning portfolio while Reilly is taking on faculty development.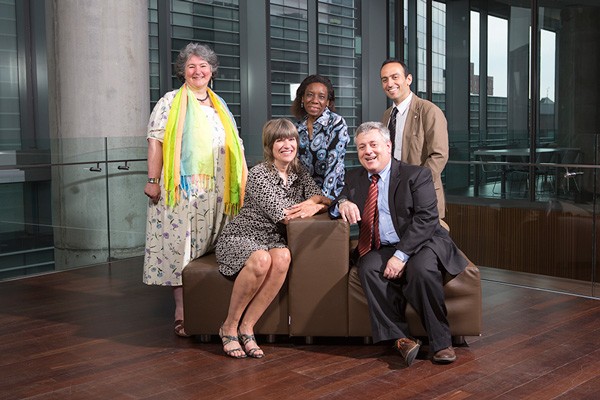 Clockwise from left: Rosemary Reilly, Linda Dyer, Ali Dolatabadi, Saul Carliner and Deborah Dysart-Gale.
Building on their success, Provost Bacon is expanding the Fellows Program to include a broader range of portfolios, and has made the following appointments:
Ali Dolatabadi, associate professor in the Department of Mechanical and Industrial Engineering and director of the Graduate Program (PhD) — in Graduate Studies: Fellow in Interdisciplinary Teaching.
Deborah Dysart-Gale, chair and associate professor in the Centre for Engineering in Society — Fellow in Innovation.
Linda Dyer, chair and professor in the Department of Management — in Faculty Development: Fellow in Faculty Development.
Fellows for Co-op Education and Academic Space will be named at a later date.
"I am pleased to welcome Ali, Deborah and Linda to our team. The Fellows Program allows us to directly tap our internal expertise as we pursue our academic priorities," says Bacon. "We are giving talented members of our community the opportunity to shape and grow a specific piece of the academic sector in which they have special interest and expertise."
"Our provost is building a strong team and that's key to the success of any university," says Concordia President Alan Shepard. "The academic sector needs to be at the very heart of what we do. Our faculty will be well served by these new appointments, and with the provost also taking responsibility for on Student and Enrolment Services, we are set to provide our students with the optimal Concordia experience."
About the Provost Fellows Program
Fellows are appointed for one- or two-year terms, depending on the portfolio. Faculty members interested in learning more about the opportunity to become a Fellow should contact Deputy Provost Lisa Ostiguy who is coordinating the program.
About Catherine Bolton
A member of the Department of Classics, Modern Languages and Linguistics, Catherine Bolton came to Concordia in 1989 after completing her PhD in Roman Studies at McMaster University.
Her research focuses on the Latin elegiac poet Ovid, particularly his series of literary letters written by fictional abandoned heroines called the Heroides. Her research has moved from interpretations of the letter writers as expressions of the female character in ancient Rome to investigating issues of gender and its relation to physical space. 
She has served until now as associate dean for Student Academic Services in the Faculty of Arts and Science. She is also part of a research team at Concordia that is working on the issue of academic integrity, especially plagiarism. She and her team have presented papers at the International Centre for Academic Integrity and have been interviewed by Canadian and U.S. media.  
About Jorgen Hansen
An associate professor of economics with experience as associate dean, faculty affairs, in the Faculty of Arts and Science, Jorgen Hansen received a PhD in economics from Sweden's University of Gothenburg in 1997. Before joining the faculty at Concordia in 1998, he held a postdoctoral fellowship at Université de Montréal, and was a researcher at the Institute for the Study of Labor (IZA) at the University of Bonn.
Hansen is also research fellow at IZA and research associate at the Center for Interuniversity Research and Analysis of Organizations (CIRANO) and the Centre interuniversitaire de recherche en économie quantitative (CIREQ). His research interests include education, welfare, immigration and labour supply.
Hansen's work has been funded by the Social Sciences and Humanities Research Council (SSHRC) and the Fonds de recherche du Québec - Société et culture (FQRSC), and published in leading economics journals such as Econometrica, Journal of Econometrics, Journal of Applied Econometrics and Journal of Human Resources.
---